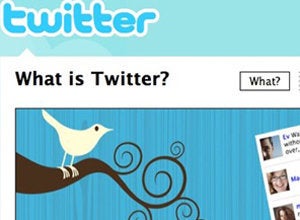 Twitter. Twitter. Twitter. Hopefully by now, you've heard all about it. News on Twitter (the free microblogging service that let's you send 140-character messages on whatever you want) is everywhere. It's as if the media has twitter diarrhea because lately it's all they are talking about. Reporters from all across the country are joining Twitter in droves and writing about their experiences like David Pogue of the NYT.
Now the media discussion has changed slightly from "hey, there's this new service called Twitter" to it's impact on the world of journalism. As Reuters reports, "News organizations are all a-twitter about Twitter: Is it a friend or a foe? Should it be embraced or eschewed? Will Twitter kill journalism or revive it?"
And then you have media outlets like the Financial Times that are trying to teach their readers about the culture and language of Twitter. You know, twitter messages are called "tweets." The peeps who sign up to read your messages are "followers." And when you send out someone else's tweet, you are "re-tweeting."(This is easily done by addressing your message to a follower by adding an "@" sign to their name, i.e., @faraichideya.)
And as interesting (or not) as this whole conversation about what Twitter is, the better question to ask is why are people using it? Why has Twitter caught on?
The media's recent discussion and "discovery" is quite amusing to several of us (myself included), who has used Twitter for six months or more (called early adopters) because it used to be a new tool. There was something special about discovering it. Twitter's long-time users have several reasons for loving and using the free, web-based service.
Like a lot of users, Danyel Smith (@danamo), editor of Vibe, (who I am a big fan of) started using the service because she was curious about it.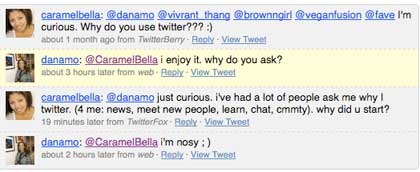 Others like novelist/music journalist/cultural critic Touré (@ToureX) thought it could help his professional writing skills.

BTW, he doesn't really need any help in this area but it's somehow endearing that he is continuously thinking about and working on his writing. It makes us think he is just like the rest of us, which is one of the beauties of Twitter. Unlike traditional media, which tends to be top-down or a one-way means of "them" telling "us" as readers something, Twitter creates a one-on-one conversation where anyone with a Twitter account can join in the conversation. It's about two-way communication. Several journalists even started asking their Twitter followers if there were questions they wanted to ask in an important interview. Thus, it's revolutionizing the way journalism is being done.
Many folks are joining because their favorite celebrities are on Twitter. There are few places in the world where you can talk to TV and movie stars like Ashton Kutcher (@aplusk) and his wife Demi Moore (@mrskutcher)... and they might talk back. Twitter has given regular folks yet another window into the daily lives of stars through their Twitter streams. You can find all sorts of celebs from Britney Spears (@britneyspears) to Puff Daddy (@iamdiddy) to MC Hammer (@MCHammer) to Omarosa (@omarosa). They are all there - tweeting away!

Gawker even started tracking Twitter accounts with their daily posting of the Twitterati. It's hilarious and a reminder that people are broadcasting their thoughts out onto the Internet for anyone to read (unless you adjust your privacy settings). And now, a person's tweets (Senators, writers, TV stars and regular people) have somehow become the news and fodder for the media? Interesting flip!
And there are thousands that are just like me, who also use Twitter because it helps us connect with people - new and old friends. It even helps you meet like-minded folks. Whatever you are into, there is someone on Twitter that likes the same thing. (And you can use Twitter's search site to find posts on your favorite subject.)
Twitter also keeps you informed and quickly (if you follow the right folks). And you don't have to check thousands of news sites or even go to a RSS feed service. If you are following @CNN or @Drudge_Report or other media sites and the reporters that have recently hopped on-board, you will be definitely be in the know. And if you downloaded Twitterific or Tweetie for your iPhone (or Twitterberry for your Blackberry), you have these conversations and breaking news at your fingertips.
And obviously, if you have something interesting to say or sell, you should be using Twitter. Except beware, no one likes a constant self-promoter. The Twitter world is all about the give and take of information... you know, sharing. It feels like a conversation (although at times a bit scattered), but a talk nonetheless.
The merits of Twitter and its impact on media will be debated for years to come. But with technology giants, like Google (@Google) joining the Twitter fray, isn't it time you checked it out for yourself. Don't take my word for it or the thousands of media folks ranting or raving about it. See for yourself.. You may become a Tweetering fool that neglects their Facebook account for a bit (or is that just me).
Popular in the Community