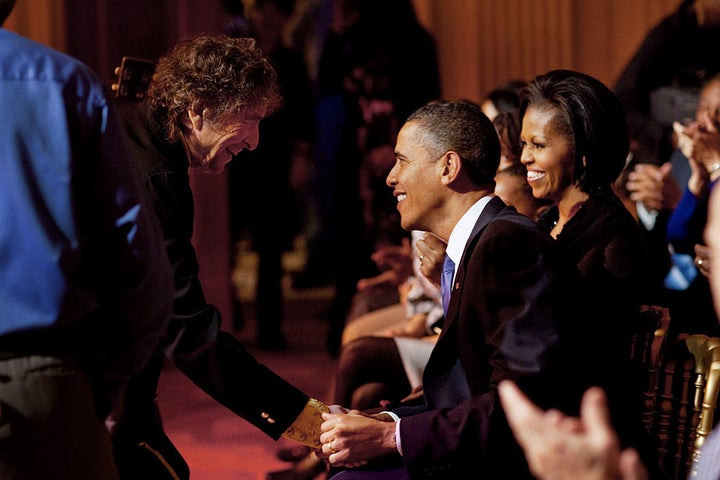 Two Americans "testified" this week: Bob Dylan and James Comey. Two very different men: a counter-culture Lefty icon and the former Director of the FBI. Different generations—Dylan was born in 1941, just as the U.S. entered World War II, and Comey in 1960, just as the Vietnam War was escalating. An old hippie and a suit; theoretically they would have little in common.
In 2016, Bob Dylan was awarded the Nobel Prize for Literature "for having created new poetic expressions within the great American song tradition." It was a surprising pick, and the Swedish Academy's first acknowledgement of song.
Dylan was as surprised as everyone else. He seemed flummoxed, reluctant to accept, and only formally received his Nobel in a private ceremony a couple of months ago. To claim the prize, he had to commit to giving a Nobel Lecture by the end of this month, which he took very seriously. In it, he wondered aloud if his songs had any place in literature with a capital "L", but then realized what that place was. He had not written those songs alone—his voice was new but his influences were many. He had changed his name from Zimmerman to Dylan after the poet Dylan Thomas because he thought it was an American thing to do. And he wanted to and he could because America is "a free country."
Bob Dylan came to prominence in the early 1960s. He did not go to college but studied other musicians and applied his craft. He played his guitar in small cafes, on street corners, wherever he could. His first album, entitled simply Bob Dylan, included traditional American songs like "I'm a Man of Constant Sorrow," and "In My Time of Dyin'." He blended folk and gospel music with the blues, delivering it all in a raspy voice that summoned the "Talking Blues" of earlier artists, a sound perfected by Delta bluesmen such as Son House and Robert Johnson and later refined by Woody Guthrie. In 1963, Dylan released The Freewheelin' Bob Dylan. Where he had only two original songs on his first album, Freewheelin' featured eleven of his own compositions. Among the songs were "A Hard Rain's a-Gonna Fall" and "Talkin' World War III Blues." The album came out just at the time of the Cuban Missile Crisis and much was made of its Cold War relevance. He supported the Civil Rights Movement with concerts and songs such as "Oxford Town," "Only a Pawn in Their Game," and "The Lonesome Death of Hattie Carroll."
Dylan sang of troubled immigrants, failed friendship, violent death. These were songs about the hopes, fears, and experiences of all Americans. To him love of country has been to criticize what's wrong in order to have people make it better. Over time Dylan's songs have been recognized as a cultural force—if the times really were a'changin', he was part of making it happen.
In his Nobel Lecture, Dylan spoke of his musical and literary heritage. He named musicians but also three books he read in school: Moby Dick, All Quiet on the Western Front, and The Odyssey. They are all books about the Hero's Journey. They reveal decisions and consequences, responses to adversity, the development of character, and the sheer will to endure in the face of greater forces.
He outlined the plots in detail. His literary coming of age was filled with battle and fear. There's Ishmael, who survived Captain Ahab's reckless and ruinous pursuit of the great white whale, floating to safety on an empty coffin. There's Paul, a young German soldier who is both a witness and a participant in the horrors of World War I—"This is a book where you lose your childhood, your faith in a meaningful world, and your concern for individuals…" Dylan said. There's Odysseus, a hero of the Trojan War, who wanders for twenty years trying to get home, his way blocked at every turn by the Greek god Poseidon. These heroes don't necessarily win or even survive, but they do resist the mighty forces ranked against them with all their will and energy.
Dylan speaks of these stories as shared cultural experiences, "You too have had drugs dropped into your wine. You too have shared a bed with the wrong woman…You too have angered people you should not have…" he says. Yes indeed: The Vietnam War, the Sixties, and Watergate. JFK, Malcolm X, Martin Luther King, Medgar Evers, and Bobby Kennedy—all assassinated heroes. AIDS. 9/11 and war, war, war. These are all such tales—stories that relate to the endless process of becoming mature as a person and a country. Some are universals by which one develops values, loyalties, ethics, and even pragmatism, but all of the images in Dylan's songs are specifically American—American heroes, situations, mistakes, horrors, joys, loves.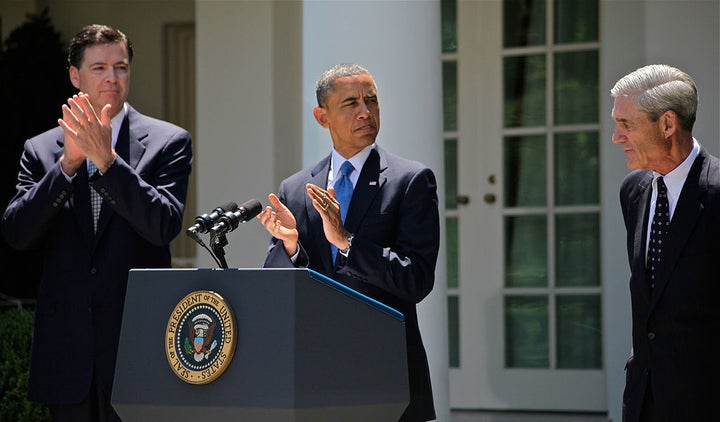 I have no idea about Comey's life as a youngster, but a glance at his profile reveals that before getting his law degree from the University of Chicago, he majored in chemistry and religion at the College of William and Mary. His senior thesis was on Reinhold Niebuhr and Jerry Falwell. I don't know what Comey thought of Falwell's bigotry, but Niebuhr is considered one of America's most influential Protestant theologians and political philosophers. He was also a profound ethicist who influenced many of the best leaders of the last seventy years, including Martin Luther King, Jimmy Carter, John McCain, Barack Obama, Hillary Clinton—and James Comey.
For Comey, love of country is about service rather than activism. He began his career in the office of the U.S. Attorney, and, over the years, prosecuted notables ranging from members of the Gambino family to Martha Stewart. Gradually his career drew him closer to the halls of power. He became Deputy Council to the Senate Whitewater committee. He served as Deputy Attorney General and finally as Director of the F.B.I. Back then, he was a straight arrow and a registered Republican who could rise above personal politics. He served faithfully, if not "loyally," under a variety of presidents from Clinton to Bush, from Obama to—not so much—Trump.
There's surely nothing like getting fired and having your reputation impugned to give you a leg up onto your high horse. Comey, "between opportunities" as he jokingly described his current lack of employment, was eager to testify before the Senate last week and to call out Donald Trump on a series of lies. He looked happy, as though being sacked had freed him from the conflict of serving this president while remaining an honest man. Honesty is a core value for him; he wanted the American people to know that the FBI is "honest" and does "honest work." He spoke of keeping America as "the shining city on the hill." He means it, and I believe he's tried to live it, but that he has lacked the tools to resist compromise more often than he's been comfortable doing.
His sense of what's right may have declined too deeply into his sense of what's legal. Comey famously stood up to President George W. Bush when Alberto Gonzales and Andrew Card tried to do an end run around his authority as Acting Attorney General, by strong-arming John Ashcroft to reauthorize a secret domestic surveillance program while he was hospitalized after major surgery. But, a year later, when the Bush administration sought legal opinions that would allow them to use torture on insurgents and members of Al Qaida, Comey signed off on the memo—reluctantly, but he still signed. Bob Dylan might have a bead on this one when he says, "It may be the Devil or it may be the Lord, but you gotta serve somebody." Though Comey was working for the president and trying to serve his country at the same time, at least he noticed that these two positions sometimes ethically diverge.
Comey has been a "good soldier", following sometimes distasteful orders but not standing up to say "no" unless he was on very solid ground. His career has turned on dilemmas. Go against "W"? Yes, but not so much on the issue of domestic surveillance by the NSA as the legality of White House procedure. Torture? Comey did not like it but wasn't informed enough on the subject to pick holes in the legal reasoning. Hillary Clinton's emails? He knew he should not say anything about re-opening her FBI investigation, but he succumbed to pressure to do so, believing Clinton would become the next president. He felt damned either way.
"To live outside the law, you must be honest," may be the words Dylan has lived by, certainly they show in his rambling lecture as he tries to explain where he fits in the great structures of myth and hard writing. He questions himself but accepts his place.
Comey seems more self-assured—at ease calling the president a liar. At ease saying he kept notes on his meetings with Trump because of "the nature of the man." At ease testifying to Congress and telling senators "no." At ease fielding John McCain's faltering mental capacity. At ease at last with a sense of outrage, if not about crimes we have committed, at least about attacks against us as a nation.
I have wanted to respect Comey, but his adherence to the letter rather than the spirit of the law has always given me pause. His lack of passion in rejecting torture makes me more than queasy (his word), it makes me disgusted and sick.
The first moment at which I felt kinship with him was on June 6th, when he smiled and said, "We have this big messy country where we fight with each other all the time, but nobody tells us what to fight about, what to think, what to vote for, except other Americans." And then, describing Russian influence on the 2016 election, his outrage broke through, "We are talking about a foreign government that tried to shape the way we think, we vote, we act. That is a big deal…They are coming after America, which I hope we all love equally."
It's not exactly "All Along the Watchtower," but it's a start. We may have Bob Dylan in our iTunes but we need to listen to James Comey too. LINK More of his testimony is certain to emerge, and hopefully because of it we'll see the call for legislative action and structural reform to prevent a recurrence of 2016's electoral fiasco. Comey's going to spill his guts and it's about saving our America.
Listen to Dylan's lecture too. Same deal. LINK
This post previous appeared on the Sanity Papers, www.sanitypapers.com on June 10,2017. For updates, follow us on Facebook, at the Sanity Papers
REAL LIFE. REAL NEWS. REAL VOICES.
Help us tell more of the stories that matter from voices that too often remain unheard.