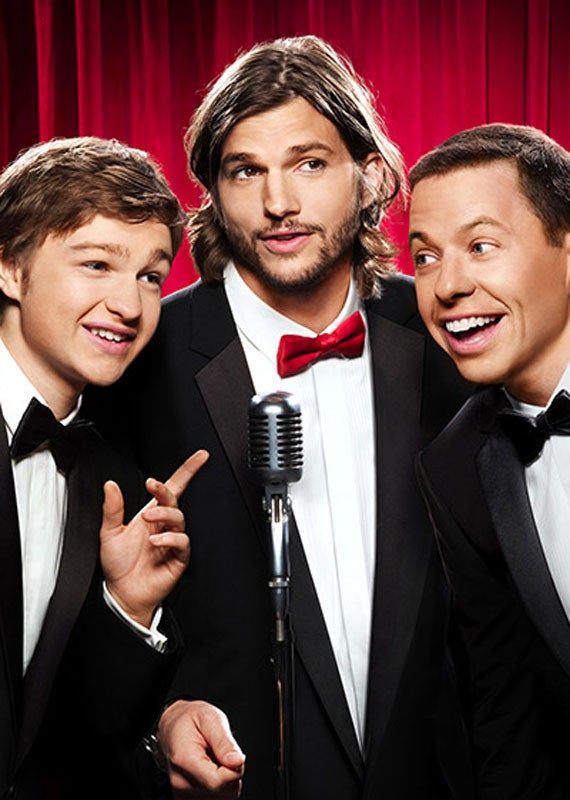 Save a few photo leaks and a Television Critics Association preview, "Two and a Half Men" has kept the details of its new season under lock and key. Major ratings are at stake: with Ashton Kutcher replacing Charlie Sheen, there's a whole lot of anticipation to see how Sheen's character is written off the show, and just how Kutcher will fit in with the neatly packaged 22 minutes of broad comedy.
Thus far, it's been made public that Sheen's character, Charlie Harper, will have died in the time between last year's shortened season and the new go-round, and that Kutcher will play Walden Schmidt, a broken hearted internet billionaire.
Now, Jon Cryer has sat down with Entertainment Weekly to spill more details about the new season, giving some rough season-long plot points and shedding light on Kutcher's enormous trailer.
Though there will be a big funeral for Charlie Harper in the first episode, Cryer says that the show won't be sappy and overly sentimental about the death. Schmidt will come in and buy that house, letting Alan and son stay there. And while Sheen's character was the ladies' man in the show, with Cryer's playing the geek, the tables are now turning -- at least a little bit.
"I can only say my character ends up being the more romantically experienced one of the two of them. So Alan becomes sort of a mentor character to Ashton's character," Cryer revealed. "And as bad as an idea as that sounds, it's just as bad on the show -- I'm a terrible mentor. And that's where a lot of the fun of the show comes from."
As for his relationship with Kutcher off-screen, Cryer raved about the new star -- and his sweet ride.
"I have been in what I refer to as the U.S.S. Yorktown," he said about Kutcher's trailer. "What's great about it is it provides shade -- for most of the studio lot. He had told me early on that he was going to get an enormous trailer. It's a fun place to hang out for us and anybody on the crew -- he has an open-door policy. He's got almost a club upstairs -- yeah, that's right, I said upstairs. He pipes music out before and after the shows and everybody hangs out. It creates a great vibe."
REAL LIFE. REAL NEWS. REAL VOICES.
Help us tell more of the stories that matter from voices that too often remain unheard.