Artists and photographers who want to sell their creations first need to convince gallery owners to put on an exhibition of their work. For every 25 requests they receive, Heather Stobo and Lisa Casoni, co-owners of Porch Gallery, Ojai, California, put on just one show that usually runs for a month.
Their latest exhibition, Home on the Range, features a mixed-media collaboration between painter Joan Scheibel (left) and photographer Bobbi Bennett that focuses on the culture, landscape, flora and fauna of the American southwest.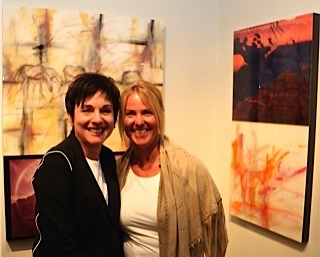 "We specialize in contemporary art," Stobo said.
We like the art we exhibit to have some concept behind it. We're not looking for pretty pictures, although these are beautiful. I have a piece of Bobbi's I bought four years ago and I have always loved it. I like the abstract quality of Joan's painting that is grounded so well with Bobbi's photographs. It's very smart, approachable work. They've created a different type of dialogue. It's sophisticated and it's beautiful.
This original idea puts a painting and photograph of the same theme into one piece of art. Scheibel said, "We worked well together. Our biggest challenge was deciding on the titles for the works. We wanted to create something edgy and I believe we achieved that."
Bennett used Holga cameras. Some have no viewfinder. "I had to really feel and understand the landscape to get the right exposure. This was my first collaboration with another artist and I loved working with Joan. She got the idea right away. It's cowboy contemporary. As long as people love and buy the work, we'll keep doing it," she said. If someone wants a piece similar to one that's already been sold, Scheibel and Bennett can create it, but it won't be exactly the same.
Gallery co-owner Lisa Casoni said, "I love it that two established artists decided to take a risk together. And they don't even live in the same town. They sent each other photographs of each stage as the work progressed. It's almost like a musical where each artist has their own solos, but it all comes together to make one strong piece."
The Home on the Range exhibition runs through March 29, 2015 at Porch Gallery, Ojai, California.