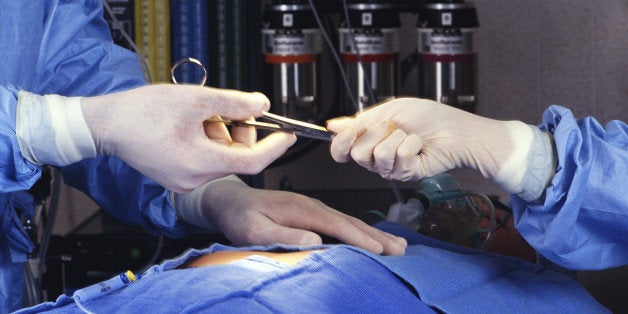 The oft-heard expression that two brains are better than one seems logical, yet it's discouraged in most of medicine: Insurance companies discourage assistants in surgery, consultations amongst peers, and collaborations between providers of similar skills. This, despite the fact that two brains dramatically increase the quality of care in so many cases [1,2].
Recently, a patient complained of calf pain without clear trauma. In the 7th decade of life, blood clots are worrisome, and this possible diagnosis can jump to mind, especially in this particular case because the patient had an underlying blood disorder. Late Friday afternoon, after he'd experienced several hours of discomfort, I began to organize an ER visit for him, to obtain an ultrasound test that would confirm the diagnosis. Before doing so, I discussed his case with my nurse practitioner of 23 years. She suggested a little quinine and waiting a few more hours, suspecting that this highly athletic patient was probably under-reporting his activities that day.
Sure enough the simple trick worked and the patient was saved an unnecessary trip to the ER.
We have seen this in every day surgical cases. Typically routine or common procedures are approached with a greater insight if two people know the patient, are thinking about the related issues, and are together always conceiving of new and better ways to solve these problems. It takes years of experience and working together to be able to push each other clinically, surgically, technically and creatively. Now instead of everything be routine, nothing is because each case represents a new opportunity to improve the art and science of medicine.
Even in diagnostic studies there is so much room for the improvement that two brains provide. In our practice, every MRI is read by me, the orthopaedic surgeon, by the supervising world-class musculoskeletal radiologist, and by the radiology Fellows in training. We share an annotated grid of the images each day and discuss the interesting cases, or the differences in diagnostic interpretations. It doesn't matter that the radiologist is in LA and our clinic is in San Francisco. The technology for global collaboration of all matters is at the click of the mouse. I get better with every discussion. My patients benefit with every collaboration.
Since I believe that most of what we know will be viewed as wrong in the near future, and since almost everything I touch, every tool I use, each procedure I do I can make better, I require the interplay of brain power that two or more driven curious people bring to the table. In medicine, if we empower, fund, incent, encourage, facilitate and foster collaboration of every problem, with every patient, the world will be a healthier place.
1. Dhillon, M. (2014, October). Infectious Diseases Consultation Increases Adherence with Quality of Care Indicators for Management of Staphylococcus aureus Bacteremia. In IDWeek 2014. Idsa.
2. Consultation between cardiologists and generalists in the management of acute myocardial infarction: implications for quality of care