Wonder, because these aren't the opinions of random passers-by in the street; they are the opinions of new and expectant mothers across the world. Real mothers, just like me.
So firstly, allow me to lay down the good news:
1. The majority of mothers in every country believe that breastfeeding is the best way to feed a baby.
2. The majority of participants in 6 out of the 9 counties surveyed consider breastfeeding in public to be "perfectly natural."
Yes, you read that right; nursing in public and the concept of "perfection" are actually in the same sentence.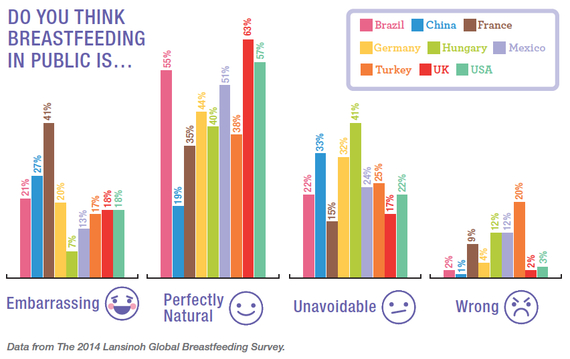 Photo Source: Lansinoh Laboratories Inc.
It makes me wonder, how many of us are nodding along to these uplifting statistics? How many of us are getting on with our lives in quiet support of breastfeeding?
Usually when breastfeeding hits the headlines, it's in response to an act of public shaming or illegal exclusion of a breastfeeding mother. There are accusations. There are Two Sides. There is drama.
What this survey gives us is a glimpse into the "quieter" side of nursing... the opinions of mothers who haven't necessarily been subject to abuse or confrontation as a reaction to their breastfeeding.
Because, for once, this information isn't reactionary.
Lansinoh asked the questions without a media boob frenzy spurring them on. And the data they collated, for the most part, is really rather positive.
There is just one piece of bad news that I feel the need to mention:
3. The majority of participants from 6 out of the 9 counties surveyed consider a 2-year-old "too old" for breastfeeding.
I've said before that I Support Breastfeeding and if you already follow me, this isn't exactly a shock to hear. My message of support is very simple; it is not caveated or followed by a "but." There are no limitations or restrictions...
I support the mother who fed for five days.
I support the mother who fed for five years.
I support breastfeeding. Period.
In fairness, the results of this survey are showing us something very important; we are moving in the right direction. Overwhelmingly, the support is there, but I'm a perfectionist... I want more.
Because breastfeeding is difficult -- physically, emotionally and socially. As mothers, we are walking a tightrope of "dos" and "don'ts." We are endlessly navigating our way through a maze of acceptable and unacceptable behaviors; finding our place in a world where nursing a 23-month-old is deemed to be ok, but nursing a 24-month-old is deemed to be wrong... because on the eve of my child's second birthday my milk just dries up, right?
But it's not all doom and gloom. While the majority consider age 2 to be too old, there are still countries where nursing a 2-year-old is considered by the majority to be "fantastic" -- Brazil, China and Turkey, to be precise.
The important fact is, this conversation is happening. Breastfeeding is being talked about and the questions are being asked. Thank you, Lasinoh, for starting the conversation. Thank you for asking the questions. Here's hoping that your next survey finds even more countries to be adopting Brazil, China and Turkey's positive attitude towards natural-term breastfeeding. And in the mean time, let's keep the conversation going.
To review the survey in full, click here.