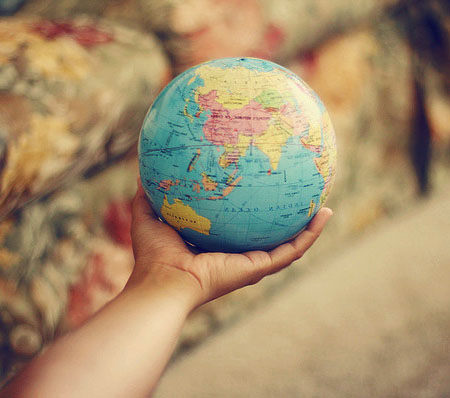 I see my biological father leaving my apartment and my stepfather moving in on the same night. I don't really think my mom would allow the departure of one and arrival of the other in one night. Yet visually my mind can't nail down the moments when I was in between dads. It blurs into one night. As long as I can remember, there was one dad who was present enough to make the absence of the other notable. I am thankful that they both provide me with a powerful sense of right and wrong, which greatly influences the way I live today.
By seven, playing basketball with my biological dad was just a fond memory. My new dad loved hockey and soccer--two sports I spent years trying to love as well. Today, I've returned to basketball --something I owe to my biological father and perhaps one of the few things we still have in common, besides that everyone says we look alike.
Movement was the defining characteristic of my biological father's life for a long time after he left my mother. He moved non-stop from apartment to apartment throughout the city, as if he were a plane on radar. For weeks at a time, my father would be living in his friend's apartment or sleeping on someone's couch. Comfort never found him. Stability evaded him as well. He was also still searching for financial well being. He came close to stability by eventually returning home to Long Beach, California to live with his parents.
My life with my stepfather and mother has also been one of movement, only with a totally different perspective. Our movement provided my motto for life: never get too comfortable since a new adventure always awaits.
I was 10 when we moved to Milan, a city rich with adventures for me from the new language to learn and a sport to love. Soccer became my branch to new friends. I did not need language proficiency to kick the ball. I joined a traveling soccer team. When I turned 12, I was fluent in Italian. Yet it was time for a new adventure: Miami. In Florida, basketball replaced soccer as my favorite sport.
Starting in New York and moving to Philadelphia, Long Island, Italy, Miami and ultimately returning to New York in Tenth Grade was a circle of lessons: some learned successfully and some still to be learned. Through all those addresses and area codes, my stepfathers' number one priority was responsibility to family: food on our table, shirts on our backs, and a roof over our heads. Responsibility was the rule of his life. I took his example to the basketball courts of Miami and back to New York when I was 16. For years, I translated his model of responsibility largely to sports and saw my commitment to any team-soccer or basketball-as an act of responsibility. Anything less was treason. Eventually I saw society as a web strewn together by successes and failures that are tied to responsibility. Travelling sensitized me to see the persistence of problems such as a lack of universal health care or lack of clean water in some African nations as examples of global irresponsibility.
My sense of responsibility inspires my career choice. I love sports dreamed of becoming an NBA star for years. Now I seek a career in sports management to take responsibility for issues related to my passion-sports. I dream of launching a campaign to promote the sale of healthy foods at sporting events. Unhealthy fast foods that would make Michelle Obama cringe are the norm at the games I love to attend. It is quite a mismatch: athletes whose jobs are to keep their bodies in supreme condition playing before fans who are eating their ways to heart attacks. And what about the financial health of those heroes on the courts and fields? Is it responsible for athletes to make news for graduating to poverty after their years of heroic status on the fields and courts? My career in sports management would address those questions. Ambitious? Yes and I have the model of my stepfather to thank for setting my goals high. I also thank my biological father as well. His negatives provided the lens for me to value the positives of my stepfather. Without my biological father, I may have considered the responsibility of my stepfather as the mere norm-not something that requires sacrifice. My father's shortcomings contrasted with my stepfather's successes, shedding light on the interconnected ideas of people taking care of the people, whether it is one or a million.
Evan Mabry is a freshman at Indiana University and a 2013 graduate of The Dwight School.
Related
Popular in the Community