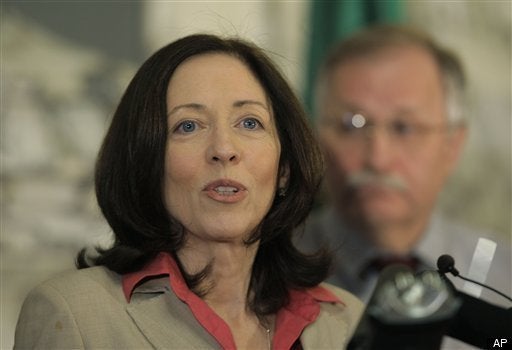 Two Democrats voted against ending debate on Wall Street reform in the Senate on Wednesday, helping defeat a motion for cloture that could have cleared the way for a final vote before the end of the week and capping off a day of stubborn opposition from all sides.
Democrats Maria Cantwell (Wash.) and Russ Feingold (Wisc.) joined all but two Republicans to defeat the cloture motion filed by Senate Majority Leader Harry Reid (D-Nev.), 57-42. A successful cloture motion would prevent rank-and-file Democrats from continuing to offer amendments to strengthen the bill.
Harry Reid had made the vote a leadership test, making the Democratic defections that much more meaningful. Reid vented his frustration.
"I know how to count votes," Reid said. "A Senator broke his word with me. Broke it."
Though Reid didn't specify which senator broke his word, the Majority Leader did have a tense discussion with Scott Brown on the chamber floor and Brown had previously told reporters he was a "yes" vote. Reminded of that after the presser, Reid said: "I'm not referring to anyone about anything."
Due to a procedural necessity, Harry Reid had to switch his vote to a "no." Maine GOP Senators Susan Collins and Olympia Snowe voted "yes." Alaska Senator Mark Begich barely made it in time to vote, telling reporters afterward he had "something with my family." Arlen Specter was a no-show.
There were some unusually Johnsonian moments of wrangling on the floor during the nearly hour-long vote. Reid pressed his case hard on Snowe, the lone holdout vote present, with Bob Corker and Mitch McConnell at her side. After finding Brown, he put his arm around him and shook his head, then found Cantwell seated alone at the opposite end of the floor. He and New York's Chuck Schumer encircled her, Reid leaning over her with his right arm on the back of her chair and Schumer leaning in with his left hand on her desk. Cantwell stared straight ahead, not looking at the men even as she spoke. Schumer called in Chris Dodd, who was unable to sway her. Feingold hadn't stuck around. Cantwell, according to a spokesman, wanted a guarantee on an amendment that would fix a gaping hole in the derivatives section of the bill, which requires the trades to be cleared, but applies no penalty to trades that aren't, making Blanche Lincoln's reform package little better than a list of suggestions.
"Basically, they blocked their own members from being able to bring up amendments, and I think that led to the chaos you just saw on the floor," said Sen. Bob Corker (R-Tenn.) after the vote, who described the Democrats as looking "cranky."
Republicans began objecting to and successfully blocking consumer-friendly amendments on Tuesday. The amendment process until then had proceeded remarkably smoothly.
"I don't think it's a good idea to cut off good consumer amendments because of cloture," said Cantwell on Tuesday night.
Other amendments offered by Democrats would ban banks from proprietary trading, cap ATM fees at 50 cents, impose new limits on the payday lending industry, prohibit naked credit default swaps and reinstate Glass-Steagall regulations that prohibit banks from owning investment firms.
"We need to eliminate the risk posed to our economy by 'too big to fail' financial firms and to reinstate the protective firewalls between Main Street banks and Wall Street firms," said Feingold in a statement after the vote. Feingold supported the amendment to reinstate Glass-Steagall, among others.
"Unfortunately, these key reforms are not included in the bill," he said. "The test for this legislation is a simple one -- whether it will prevent another financial crisis. As the bill stands, it fails that test. Ending debate on the bill is finishing before the job is done."
The prop trading amendment, sponsored by Sens. Jeff Merkley (D-Ore.) and Carl Levin (D-Mich.), will likely get a second chance as a post-cloture attachment to Kansas Republican Sam Brownback's amendment to exempt auto dealers from the oversight of the proposed Consumer Financial Protection Bureau.
UPDATE: Here is the amendment that Cantwell is fighting to have attached. "Senators Cantwell and John McCain (R-AZ) have filed another amendment not yet debated that would reinstate the Glass-Steagall Act's separation of commercial and investment banking. In her floor speech, Cantwell said she would like a vote on this measure, but that her primary concern was the derivatives issue," said a statement from her office.
UPDATE II: Sen. Scott Brown (R-Mass.) confessed to reporters that he was the one who told Reid he'd support cloture, but then changed his mind. He said that he had assumed progress would be made in the bill on behalf of Massachusetts financial services companies, but the changes weren't made and Reid's staff didn't return his staff's phone calls.
UPDATE III: Sen. Sheldon Whitehouse (D-R.I.) managed to get a vote Wednesday night on his amendment to allow states to set interest-rate caps on out-of-state credit cards. Sounds straight forward? Only 35 senators voted for it, with 60 opposed. Here's how each voted.
Popular in the Community