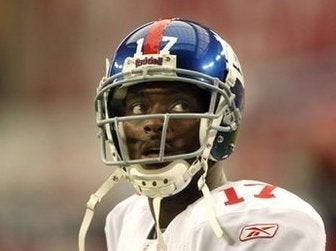 Following up on my last post, I watched an interview broadcast recently on ESPN2, where Miami Dolphins linebacker Joey Porter defended gun possession by professional athletes in the wake of the Plaxico Burress shooting accident.
Porter spoke to ESPN about professional athletes who have been victims of crime, and he said that Plaxico Burress is "not carrying a gun to, 'Oh, I'm just carrying a gun because I'm tough.' It's safety. It's nothing but safety." Porter continued, "It's a tough situation. I mean, we're always in the spotlight. So you can't tell a person to stop living your normal life. [Burress has] got to live his life," Porter said. "You're going to go out, you're going to do these things."
Later in the interview Porter said,
"Am I saying it was right by [Burress] having his gun with him in a club? No, that probably wasn't the smartest situation. But at the end of the day, obviously he was nervous about something. Something probably had happened in the past. I mean, should he have brought it? No. But is he the only one to ever do that? No."
I understand that some professional athletes feel threatened at times. But that doesn't mean those athletes should purposely go to places where they feel threatened enough to carry an illegally concealed handgun, drink alcohol, and accidentally fire their weapon.
Throughout his ESPN interview, Mr. Porter failed to make an important distinction. Keeping a gun at home lawfully for self-defense is one thing. It's his right to do that. But there is no Constitutional right to illegally carry a concealed handgun into a bar. That's dangerous and it clearly puts the public at risk.
Former Miami Dolphins defensive end Jay Williams, who is now a gun dealer according to reports, also appears to differ with Joey Porter's assessment of the Burress incident. According to an Associated Press interview conducted before Joey Porter made his comments, Williams said that Burress ignored some of the most basic rules for handling a gun.
"Do everything that you can possibly do to know your weapon and to know the laws of your locale," Williams said. "You have to know the laws concerning firearms where you live. You have to obey those laws to the fullest. If you can't carry [a gun] in that locale, don't carry."
Joey Porter told ESPN that he owns a handgun, indicates that he carries it (calling it "my little buddy that I keep with me"), and that he has a concealed weapons license from the state of California. However, California and the state of Florida do not recognize each other's concealed carry licenses.
I agree with Jay Williams. With rights come responsibilities. Responsible gun owners, whether or not they are professional athletes, must understand and follow the laws wherever they are. As we see in incidents like the Plaxico Burress accident, breaking America's gun laws puts gun owners and the public at risk of serious injury, even death.
Watch Joey Porter's interview, followed by Mr. Williams's comments here:
Calling all HuffPost superfans!
Sign up for membership to become a founding member and help shape HuffPost's next chapter