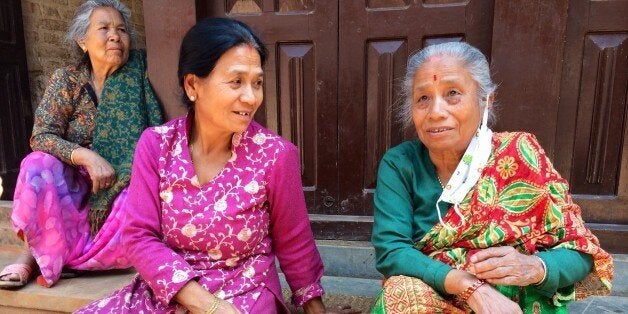 BHAKTAPUR, Nepal -- In 1934, when a devastating earthquake struck Nepal, Indra Shrestha was a few doors down from where she lives now. Just over a week ago, she experienced the horror all over again.
"This one was way worse," the 84-year-old said, referring to the April 25 earthquake that killed more than 7,000 people, flattened whole villages and destroyed a cluster of Nepal's centuries-old historic sites.
Not yet 3 years old, Shrestha was in her father's cosmetics shop when the Jan. 15, 1934, earthquake wreaked havoc in the landlocked Himalayan nation, killing 8,500 people in Nepal alone.
Sitting in a bright green saree on a wide step by her house in Bhaktapur, about 8 miles east of Kathmandu, Shrestha was nonchalant on the subject of her double survival. "My life is exactly the same, I just sit in the sun," she said, playing with the face mask worn by residents in the ancient temple town.
But Shrestha's life was bookended by more than just cracked earth.
"My father didn't want me to go to school," Shrestha said. "I can't read or even sign my name."
Millions of Nepali women have experienced similar hardships. Throughout the first half of the last century, girls and women in the country suffered enormous disadvantages. Usually denied education, Nepal's strict patriarchal system meant girls were often married off as young teenagers.
"Sometimes, he'd let me look after the shop," Shrestha said of her father, recalling her only interaction with the outside world.
She never married, and when her father died, before she reached 10 years old, her life was plunged into poverty. Her late brother took her under his wing.
Today, Shrestha lives with her widowed sister-in-law, Maheshwari, in their traditional brick-and-wood house in the graceful 12th-century town. Shrestha has spent her entire life on the same small street.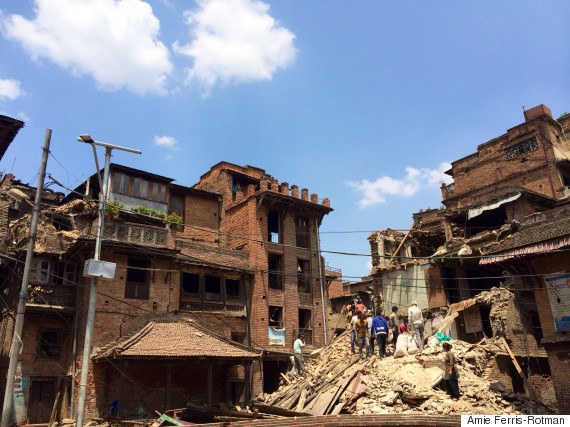 Locals look for belongings amid the rubble in Bhaktapur, Nepal.
Despite having one of the worst gender gaps in the world, Nepal has come a long way in recent decades in terms of improving the lives of its women. Literacy rates have shot up to over half of the female population, more girls are in school than ever before, abortion is legal and, at 33 percent, Nepal's female representation in Parliament exceeds all other nations in South Asia.
But the most recent earthquake threatens to stymie this progress. Scores of schools in the hardest-hit rural areas of the Kathmandu Valley have been destroyed, and there is no clear indication of when these might be rebuilt. While this means members of both genders will miss out on their education, the impact on girls will be worse as their health and livelihood are given less priority than that of boys, said women's health crusader Dr. Aruna Uprety, who founded the Nepali education non-profit Rural Health and Education Service Trust.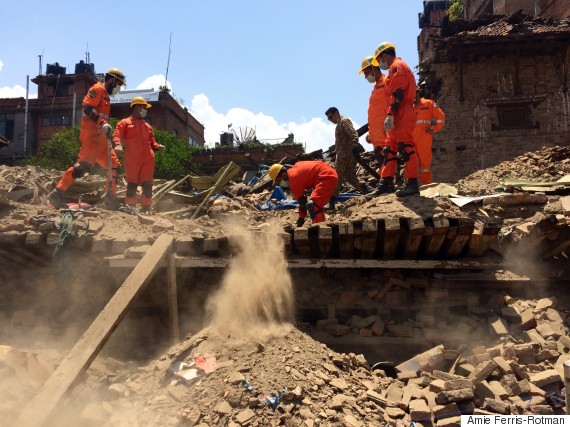 Pakistani Army soldiers search for a missing Chinese tourist in Bhaktapur, Nepal.
In a country that is desperately poor and on the brink of an earthquake-spurred health epidemic, the quality of women's lives will most certainly go down, warned Dr. Jageshwor Gautam, director of the Paropakar Maternity and Women's Hospital in Kathmandu, the largest and oldest of its kind in the country. Widowhood and poverty will lead to "more cases of women absconding, leaving their babies here," Gautam said.
"When you don't have work, abandoning your baby becomes an option," she added with a deep sigh.
For Shrestha and the roughly 4 million Nepali women and girls the U.N. estimates have been affected by the quake, there is pressing urgency.
Calling all HuffPost superfans!
Sign up for membership to become a founding member and help shape HuffPost's next chapter