Emerging market ETFs had a rough ending in 2016 following the surprise victory of Donald Trump in the U.S. presidential elections. Trump has voiced some protectionist concerns that suggest that emerging markets might no longer be viable grounds for U.S. firms to do business. The news of Trump's victory caused the U.S. Dollar to soar to 3-year highs against major rival currencies. The USD is now up to a 14-year high and a strong dollar weakens the prospects for investing in emerging economies because currencies conversion headwinds will erode most of the gains.
Nonetheless, 2017 could turn out to be a massively profitable year for investors with exposure to ETFs in emerging market economies. To start with, investors are exiting emerging markets in droves; hence, you could get an opportunity to buy great ETFs at a discount. Emerging market ETFs also provides the smart investor with a gateway to diversify their portfolio with a global strategy that mitigates the risks of political and socioeconomic chaos. This piece examines two emerging market ETFs that should be in your portfolio in 2017.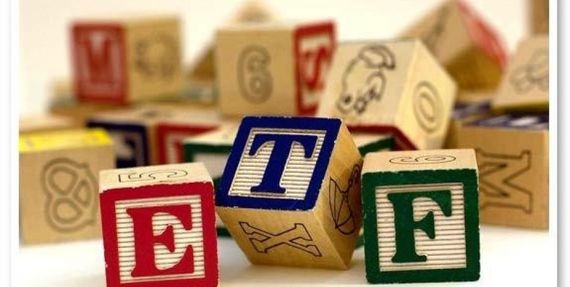 iShares MSCI Emerging Markets ETF (NYSEARCA:EEM)
You should seriously consider adding the iShares MSCI Emerging Markets ETF (EEM) to your portfolio if you want to profit from emerging market ETFs in 2017. EEM is one of the two largest emerging market ETFs by market cap and it provides you with exposure to mid and large cap firms in countries such as South Africa, Korea, India, Taiwan, and China among others. In 2016, EEM scored gains of 11.82% and it is up 1.97% in the first two trading sessions of 2017.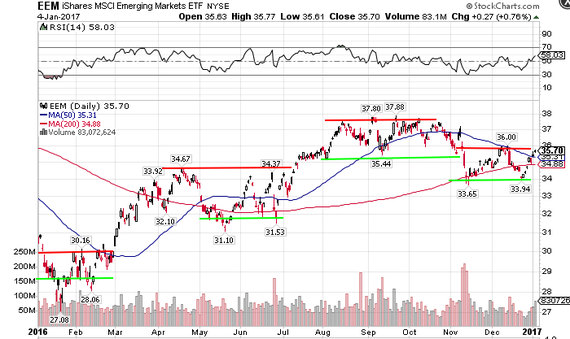 The annotated chart above shows how EEM traded in the last one year. In the chart, you'll notice the major support and resistant trend lines of the ETF - the first three quarters tended towards gains with an increase in the support and resistance trends - the last quarter tended towards losses as the support and resistant points dropped lower.
However, the 200-day moving average suggests that the bulls are still in control of the momentum of the ETF. The 200-day moving average provides powerful insight into the direction of major trends in an asset. EMM is set to maintain a decent rally in light of the movement of the 200-day MA at $34.88 in relation to the EEM's trading price of $35.70 and in relation to the resistance trend at $36.
iShares Emerging Markets Dividend ETF (DVYE)
Investors with exposure to assets in emerging markets can also include income-generating assets in their portfolio by buying up the iShares Emerging Markets Dividend ETF (DVYE). The ETF provides a gateway to firms that pay decent dividends in emerging economies such as Brazil, Poland, Malaysia, Taiwan, Turkey, Thailand, and China. In 2016, DVYE scored gains of 17.70% and it is up 1.76% in the first two trading sessions of 2017. As at November 2016, DVYE had an expense ratio of 0.49% and it maintained a 30-day SEC yield of 5.68 - hence, it is still a smart deal.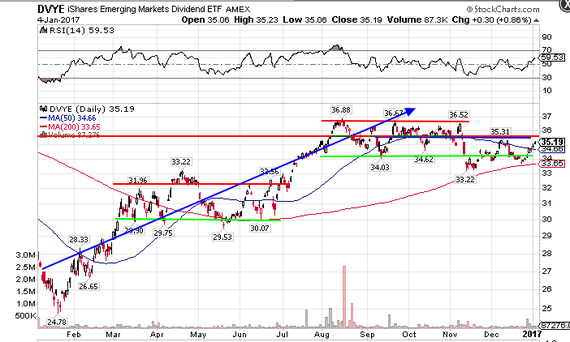 The chart above with my annotations shows how DVYE traded in the last one year. In the chart, you'll notice the major support and resistant trend lines of the ETF - the ETF maintained a consistent bullish ascent in 2016 with increases in the support and resistance trend lines as seen in the blue arrow. The ETF currently maintains a support line at $34 and it is facing resistance at $37; however, it currently trades at $35.19 where it could breakout towards resistance or breakdown below support.
Nonetheless, the strength of its bullish ascent as seen in the 50 and 200-day moving averages indicates a long-term bullish drive. DVYE currently maintains strong support levels and none of its pullbacks in the last one year have led to a break down below support. Hence, smart investors should consider setting stop loss around $33 when adding up positions in DVYE.
Investing in emerging market ETFs has its own peculiar risks as it is to be expected with any type of investment. For instance, the move by the U.S. Federal Reserve to raise interest rates make investing in emerging economies ETFs less attractive. The fed plans to raise interest rates three more times this year and increases in the interest rates will exert more pressure on the emerging market ETFs - especially economies that are servicing dollar-dominated debts. Hence, many investors were quick to start pulling their funds from ETFs with exposure to emerging markets.
Nonetheless, investors can hedge against currency conversion risks by fortifying their emerging market ETFs with currency-edged assets. For instance, the Deutsche X-trackers MSCI Emerging Markets Hedged Equity Fund (DBEM) provides exposure to emerging markets but it also has currency swaps to protect investors against a stronger dollar or weakening emerging market currencies. More so, a strengthening of current account balances of emerging economies, rising commodity prices, and improved market fundamentals could stand emerging market investors in good stead going forward in 2017.
Calling all HuffPost superfans!
Sign up for membership to become a founding member and help shape HuffPost's next chapter