Two become one in this awe-inspiring image of galaxies merging together.
The photograph shows galaxy NGC 6052, which is located some 230 million light-years away from Earth, in the constellation of Hercules, in the process of being formed.
Astronomers initially classified the galaxy as being "a single abnormal" one, according to the European Space Agency (ESA). But it's now confirmed to be a pair of star systems that are coming together.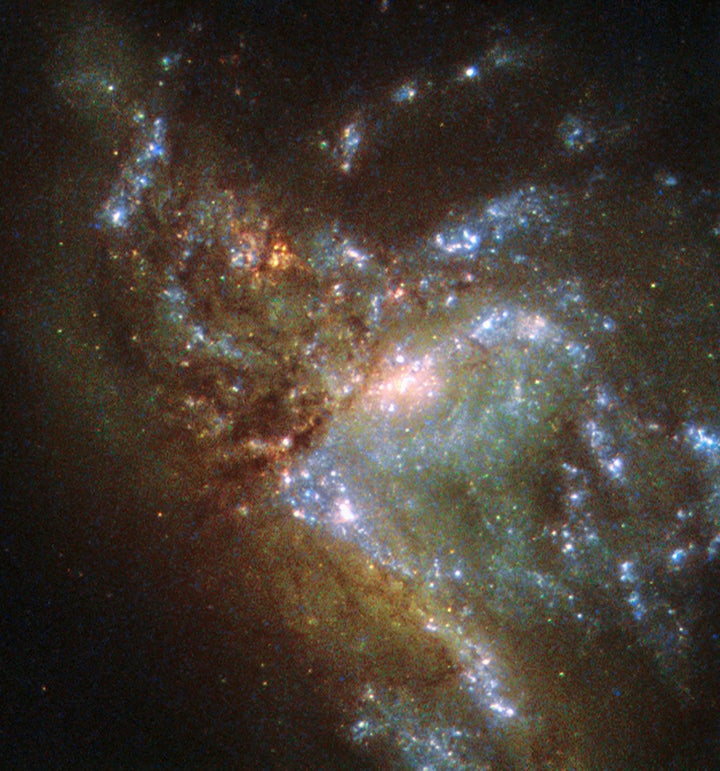 "Two separate galaxies have been gradually drawn together, attracted by gravity, and have collided," an ESA statement on the NASA website reveals. "We now see them merging into a single structure."
The image appears to be "chaotic" because individual stars are being thrown out of their original orbits during collisions in the merger, the statement says. "Eventually, this new galaxy will settle down into a stable shape, which may not resemble either of the two original galaxies."
Galaxy mergers are common, according to Space.com, with our own Milky Way set to merge with our neighboring Andromeda galaxy in around 4 billion years time.
The Hubble Space Telescope is named after Edwin Powell Hubble, one of the great pioneers of modern astronomy, and launched in 1990 aboard the space shuttle Discovery. 
Calling all HuffPost superfans!
Sign up for membership to become a founding member and help shape HuffPost's next chapter