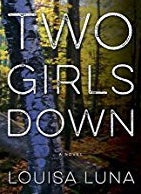 Two Girls Down by Louisa Luna
Doubleday January 9, 2018
Reviewed by Lloyd I Sederer, MD
What makes for a great thriller-mystery read? Where we, the readers, are swept along through the ebb and flow of the story line, and then hurtled into a totally engrossing finish?
A great mystery, a true thriller, needs to incite a primal terror. How better to do that than by having two sweet young girls, eight and ten, kidnapped in a strip mall in Pennsylvania? Gone missing, without a trace.
Their fates are not looking good as the town police have had their ranks thinned by budget cuts and their shifts occupied by their raging opioid and meth epidemic. We share in the family's dread and bleak prospects of recovering the children – until an aunt with some money hires a private detective, Alice Vega, of national renown for finding abducted youth, almost all the time alive.
Here then is the second feature of a novel you want to read: the central character. Vega, as she is known, about 30, flies in from California to take the case. She is a social maladroit, obsessive, laser focused so that nothing, I mean nothing and no one, means anything except her mission. In my field, she might be seen as a person with high functioning Asperger's syndrome: she has to practice saying 'thank you' and other amenities, otherwise it is not about to happen. But she can cry (rarely), form attachments and be ironic (so we like her better) – but don't press her. Vega can stand on her hands for 15 minutes, and has a bit of telepathy when upside down. She is fierce, mentally and physically, when provoked; she can do a lot of damage knowing how to turn any item about her into a weapon to win a fight. Of course, her stamina and resolve border on the superhuman.
But as Holmes had Watson, Reacher had Frances Neagley (and others), and even Don Quixote had Sancho Panza, so does Vega find her local counterpart, her crime-solving partner, in Max Caplan (Cap), a 41-year old, former police detective whose leaving the force was tinged with disgrace, but Vega knows better. He is the one with the big heart, and a teenage daughter as well. Here is his chance to recover his standing in his community, to once again hold his head high. There is fast and sharp repartee between Vega and Cap, and we see how two heads, female and male in this case, are better than one.
So, we have primal terror and two fine characters. But a mystery fails unless the story line grips us, drops a clue or a dead body here and there at the right moment, or whips us up with a fight. Pace is critical, continually pitching the reader between a bit of repose and a lot of alarm. Two Girls Down has its share of ne'er-do-wells and low-lives, adding counterpoint to Vega, Cap and a few other good guys. Ms. Luna is terrific at character portrayals, too. We see, feel and smell the characters, and are offered windows into their brooding minds.
The detective method varies among mystery writers. Vega and Cap do their work the old-fashioned way. They are gumshoes, boots on the ground, following every lead, no matter how small are its prospects and regardless of the time of day. They deduce, seduce and intimidate, depends on what the moment calls for.
And finally, with any book we can savor, and want to tell others about, there is the prose. The words, phrases, asides, and brisk dialogue; the images evoked; the imaginings constructed; and the scenes made alive and lively. There is color and harmony in Ms. Luna's prose; she is a writer with great craft.
Terror? Check. Suspense and pace? Check. Characters we eat up or want to spit out? Check. A credible method of getting at the truth, no matter how hard? Check. And just good old prose, the art of writing? Check.
I bet you will not be able to imagine the ending, the resolution of the kidnapping. But I can tell you, no spoiler here, that it comes together with high drama, humanity and not a hint of sentimentality.
............................................................................................................................................................................
Dr. Lloyd Sederer is a psychiatrist and public health doctor. The opinions offered here are entirely his own.
His next book, The Addiction Solution: Treating Our Dependence on Opioids and Other Drugs, will be published by Scribner (Simon & Schuster) in May, 2018.
Related
Popular in the Community