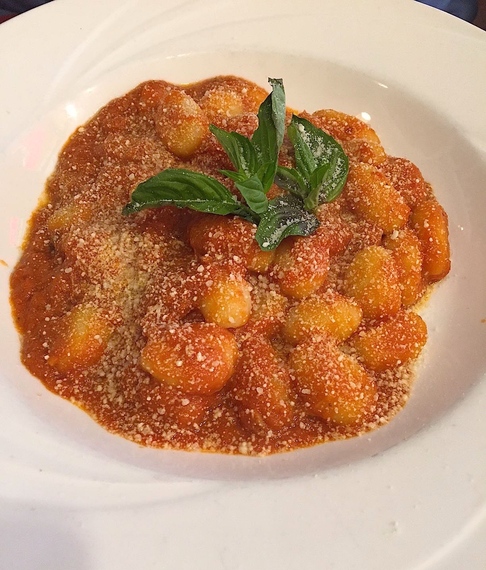 Now that the food media have run low on hipster Brooklyn eateries to rave about, there is new interest in the once neglected boroughs of the Bronx and Queens. Here are two places worth the visit.

SAN GENNARO
2329 Arthur Avenue, Bronx, NY
718-562-0129
http://www.sangennarorestaurant.com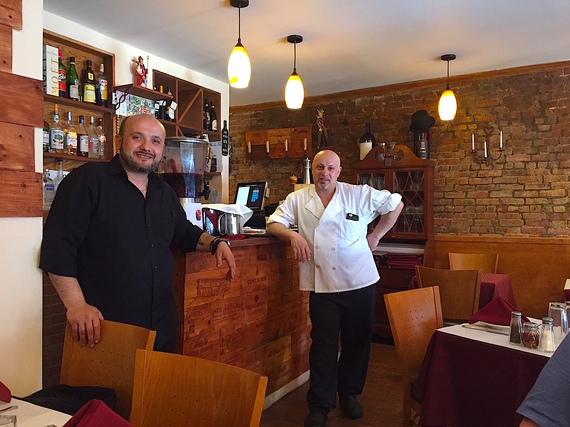 Gennaro Martinelli, born in Capua, south of Naples, has long experience cooking around the world, from Paris to Bruges, from Austria to Kenya, from Thailand to Brazil, so when he took over San Gennaro in the Bronx's Little Italy section known as Belmont, you could tell right away that he was going to cook with somewhat more refinement than at most of the established Italian-American places in the neighborhood.
His expertise, along with that of Chef Giuseppe Cammarota (left), shows clearly in the standard dishes of the genre, from excellent, greaseless, lightly battered calamaretti fritti to linguine with vongole clams in the shell. Pastas are always al dente, ingredients gleaned from the Arthur Avenue markets, which means half a dozen specials every day, among which you'll find the best dishes on a long menu.

San Gennaro is going through some decorous changes--new floor, new chairs--that will soon include an inserted wine wall, which I'm told will increase a wine list in need of more and better selections.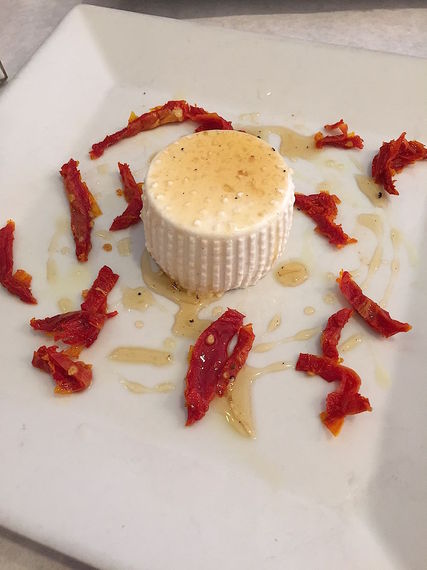 The room is small but it's appended with a delightful patio on the street that is especially sought out in spring and summer. Tables are close to one another, and it's highly likely you'll chat with diners at the next one over, either recommending what you're eating or taking the advice on what they're enjoying. Everything that comes out of the kitchen looks wonderful, and while Martinelli is a very congenial host, he hires an equally amiable waitstaff.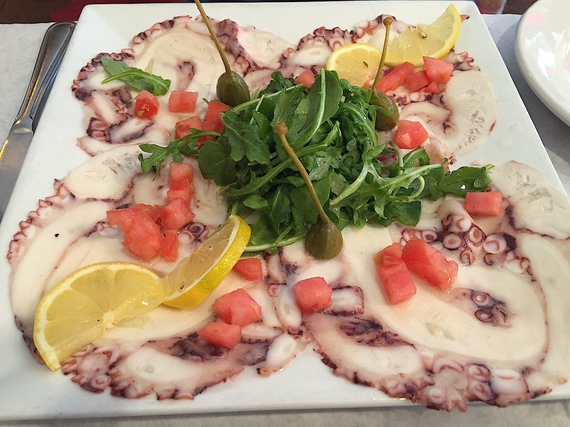 Antipasti should not be neglected, since Martinelli may have just obtained some buffalo ricotta, semi-soft in a lattice pattern, drizzled with truffle honey and ringed with sun-dried tomatoes ($13). Grilled, marinated vegetables come glossed with good olive oil ($11 or $22), and they do a splendid carpaccio of slightly smoked swordfish ($12); the same treatment was given pressata di polpo ($15) as a special last week, and it was exceptionally delicate octopus, colorful and tangy with big capers from Pantelleria.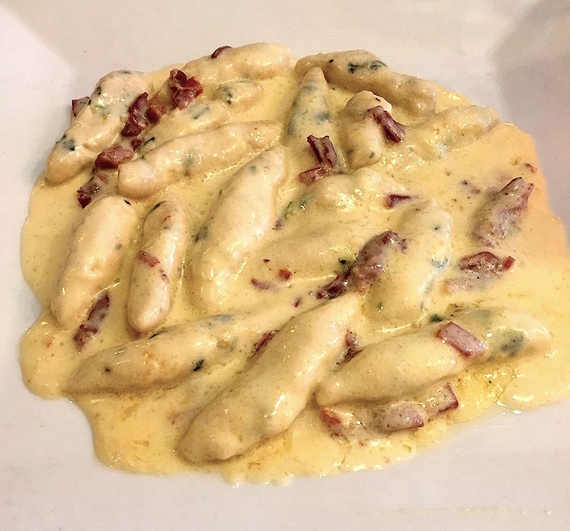 Just about every pasta I've had at San Gennaro has been very, very good, many housemade, and the fettuccine with abundant shrimp in a verdant pesto ($18) is excellent. Two specials often featured are the nudi dumplings ($24), made with ricotta and fontina, spinach, prosciutto and white truffle paste in a lavish, cheese-rich cream sauce, and perfect potato gnocchi ($20), airy but substantial, in a pork and beef ragù cooked slowly for three hours to incorporate all the flavors and spices.
My favorite meat dish here is the pollo scarpariello ($18), big chunks of chicken cooked in white wine-lemon sauce with hot vinegar peppers and sweet sausage (ask for it on the bone). Fillet of sole is quickly sautéed and served with vegetables in a white wine-lemon sauce ($22), and the scaloppini of veal with a dreamy Gorgonzola sauce takes on nuance from chopped walnuts ($24). Last time I had the osso buco it was disappointingly dry ($30).
By the way, you might save that ricotta appetizer as a fine dessert, without the peppers, but the cheesecake made here is one of the best in the neighborhood ($9).
Gennaro Martinelli is always at his little trattoria and you'll get to know him quickly. Take his recommendations. It makes him and Giuseppe very happy if you do.

MILKFLOWER
34-12 31st Avenue, Astoria, NY
718-204-1300
http://www.milkflowernyc.com
http://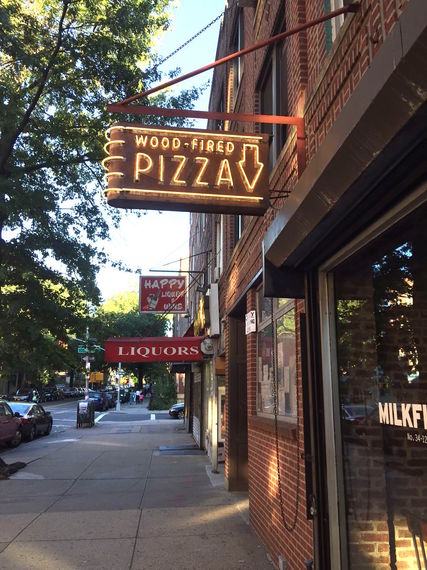 www.milkflowernyc.com
Fraternity is among the strongest of human bonds but, brothers being brothers, there is also sibling rivalry. Both may be the case with Jersey boys Peter and Danny Aggelato, but both are so committed to their darling pizzeria-trattoria in Astoria--they are on premises seven days a week--that you will sense immediately that Milkflower is a labor of love.
Both men have worked for years in others' restaurants--Danny in pizzerias, Peter as manager--but they dreamed of having their own place in this gentrifying Queens neighborhood of good ethnic restaurants of every stripe, but none quite like Milkflower, which refers to the whole milk called fior di latte used in Italy to make mozzarella.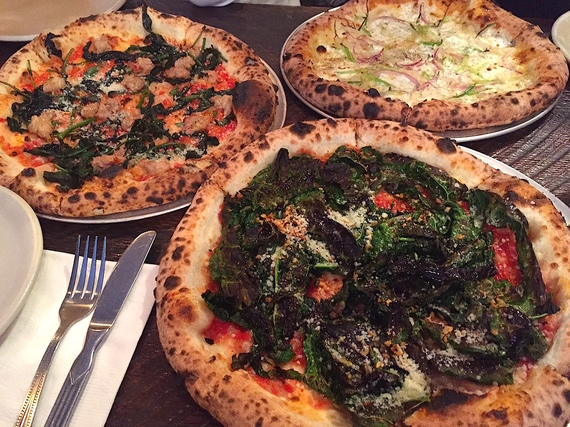 While principally a pizzeria in the Neapolitan style, the long slip of a space with a garden patio out back makes far more use of the wood-burning oven than usual, resulting in wonderful small dishes like roasted octopus with potatoes and green olives graced with dill ($15) and roasted meatballs with tomato, garlic confit, grana padano cheese and basil ($11). They also do a pea toast with a touch of mint and creamy-rich burrata and grated lemon ($10). Plates of Serrano ham ($14), a string bean salad, with persimmon, feta, almonds and citrus ($11), and eggplant caponata ($12) made smoky by that oven is enriched with burrata, pinenuts and a dash of balsamico.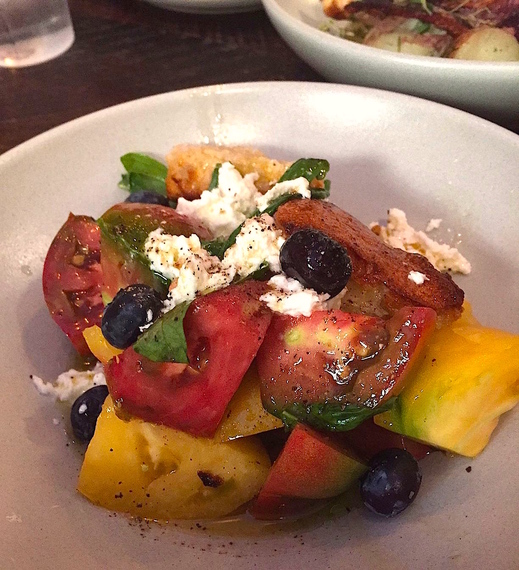 There are also some delectable pasta offerings, from Roman cacio e pepe (cheese and pepper) on fat bigoli noodles ($13) and rolled cavatelli in a beef ragù with goat's milk feta ($16).
The Aggelatos can be proud of all those dishes, but clearly their hearts and energies are focused on their ever-improving pizzas, from a classic margherita ($12) to one called "s.t. the ghost," named after an employee, made with Grafton cheddar, mozzarella, Parmigiano cheese and burnt honey ($15).
These are not the ultra-crisp flatbread variety of pizzas; they are the soft-centered Neapolitan variety, always with a risen corona around the rim, with blistered bubbles and charcoal scorchings that make them so marvelous in both lingering flavor and chewy texture.
Sometimes there's no reason to re-invent the wheel, if your goal is just to make a better wheel, and that's what the charmingly named Milkflower is doing to the very best of the brothers' abilities.