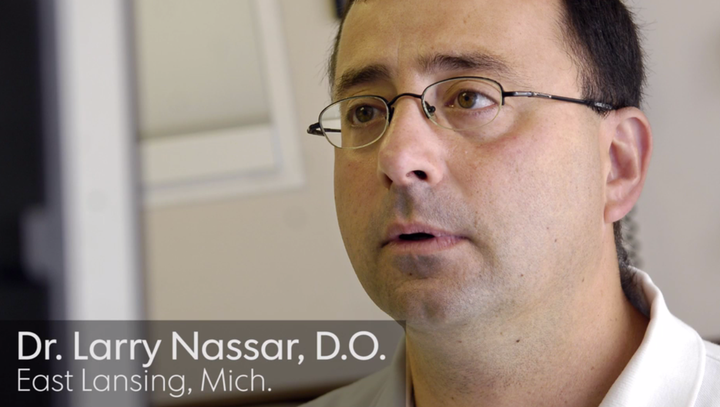 Longtime USA Gymnastics team doctor, Larry G. Nassar, has been accused of sexually abusing two former gymnasts.
The two women recently came forward, and accused Nassar of fondling and penetrating them with his fingers under the guise of medical care when they were minors.
The first woman to file a criminal complaint against Nassar is an Olympic medalist who competed in the 2000 Olympics. According to the Indianapolis Star, the young woman, identified as "Jane Doe," filed a civil lawsuit against Nassar on Sept. 8, claiming that he began abusing her in the 1990s when she was 12 or 13 years old up until she was 18.
According to Doe's lawsuit, Nassar "would do anal and vaginal examinations of Plaintiff and other gymnasts in the care of (USA Gymnastics) without gloves, a chaperone, and/or any form of lubricant."
"It felt like a privilege to be seen by him," Doe told IndyStar. "I trusted him."
The second woman to file a complaint against Nassar is Rachael Denhollander, a former gymnast who was treated by Nassar for back pain in 2000 when she was 15. Denhollander says Nassar penetrated her vaginally and anally with his fingers and also fondled her breasts.
"I was terrified. I was ashamed. I was very embarrassed," Denhollander told IndyStar. "And I was very confused, trying to reconcile what was happening with the person he was supposed to be. He's this famous doctor. He's trusted by my friends. He's trusted by these other gymnasts. How could he reach this position in the medical profession, how could he reach this kind of prominence and stature if this is who he is?"
Nassar has been a highly-renowned doctor in the gymnastics world for years, working as USA Gymnastics' team doctor for four Olympics games. In September 2015, Nassar quietly resigned from his position.
Immediately after learning of athlete concerns about Dr. Nassar in the summer of 2015, Steve Penny, president and CEO of USA Gymnastics, notified law enforcement. We also relieved Dr. Nassar of his duties, and he ceased to be affiliated with USA Gymnastics. USA Gymnastics has cooperated fully with the law enforcement agency since we first notified them of the matter, including ― at their request ― refraining from making further statements or taking any other action that might interfere with the agency's investigation. We are grateful to the athletes for coming forward to share their concerns when they did.
Nassar, who's a faculty member at Michigan State's College of Osteopathic Medicine, was recently suspended from working on campus after the allegations went public. The university confirmed to The Cut that police are conducting an investigation into Nassar's activity.
Denhollander told IndyStar that it's possible USA Gymnastics didn't know what was happening. If they truly didn't know, Denhollander says she doesn't "hold them responsible." On the other hand, Doe claims that USA Gymnastics ignored her complaints about Nassar's abuse.
Nassar's lawyer, Matthew Borgular, told IndyStar that Nassar "emphatically denies any wrongdoing."
Head to IndyStar to read more about the accusations against Nassar.
Watch an interview with Denhollander below.
Related
Before You Go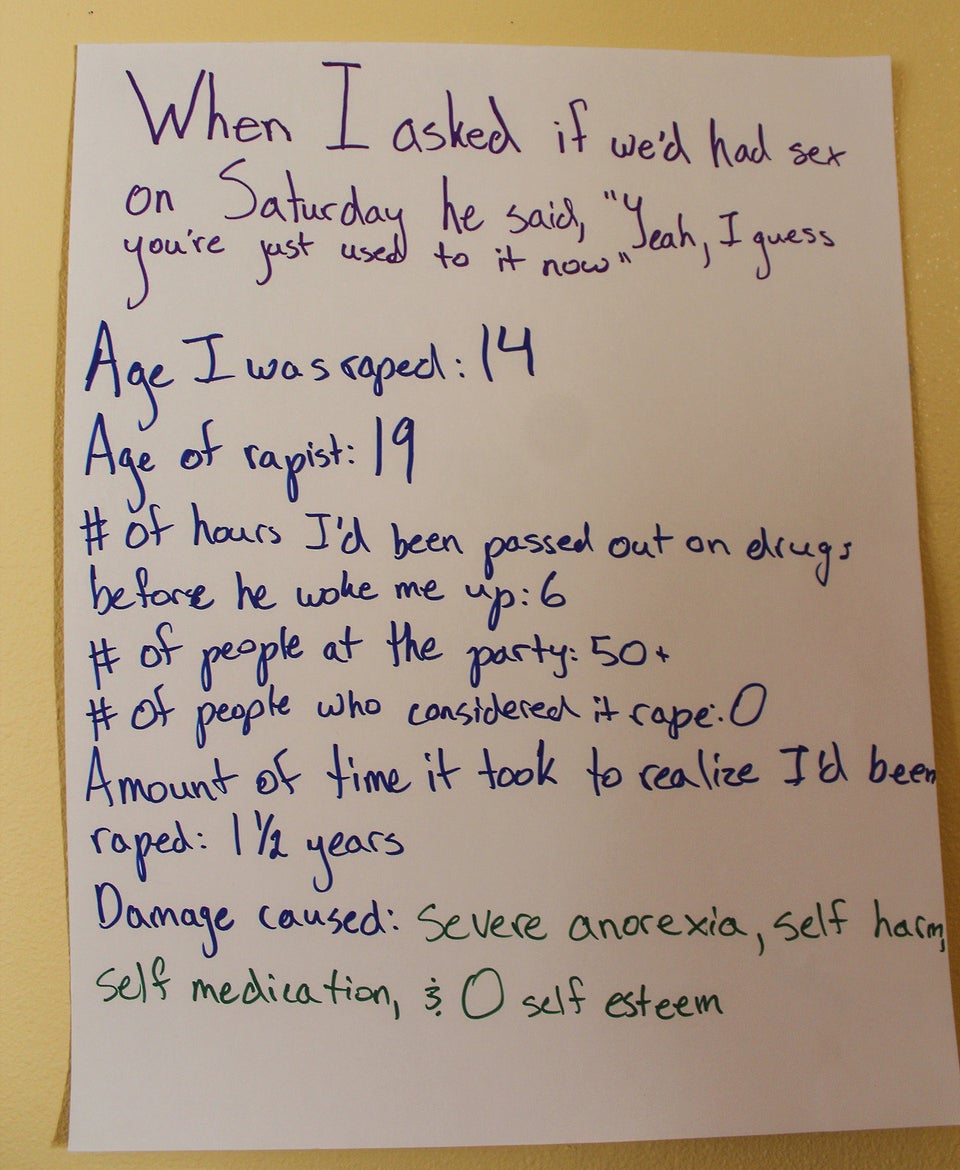 Images From 'Surviving In Numbers' -- A Project Highlighting Sexual Assault Survivors' Experiences
Popular in the Community