It's safe to say Stan McCubbin had a cow on Friday ― in all senses of the expression.
The Kentucky farmer was walking around his property near Campbellsville when he noticed what looked like twin calves in the distance.
"I saw two noses. I thought it was twins and then when I saw her, I was just completely blown away," McCubbin told WDRB-TV.
Then he did a double-take, according to his wife, Brandy.
"He was just like, 'I've got a two-headed calf,' so I was in shock," she told the station.
The McCubbins named their female calf "Lucky," as in "lucky to be alive."
Lucky has two noses and two mouths that work in unison, even when only one face is being fed from a bottle.
"It looks like she has three eyes, but she has two in one socket. They told us she was blind in these," Brandy McCubbin told "Inside Edition." "She stands and goes in a 360. It's a balance issue as well ― her head is so heavy. She likes to stand up, but my husband has to hold her on her legs."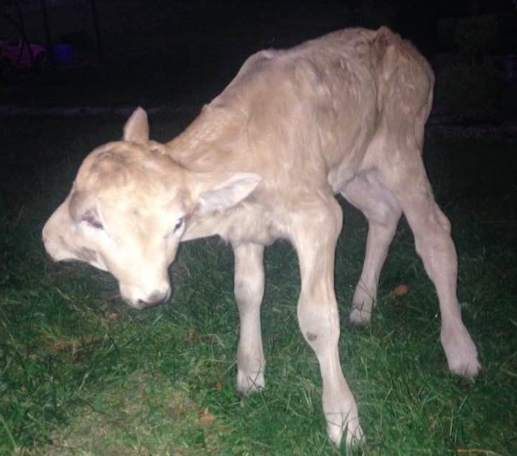 This is the first two-headed calf the McCubbins have had in their seven years on the farm, so they are trying to figure out things while keeping the animal alive.
Ray said, based on the photos, Lucky is "one of the most beautiful two-headed calves" he's ever seen.
"When it eats, both mouths move at the same time," Ray told HuffPost. "I told them to watch while it eats to make sure none is going in its lungs by mistake."
As a rule, two-headed calfs don't live very long. The McCubbins said the family read about one in Florida that lived 40 days and they have set that as a goal.
Ray said he thinks they can reach it. 
"The calf has been standing, which is a very good sign. Most calves with two heads like this one can't lift their heads by themselves and therefore can't stand on their own," Ray said.
REAL LIFE. REAL NEWS. REAL VOICES.
Help us tell more of the stories that matter from voices that too often remain unheard.
BEFORE YOU GO
PHOTO GALLERY
Two-headed animals and other bizarre creatures