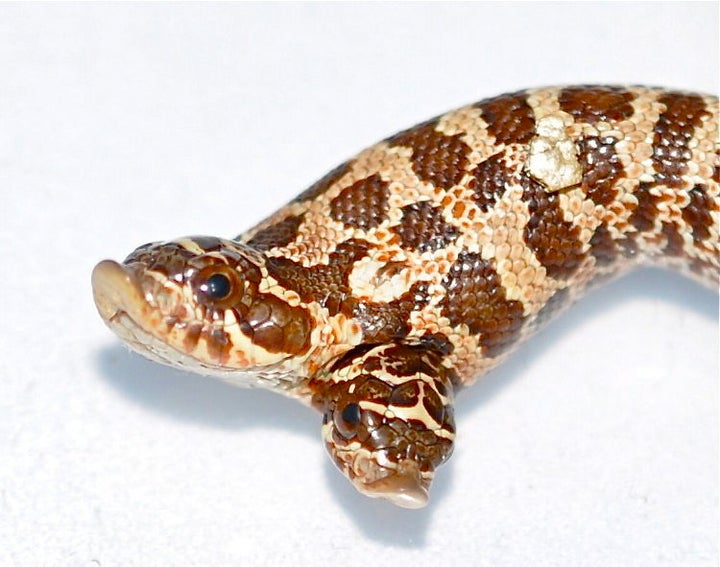 What's in a name? A big brain scratcher for a man who is trying to name a two-headed snake.
Todd Ray owns the world's largest collection of two-headed animals according to Guinness World Records and while feeding a zoo of multi-headed creatures has its challenges, so does naming them.
He's named previous two-headed members of his menagerie appropriate monikers like "Laverne and Shirley," "Pancho and Lefty" and "Jekyll and Hyde," but his latest acquisition has him stumped.
It's a month-old two-headed hognose snake that he purchased from a private owner in Texas.
He's been so focused on keeping it -- or them -- alive that he has neglected to provide a suitable name.
"I finally got them eating a little bit," Ray told The Huffington Post. "They eat 'pinky' -- or baby mice -- but they only ate half a mouse. I tried 'scenting' the food by rubbing things like tuna, chicken eggs or geckos on them. Finally, I saw them drinking a broken egg, but it was tough for a while."
Ray puts many of his unusual creatures on display at the Venice Beach Freakshow near Los Angeles, but said this two-headed snake isn't ready for "public consumption."
"Luckily, I have so many strange animals that I don't have to rush them," he said. "I want to wait until they're eating regularly and well-adjusted."
Still, he'd like to give them a name and is asking for recommendations on his Facebook page. Some sample names include "Hall & Oates," "To and For," "Abbott and Costello" and "Biggie and Smalls."
"I like to pick fun names that all ages can relate to," Ray said. "Some people get intimidated when they see these creatures; they think they're monsters, until they hear names like 'Laverne and Shirley.'"
Ray hopes to find a suitable name soon and promises to give a private tour of his collection to the winner, provided they're willing to pay their own fare to Venice Beach, Calif.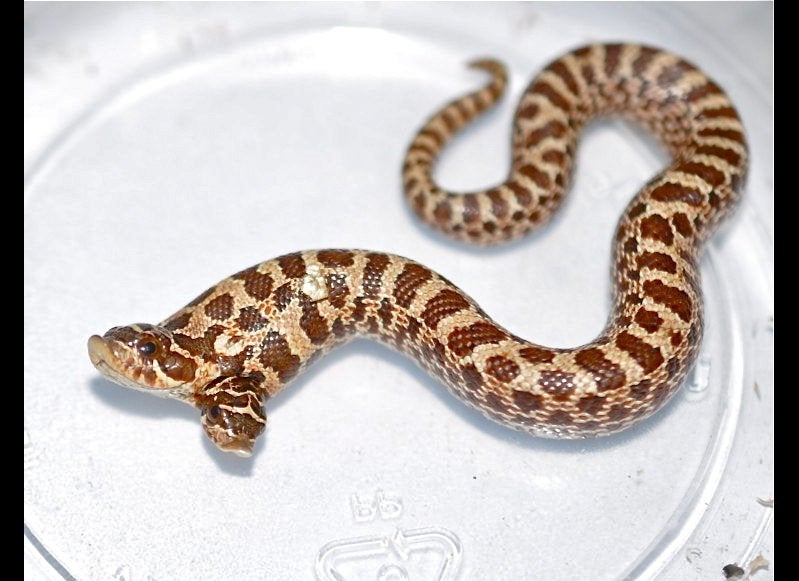 Todd Ray's Two-headed Animals