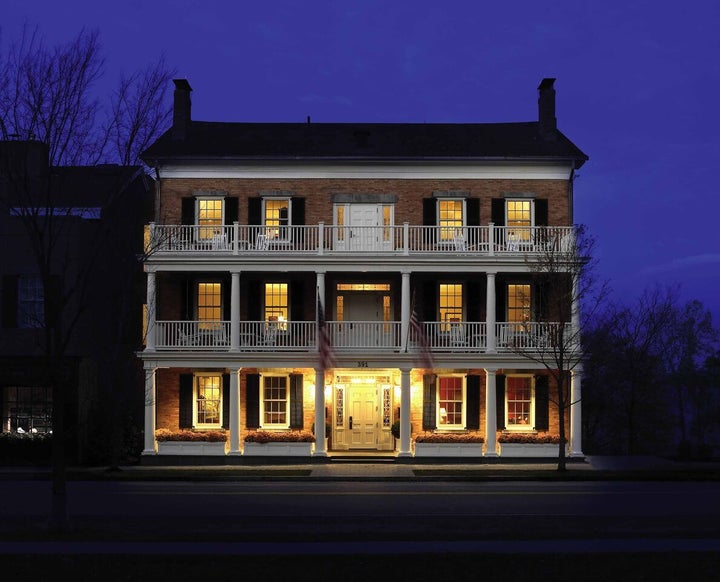 I suspect that most people who have visited only New York City have little idea of the vast size and diversity of New York State, which stretches from the tip of Long Island to the Canadian border and from Vermont to the western end of Pennsylvania, bisected by the Hudson River and anchored by Niagara Falls. And one of the most beautiful and most visited regions of New York is the Finger Lakes, eleven of them, spread through the middle of the state and lined with some of the loveliest small towns in the nation, including Skaneateles and Aurora.

Set on a lake of the same name, Skaneateles (Skan-ee-AT-eh-less)—Iroquois for "long lake"— is both a town and an historic village (above), dating back to 1794, along what became known as the Seneca Turnpike. By the middle of the 19th century the community had attracted wealthy entrepreneurs who outdid each other building mansions along the water, some still extant and in perfect condition, like the Richard DeZong House (1839) and the Reuel E. Smith House (1852), within the Historic District. At Christmastime the village holds a Dickens Christmas, with actors in period costumes entertaining on the street.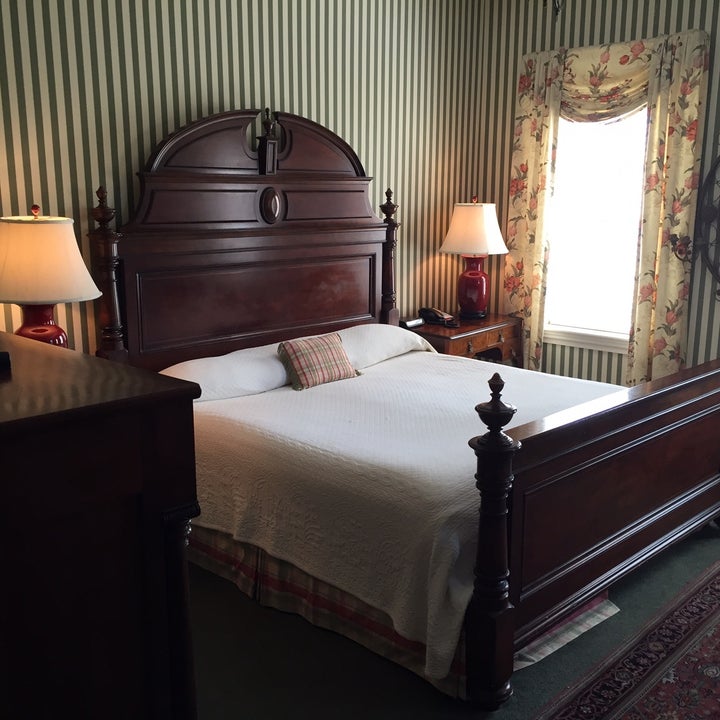 The Sherwood Inn sits right on the main road, West Genesee, dating back to 1808 and built by Isaac Sherwood as a tavern to service his stagecoach business. Successive owners expanded the premises—it once served as a hospital during the 1918 influenza pandemic—and it is currently owned by William B. Eberhardt. There are now 25 rooms and suites, none like another, all decked out in period antiques, some with canopy beds, fireplaces and Jacuzzis.
There is a lakeview porch overlooking the street (which unfortunately gets an inordinate amount of loud truck traffic), a casual tavern with a seafood raw bar, and an elegant main dining room done in dark woods and serving seasonal American cuisine, which usually includes Yankee pot roast and baked scrod—the onion soup is very good—backed by a fine wine list with several New York State bottlings. Sadly, the breakfast buffet is mediocre for a hotel with such otherwise high standards and polish.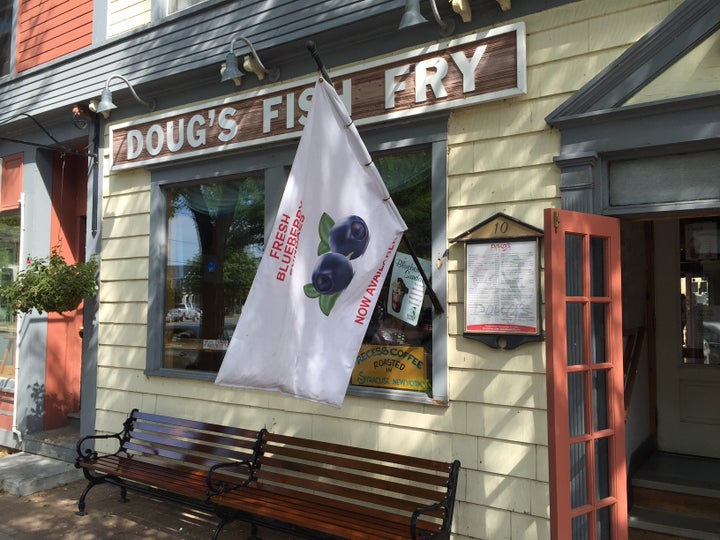 Of course, everyone who lives in Skaneateles is likely to recommend Doug's Fish Fry (below), as do I. It has been around since 1982 serving up plump lobster rolls ($15.95), chili ($3.85), hot apple fritters (in season), steamed clams ($6.50-$29.95) and fried fish ($6.31-$12.99) done to perfection, with a cold Saranac Adirondack Amber beer on the side. The ice cream shakes ($3.95) are reason enough to come with the kids, who will be agog at the railroad train puffing its way across the perimeter of the dining room, whose murals tell the story of the region with folkloric charm.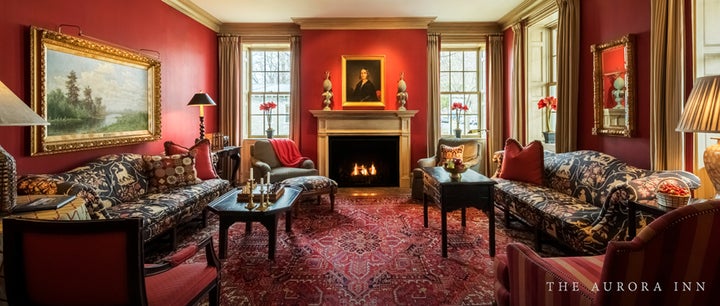 Similar to Skaneateles only for its location on one of the Finger Lakes is Aurora, established in 1795 after having been burned to the ground during the Revolutionary War. The Indians called it "the village of constant dawn," owing to the long, lingering soft morning light coming off Lake Cayuga; hence the name Aurora, named after the Roman goddess of dawn.
As much as anywhere in America, like Winston-Salem, North Carolina, and Shaker villages like those Mount Lebanon in Lebanon, NY, Aurora is a living museum with a charming walking tour that begins with the beautiful Aurora Inn (above and below), one of a trio of buildings dating to the 1830s. My wife and I stayed there for a night and could have stayed for many more in the gracious, wall-papered room—one of ten—with marbled bath, fireplace and all modern amenities. Sitting on the porch, rocking in a wooden chair, watching the sun come up or down is one of the quiet, and great, pleasures of Aurora.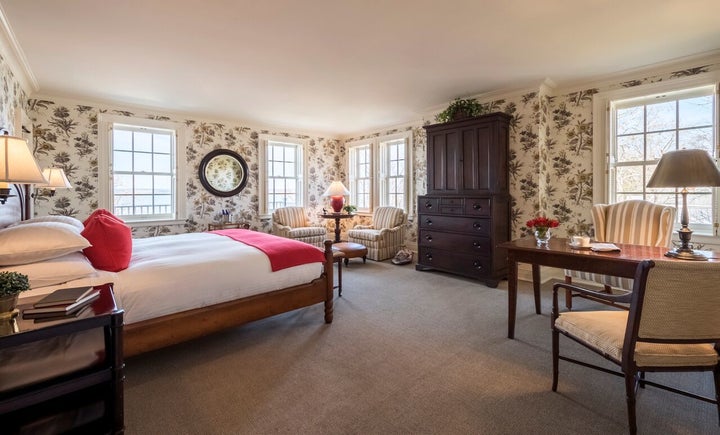 An option is the E.B. Morgan House (1858), with its stone masonry, etched glass front doors and skylight, library and seven original marble fireplaces; now with seven rooms and a collection of modern art; or the new reconstruction of the Rowland House, a Queen Anne mansion with a wrap-around porch and verandah, a Grecian temple, and a two-story boathouse with docks. The Colonial Revival-style Wallcourt Hall (1909), formerly part of Wells College, was maintained for decades by a proud alumna named Ann Goldsmith, though it fell into decrepitude and was purchased by the Inns of Aurora in 2104 and renovated to become a 17-room hotel.
Patrick Higgins is executive chef for all the inns here, providing delightful breakfasts, lunch and dinner, with all fare made on the premises, using the bountiful provender of local farmers. At our dinner at the Aurora Inn Dining Room, we enjoyed an excellent appetizer of pork belly with peaches, fennel and preserved ramps ($11), and a board of housemade charcuterie ($12-$15); for the main course country fried chicken with whipped potatoes ($24), finishing with three terrific desserts (all $9)—apricot crisp with oatmeal streusel and vanilla ice cream; chocolate mousse torte; and coconut cake.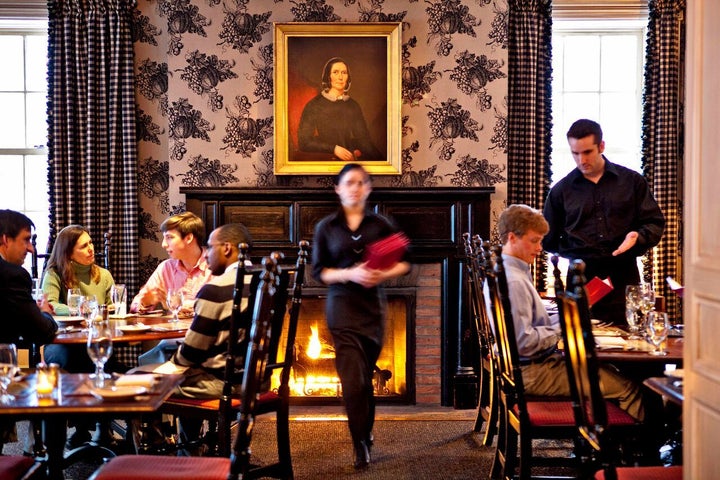 Other historic building on the Aurora tour include the Cayuga Lake National Bank (1840), done in an Italianate limestone style; the Greek Revival Taylor House (1838), which became part of Wells College; the Fargo Bar & Grill (1834), popular with the locals; and Phelps House (1800; below), now home to Jane Morgan's Little House, a clothing boutique that has grown into Jane Morgan's Bigger Little House in another building. Many were once part of Wells College, founded for women in 1868, now co-ed.
The fact that all of these properties are as well maintained, trim and decorated with truly fine art as they've ever been is due to an enduring love affair a woman named Pleasant Rowland had for the village and Wells College, which she'd attended. Rowland went on to become the creator of the fabulously successful American Girl brand (sold to Mattel for $700 million in 1998), and many of her philanthropic efforts have gone into preserving this very special, very beautiful, very quiet village on Cayuga Lake, commemorated in Cornell University's alma mater song.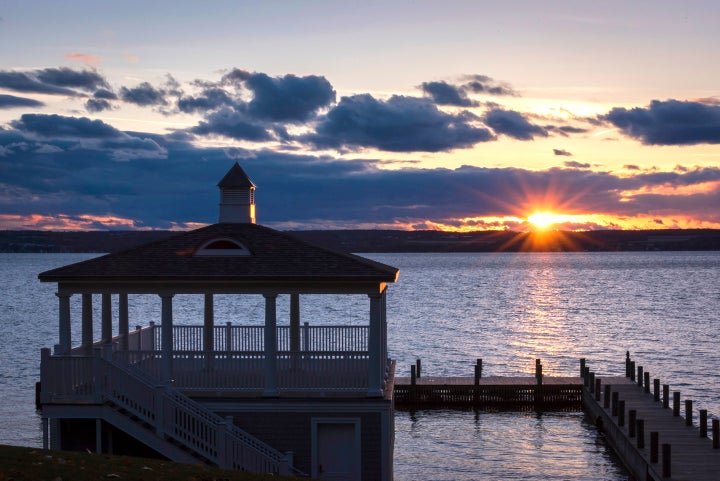 Walking outside on the lawns, down to the lake or along Main Street easily evokes what small town American was like at the turn of the century, when horses meant more than automobiles, all food was seasonal, and you could see shooting stars cross the blue-black sky.
Popular in the Community