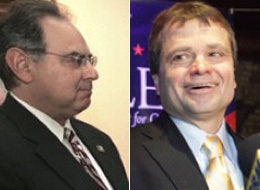 The House oversight committee is launching an investigation into deceptive and predatory lending practices that contributed to the economic recession, Chairman Edolphus Towns (D-N.Y.) announced Friday.
After months of disagreement between Republicans, who wanted an investigation into Countywide Financial's "VIP lending" program, and Democrats, who were reluctant to get involved, the two sides agreed Friday to a wider investigation into the entire subprime mortgage industry.
"The actions of mortgage lenders contributing to the foreclosure and financial crisis are of serious concern to many Americans and to the Members of this Committee," Towns said in a press release. "That is why I have opened an investigation into whether mortgage companies employed deceptive and predatory lending practices, or improper tactics to thwart regulation, and the impact of those activities on the current crisis."
As part of the investigation, the committee will issue subpoenas relating to Countrywide Financial's "VIP lending" program.
"In line with the commitment to an ethical and accountable Congress, the subpoena to Countrywide covers records that could show special treatment for Members of Congress," the statement read. "For reasons of jurisdiction, the subpoena directs that any such documents be sent to the House Committee on Standards of Official Conduct."
The probe will demand information from the nation's largest mortgage lenders, including Wells Fargo, Bank of America (including Countrywide), JP Morgan Chase (including Chase Manhattan Bank), Citigroup, Residential Capital (GMAC) and U.S. Bank Home Mortgage.
Two Democrats had joined with Republicans to call for a full-scale investigation into the "Friends of Angelo" sweetheart mortgage program at subprime lender Countrywide Financial named for its indicted former CEO Angelo Mozilo.
Democratic Reps. Paul Hodes (N.H.) and Mike Quigley (Ill.), delivered a letter late Thursday afternoon to House oversight committee Chairman Edolphus Towns (D-N.Y.) and ranking Republican Darrel Issa (Calif.) urging the chairman to launch an investigation into whether the program managed to curry special favors from elected officials.
"The American people deserve to know the truth about these lending practices, and if they
had undue influence on federal housing or financial policy based on awarding "VIP" loans to
federal officials," the two Democrats said in the letter.
Democratic Sens. Chris Dodd (Conn.) and Kent Conrad (N.D.) both landed mortgages through the "Friends of Angelo" program. Dodd chairs the Senate's banking committee, and Conrad chairs the budget committee. A year-long investigation cleared both men of any ethics violations and confirmed that neither had contact of any kind with Mozilo.
House Republicans welcomed the letter, saying it represented a possible breakthrough in a standoff that began as long ago as March but in recent days has turned ugly.
Last week House Democrats held a closed-door meeting to discuss a possible investigation into Countrywide after Republicans threatened to call for an up-or-down vote at every committee hearing until they got one.
While they were meeting, Republicans shot what one Democratic aide later described as a "campaign-style video" from inside the hearing room. Democrats retaliated by changing the lock on a door the leads from the Republican suite of offices into the committee room.
Towns addressed reports that Democrats had locked Republicans out in his statement.
"Republicans have at no time been denied access to the hearing room or their offices," Towns said. "The Ranking Member and I discussed how we can cooperate to prevent violations of House rules governing the use of hearing rooms, we reached agreement, and I consider this matter resolved.
Bank of America, which snapped up Countrywide Financial earlier this year, has said it is ready to turn over the documents.
REAL LIFE. REAL NEWS. REAL VOICES.
Help us tell more of the stories that matter from voices that too often remain unheard.