San Francisco is home to a huge number of film festivals throughout the year. As a result, I'm often in the fortunate position of enjoying an endless stream of wonderfully cinematic armchair adventures. Some of these are not to be found at the major film festivals but at smaller, more specifically targeted events like the Third I Film Festival (which claims to represent filmmakers and audiences from Bangladesh, Bhutan, India, Nepal, The Maldives, Pakistan, Sri Lanka, Tibet, and the South Asian Diaspora).
Two movies from the 2010 Third I Film Festival were especially impressive. One is a deliciously creepy drama that does not have a single redeeming character. Beautifully written and directed by Smita Bhide, The Blue Tower takes place in Southall, a suburban town near London with a heavy English/Indian Hindu population.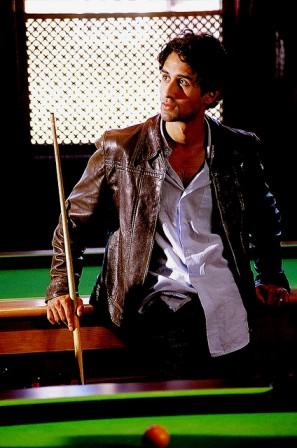 Mohan (Abhin Galeya) playing pool

Two towers -- one red and one blue -- seem to conspire to drive the protagonist to distraction as his life begins to crumble. The Blue Tower focuses on the following unfortunate souls:
Mohan (Abhin Galeya) is a young British-Indian man trapped in an arranged marriage. Uemployed, without any money or children (and driving a beat-up old car), he has the word "loser" written all over him. Although Mohan's wife works, she is rarely interested in having sex with him. Among his many duties is looking in on his Aunty Ji, a vain and bitter old woman who dishes out misery in heaping portions.
Vivek (Nicholas Khan) is an old friend of Mohan's who has recently offered him a job. While his friends and family keep warning Mohan that Vivek is a total flake who never honors his promises, Mohan is optimistic that Vivek will offer him a decent wage and a chance to advance in the world.
Three Balti House Losers (Paul Chowdhry, Amit Shah, and Sonell Dadral) are Mohan's good-for-nothing friends who are always trying to latch onto a get-rich quick scheme.
Kamla Aunty (Indira Joshi) is a hateful old widow who refuses to put any money in the bank. Instead, she keeps large packages of cash in shoe boxes stacked on a shelf in her bedroom closet. Bedbound and diabetic, she lashes out at anyone who crosses her. She is constantly threatening to call the employment agency and have her English home health care worker replaced by "a nice Indian girl."
Minnie (Harvey Virdi) is one of Kamla Aunty's new neighbors. Along with her husband, Mukesh, she has convinced Kamla Aunty to move back to India where she can afford five times as many servants for the same money she is paying to an employment agency.
Mukesh (Inder Manocha) is Minnie's husband and, without doubt, a con artist who has a long history of bilking unhappy widows out of their savings.
Asha (Manjinder Virk) is Mohan's wife, who has always been surprisingly close to her handsome brother.
Ashok (Kayvan Novak) is Mohan's brother-in-law, who has been having sex with Asha since they were children.
Papa Ji (Madhav Sharma) runs a successful import/export business and has frequently pressured Mohan to take a job "with the family." When Mohan breaks the news that Papa Ji's son (Ashok) has gotten his daughter (Asha) pregnant, Papa Ji dismisses the situation and tells Mohan to go home, take care of his wife, and raise the child as his own.
Judy (Alice O'Connell) tries to take care of Kamla Aunty and monitor the old woman's pills and diet. Unfortunately, she is constantly being abused (verbally and physically) by the old woman. Not only has Judy fallen head over heels in love with Mohan, she knows how the two of them can escape to a brighter future.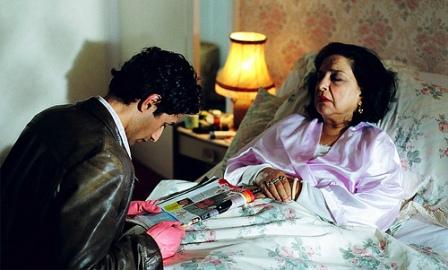 Mohan (Abhin Galeya) with Kamla Aunty (Indira Joshi)

In her director's statement, Smita Bhide writes:
"The Blue Tower is a different kind of British Asian film. It's not about arranged marriages or culture clash or suicide bombers or racism. In it, a young Asian guy falls in love with a white girl, but this isn't a Romeo and Juliet story. Believing he can escape the trap of his small-town life and loveless marriage, he unwittingly walks into an even bigger one involving deceit, theft, and eventually murder.

I wanted to make a contemporary B-movie with a nod to films like The Honeymoon Killers or The Postman Always Rings Twice. But I also wanted to get beyond a purely genre-influenced narrative to explore some bigger themes (the power of the family within Indian immigrant culture) and also explore the question of how much someone's good or bad luck can be determined by their character. Or does their luck affect the kind of person they become? Is Mohan doomed to be a victim because of his very nature? Can he only escape his fate by embracing it?

It is crucial that we guard against the temptation to see every British Asian as being somehow representative of a community as a whole -- or as only existing to provide a window for a white audience to see into an exotic world. The difference in The Blue Tower is that -- for once -- a brown-faced character is portrayed on the screen as a universal Everyman figure and not forever marginalized as an 'ethnic' with special-issue problems. His struggles are a metaphor for what we all face in our attempts to determine our own fate."
As a writer and director, Bidhe has achieved a remarkable success in crafting a film that draws the viewer into a horrible domestic situation, breaks down any resistance, and tells her story in lurid, graphic, and uncompromising detail. Sandy Nuttgens and Mike Scott have provided a superb musical score that heightens the suspense.
Villainy is everywhere. No one wins. Here's the trailer:
Like many middle class women in Dhaka, Ruba (Nusrat Imroz Tisha) is a modern and educated young female. Although she has lived with Munna (Mosharraf Karim) and is in love with him, she has chosen not to go through with a traditional wedding. The result is that, when Munna (who works for an NGO) is arrested and thrown in prison, she is at the mercy of an older, more conservative generation.
Like the United States, Ruba is bogged down fighting two wars. In her battle to remain free in a conservative Muslim society, she must deal with constant refusals to rent an apartment to a single woman (not to mention the Muslims who won't even allow her to visit her mother's grave). Internally, she is battling the 13-year-old and six-year-old incarnations of herself who don't like -- or can't understand -- what Ruba is doing with her life.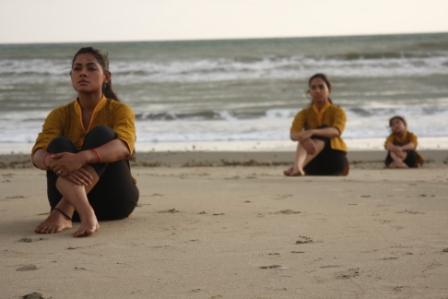 Ruba as an adult, a 13-year-old, and a six-year-old child.

Written and directed by Mostofa Sarwar Farooki (and based on a novel by Manzoorul Islam) Third Person Singular Number follows an emotionally strained path to a surprisingly modern ending. In the past, Farooki's films have addressed such themes as middle class angst, romance among urban youth, the deception, hypocrisy, and frailty of the individual, and frustrations about his own culture and conservative Muslim concepts of guilt and redemption. In his director's statement, he writes:
"Do our society and religion allow a middle class, single woman to live alone?

What do we really mean when we say 'men and women are equal'?

Do we actually live in present time only?

Or does our past also live with us, walk hand in hand?

Can we ever be alone amidst the eloquence of our past?

Or can we ever be together amidst the engulfing solitude of caged soul?

These five questions chased me to the making of Third Person Singular Number. I tried to attempt the film from a humane point of view. I opened the film with the single woman out on the street, all alone at night. I could have opened the film in hundreds of ways. But I opened it like that just to see whether our streets and nights are safe for a single woman. This reflects a major motivation behind making this film. The motivation is that I tried to scale the sanity (or insanity) of my society and religion and see how they respond when it comes to handling women's issues."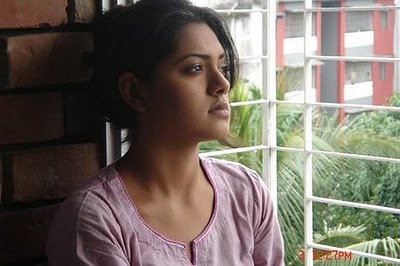 Nusrat Imroze Tisha as Ruba

Third Person Singular Number benefits from some beautiful cinematography by Subrata Das Ripon and an original musical score by Rezaul K. Leemon. After Ruba tires of her family, trying to find an apartment, trying to find work, and struggling to cope with having a husband in jail, she is rescued by a close childhood friend who has become a popular music star.
As the most modern person in the film, Tupo (Rashed Uddin Ahmed Topu) is more than willing to share his wealth with Ruba. When he is not in the recording studio (or busy chatting with girls on Facebook who would love to date him), his generosity and patience are quietly overpowering.
Tupo's gentle nature, life-long devotion to Ruba, and unending kindness offer a sharp contrast to the repressed, conservative old Muslim (Abul Hayat) who refuses to a rent an apartment to Ruba but still wants to have her around as a mistress. When Ruba keeps threatening to call the man's wife, he doesn't know how to deal with such a modern woman.
Cell phones play an important role in the plot of Third Person Singular Number, whose story follows a long and often surprisingly modern arc. Nusrat Imroz Tisha is brave, resourceful, and resolute as Ruba. As Munna, Mosharraf Karim bears an uncanny resemblance to former New York Governor David Paterson. Here's the trailer:
Calling all HuffPost superfans!
Sign up for membership to become a founding member and help shape HuffPost's next chapter