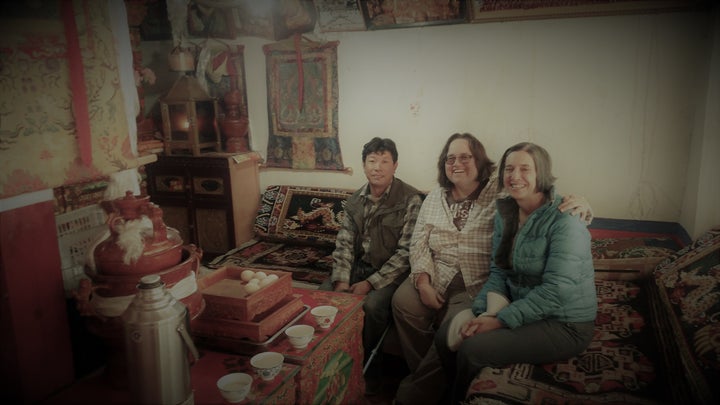 My wife and I just returned after a year of travel. It was an absolutely amazing experience but leaving our Bay Area bubble was no easy thing. How "out" could we be in traditional parts of the world like Asia? Plus, we're very different people. As an introvert, I tend to avoid confrontation and defer to cultural norms when traveling. Susan, on the other hand, revels in telling stories at parties and has no problem speaking her mind. After processing like all good lesbians, we decided to give each other permission to be ourselves on the road and to deal with coming out on a country by country basis. With these lofty intentions behind us, we pooled our savings, rented our house to a friend who promised to spoil our cats in the manner in which they are accustomed, and set out for the wide open.
Our first stop was Tokyo, where we stayed with family. Coming out was a non-issue. Next up was Shanghai, where we got lots mores stares and were asked more than once if we were 'sisters' or 'old friends.' Still, we walked the city freely, went to bars and felt accepted.
Things got more complicated in Tibet.
We arrived by plane and were met at the airport by our forty-something, laid back guide, Teshin. After a short drive, which included stopping at a check point to show our special Tibet entry visa, we pulled up to a spare Lhasa hotel. Travelers sat on rough wooden lobby benches, surfing the net on smart phones and lap tops. We went to the front desk, where a woman sat bundled in a thick, bright wool sweater and matching beanie. My altitude headache was starting to kick into high gear and I needed to collapse into a soft bed.
Teshin and the woman exchanged pleasantries, then the woman asked for our visa permits and flipped through our passports. She handed everything back and turned to her reservation log. A moment later, she looked up, a quizzical expression on her face. "You booked only one bed?"
All traveling queer couples know this moment. It's the moment when we have to decide – is it safe to reserve a room with a single queen or king, a room that honors our love for each other, or is it wiser to cave and request a room with two beds? When Susan and I are in the U.S., it's a no-brainer. We almost always request a room with a single queen or king. But we weren't in the U.S. anymore. We were in Tibet - a deeply traditional society with no visible gay community.
Susan and I nodded. The woman turned to Teshin and said something in Tibetan.
"The hotel wants to be sure," he said, "Do you want one bed or two?"
This was it. The moment we had set intentions around had arrived. Should we be out and proud in Tibet, insist they make space for us, or go with a wimpier, yet perhaps more culturally appropriate approach? Susan looked at me and I looked at her. There was no time to discuss or process this. The woman and Teshin were both waiting.
"Yes, one bed," Susan said.
The woman's expression stiffened slightly. She opened a drawer, pulled out an oversized wooden rod with Room 205 scrawled across the side, and handed it to us. Teshin carried our bags as we climbed two flights of stairs, which was like climbing the steepest mountain, because we were, in fact, 12,000 feet above sea level. Finally, we turned the key and I collapsed into a single, queen sized bed.
Over the next few days, Teshin took us to monasteries, old and refurbished, and explained the history and intricacies of Tibet with care and insight. He also took us to tea houses and noodle shops, sometimes eating with us, sometimes preferring to eat alone. One afternoon, he even took us on an outing to a lake with his wife. Throughout the time we spent with him, we talked openly about our home in California. Never once did Teshin ask about our relationship or seem bothered by it.
Still, each time Susan and I passed through the hotel lobby, I felt the eyes of the woman behind the desk. Whenever I looked over at her, she smiled politely, but I wondered if she was really okay with who we were.  
Then toward the end of our stay, the shower drain clogged. Water spilled out of the stall and flooded the rest of the bathroom. We were running late for another outing so I suggested we let it go.
"But I feel like we paid for a working shower," Susan said.
I grabbed the wooden room key and we stepped out into the dimly lit hall. Susan was right. We had a right to ask for the repair. Still, the impulse to not make waves pulled at me. We arrived in the lobby and walked over to the desk. The morning was cool and the woman had a bright shawl wrapped around her shoulders. We exchanged greetings and told her we were having problems with our shower.
"Shower is broken?" she asked.
"No," Susan said. "The shower works. The drain is broken. Water spills onto the floor."
"I will send the manager," she said and pulled out a paper and pen.
"We're on the second floor," Susan said. She was about to give the number, when the woman stopped her.
"I know. Room 205," she said. "Two ladies, one bed."
Susan and I smiled. It wasn't the term we were used to – the "partners" or "wives" of the Bay Area – but it did have a kind of charm to it. And it felt good to know that leaving home didn't mean abandoning our beautiful queer souls. Sometimes acceptance is right where you are. 
Calling all HuffPost superfans!
Sign up for membership to become a founding member and help shape HuffPost's next chapter