Two prominent literary festivals in South Asia have torn open debates about the role of the writer. The first festival, widely discussed, is the Jaipur Literature Festival in Rajasthan, India. The second, about four hours away by plane, is the Galle Literary Festival in Sri Lanka. The two festivals are separated by a distance of some 2,000 miles and are not formally connected, yet several writers from the Jaipur Festival continued on to the Galle Festival as part of their subcontinental traveling circuit.
Most literary festivals are placid affairs in which writers exchange ideas and autographs and occasionally get tanked. But these two festivals were overshadowed by the political contexts in which they occurred. Before the Jaipur festival could begin, a scholar at the Darul Uloom Deoband, an Islamic center of learning in Uttar Pradesh, called for protests to prevent author Salman Rushdie from attending. Rushdie's novel The Satanic Verses was banned in India 23 years ago, and, the reasoning went, the author himself should be as well.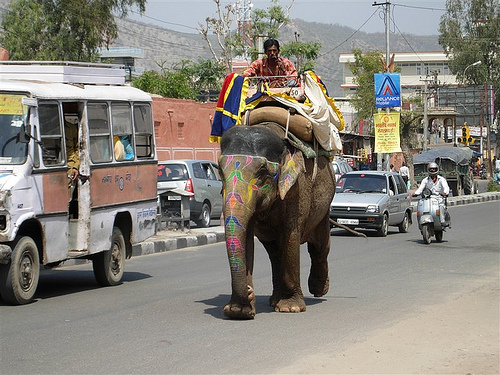 Xiquinho Silva on a Creative Commons License
The protests escalated into rumors of death threats that led the author to withdraw from the festival and prevented him from Skyping in by video conference. Writers Amitava Kumar and Hari Kunzru decided to read from Rushdie's banned work in counter-protest, and they, too, were shushed off the stage, this time by festival organizers. Writing on his blog, Kunzru explained:
We did not choose passages which have been construed as blasphemous by Muslim opponents of the book -- this would have been pointless, as these passages have overshadowed the rest of the content of the novel, which concerns the relationship between faith and doubt, and contains much that has nothing to do with religion whatsoever. We wanted to demystify the book. It is, after all, just a book. Not a bomb. Not a knife or a gun. Just a book.
Kunzru and Kumar both left the festival early. In hindsight, Indian lawyers have explained that the law banning The Satanic Verses did not make it illegal to download passages from the Internet, which the authors did, nor was there anything criminal about Rushdie addressing the call by videoconference. (Take a look at the law here.) The law prohibits incitement to violence, and there is no indication that Rushdie intended to incite anyone to violence or that the particular passages read by Kumar and Kunzru would achieve that effect. Kumar, for example, read a humorous passage from the novel about what would happen if London had a tropical climate.
The confusing law reveals an inherent ambiguity inherent in censorship in the digital age: even when a law is ostensibly simple -- this book is "banned" -- you need experts to sort it out, experts that are not often available during the rapid decisions required by the same digital age. The festival organizers at Jaipur saw police threatening to arrest their writers and can be forgiven for thinking that the police understood the law. They didn't.
Subsequent reports have speculated that the calls by the Darul Uloom Deoband to protest Rushdie's attendance were directly related to parliamentary and local elections. ("Why have they invited Salman Rushdie now?" a professor at the Zakir Husain Institute of Islamic Studies asked, "At a time when five big states are going to election?") Had the festival happened at another time, it's entirely possible that no one would have said anything, and Rushdie could have proceeded without incident as he had in 2007.

Rushdie's withdrawal didn't just affect Rushdie. Festival goers were also denied the ability to receive Rushdie's views and exchange in debate. Twitter and Skype, as valuable as they are, do not compare to a one-on-one exchange with a great mind. Speaking with the New York Times, Muslim leader Maulana Wahiduddin Khan identified the passages in The Satanic Verses which bothered him, making him one of the few people who have actually read the book and formed an independent opinion. Yet he also added unequivocally that "Salman Rushdie has every right to come to this country."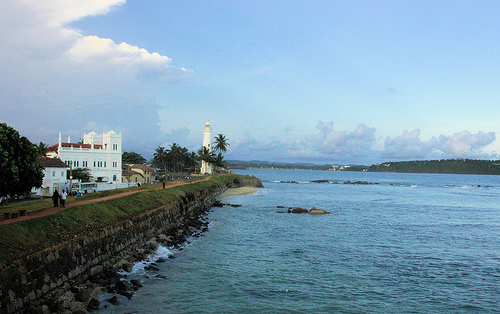 Galle Fort photo by PeterP on a Creative Commons License
After Jaipur, several writers continued on to a 16th century Portuguese fort on the Galle Sea in Sri Lanka. But whereas the central conflict at Jaipur entailed the content of Salman Rushdie's expression, the Galle festival called into question the appropriate role of a writer in the face of human rights violations.
The 26-year armed conflict between the government of Sri Lanka and the Liberation Tigers of Tamil Eelam ended in 2009 after horrific fighting by both sides in which government forces surrounded the rebels in the northern Vanni region and blew entire villages to smithereens. An estimated 40,000 civilians were killed during the onslaught, which mostly failed to discriminate between civilians and armed fighters, and 280,000 people were displaced. Evidence emerged in 2011 which directly implicated government forces in the torture of civilians and extrajudicial killings.
Three years later, the majority Sinhala government has consolidated its power and no one has been held accountable. The occupying government army in the north has renamed entire Tamil villages with Sinhala names and erected Buddhist shrines in traditionally Christian or Hindu communities. Journalists have suffered horribly in this culture of post-war impunity. In 2010, political cartoonist Prageeth Ekneligoda disappeared without a trace. Thirty websites were blocked in January 2012 alone and journalists continue to operate in fear. The most poignant account of free expression in the country was written by Lasantha Wickermatunga, a newspaper editor at Sunday Leader who penned his own heart-wrenching eulogy knowing that he would soon be murdered.
Reporters Without Borders launched a boycott of last year's Galle literary festival to protest this culture of impunity. Nobel laureate Orhan Pamuk and author Kiran Desai subsequently pulled out. The Sri Lanka Campaign, advised by figures such as Noam Chomsky and Aitzaz Ahsan, took a more moderate approach and recommended that writers discuss free expression issues if they attended the festival. This year English PEN sent a briefing for writers but did not call for a boycott. The festival passed largely without event and few people publicly mentioned the conflict in Sri Lanka, despite no real improvement in free expression, although authors did discuss topics such as 'trauma and literature.' (The one hiccup seems to have been that the organizers did not pay a fee to hang flags around the fort, so at one point they were taken down.)
Protesters of the Galle Festival emphasize that a writer's presence at an event can legitimize power structures. The Galle Festival helps project an image of peace and civility in Sri Lanka, allowing the country to paper over continued enforced disappearances and human rights violations. Writers who attend, under this view, would accordingly have an obligation to their fellow writers to speak out against impunity, and, if not, they shouldn't show up at all.
You might argue that such views impose heavy burdens. If a writer has written a recipe book about cupcakes, should she be obligated to speak out against human rights abuses at an idyllic fort by the sea? Isn't the amicable exchange of cupcake recipes, sugaring teeth across the oceans, possibly as effective at encouraging dialogue as a diatribe on human rights? (Several recipe books were presented at the Galle festival.) And what about the fact that Rushdie has written many works, including the inimitable Haroun and the Sea of Stories (1990), and probably hadn't planned to talk about The Satanic Verses in Jaipur at all? Why should a fellow writer speak out about free expression in Jaipur, when she only wanted to hear Rushdie read one of his bejeweled paragraphs in which Star Wars and dhotis can grace the same sentence?

International law imposes a responsibility on countries to protect freedom of expression, and in both India and Galle, the duty is clear. The government of India has a duty to protect Rushdie and the government of Sri Lanka bears a responsibility to protect journalists. By contrast, there is no legislated requirement for a writer to protect free speech or denounce human rights violations, and it would be inimical to free expression to do so. Yet many writers still speak out and encourage others to do so. Perhaps the late Lasantha Wickermatunga's said it best:
People often ask me why I take such risks and tell me it is a matter of time before I am bumped off. Of course I know that: it is inevitable. But if we do not speak out now, there will be no one left to speak for those who cannot, whether they be ethnic minorities, the disadvantaged or the persecuted.