Hospital pharmacist Ernest Law proposed to his girlfriend, Suyin Zhou, on June 28 on the roof of the Roger Smith Hotel in New York City. Law wanted to model his proposal after an episode of "How I Met Your Mother" in which the show's main character, Ted, takes his love interest, Stella, on a "two-minute date." Michele Velazquez, co-founder of The Heart Bandits, a proposal-planning firm, helped Law bring this eclectic proposal to life. Below, Velazquez describes planning the proposal.
(Scroll down for photos of the proposal, or click here to see a video)
Ernest told me that Su had always wished life would suddenly turn into a sudden musical number. Also, Ernest is a huge jokester. When the couple enters and Justin Timeberlake is playing and the two guys are dancing, that is because Su and Ernest met at a club. Su walked in and Ernest and his friend were dancing to Justin Timberlake. Ernest had lost his phone that night so that is why the actor talks about losing his phone. Each detail had significant meaning to the couple.
This proposal kept me up at night. We had to find a rooftop in NYC that would allow such a proposal. Next, we had to find two professional dancers who would also act and basically be responsible for the whole proposal. We then had to find a choreographer to choreograph the entire routine, and most important, send a tutorial to Ernest so he could learn the routine as well. Once all that was complete, we had to take care of all the details such as the furniture being placed in the right places, ordering food, buying cheesecake, champagne, and a fake engagement ring and much more. After all vendors were secured and all props were purchased, we had to make timelines and itineraries for everyone to follow. It was very detailed and took about a month to plan.
Su was in complete shock. The Heart Bandits created a flyer for a "Pop Up Restaurant" so she thought she was going to the rooftop for dinner. Instead she saw dancers doing back flips and became part of an elaborate proposal and photoshoot. She loved it.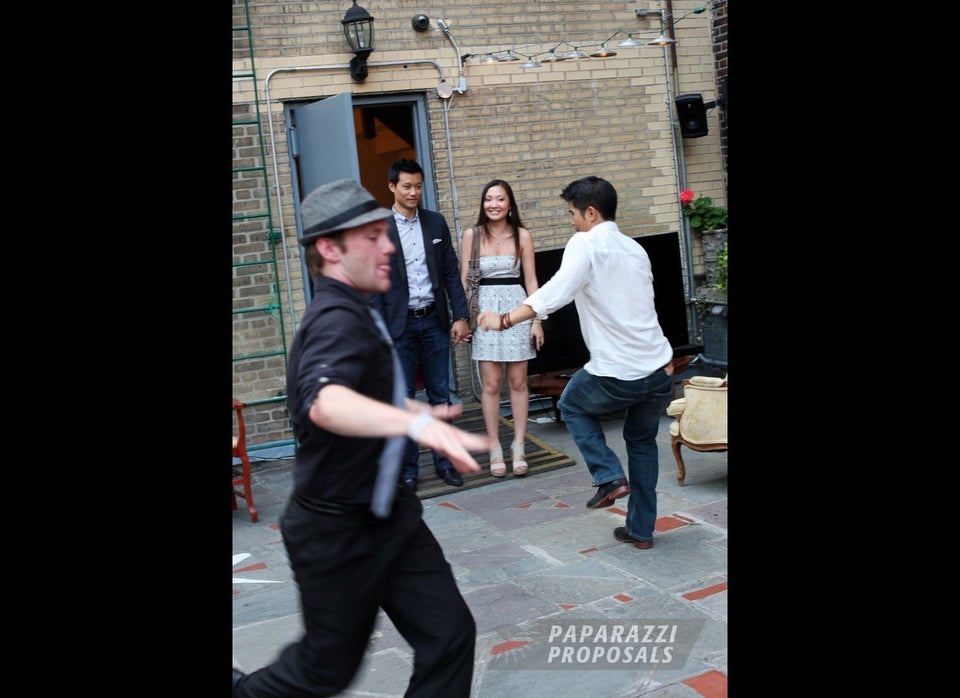 Two-Minute Proposal
Related