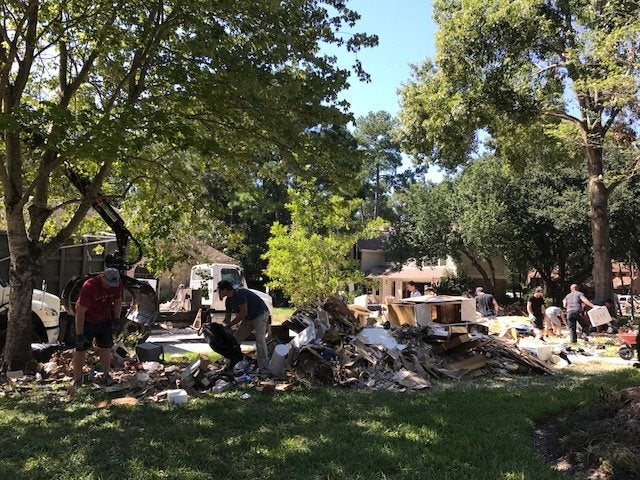 During Hurricane Harvey, four feet of fast water coursed through my 81-year-old father's house, destroying his life's possessions and the home he'd lived in for 30 years.
In the days and weeks that followed, I spent countless hours trying to put his life back together, find him a new place to live and find some normalcy. I'd never preformed house triage or had to rebuild a person's life under the gun from scratch. It didn't matter, though ― no one was asking for credentials.
On local Houston news, when I had a moment to watch, I heard much about "Houston Strong." It was a catchy phrase and applicable. I'd hashtagged it a few times in my initial social media cries for help:
Beloved cat left behind in flood. Need a cat rescue. #houstonstrong
Can anyone help gut my dad's house? #houstonstrong
Does anyone have a wheelbarrow? #houstonstrong
When we were first allowed back into the neighborhood after the water receded, we passed by the serene ponds that decorate the neighborhood entrance. The fish had all died a month before, a neighbor said, explaining why the turtles and ducks, who were normally there, weren't anymore. I didn't know if that was true or not. I didn't have time to investigate.
We passed by cars that lined the streets like a Fourth of July block party, but no one was celebrating their independence. Each and every family was conducting their own version of house triage, ripping out sheet rock, tearing up carpet, tossing wet belongings into their front yards.
After gutting the house with volunteers from Second Baptist Church and the Church of Jesus Christ of Latter Day Saints, I didn't so much feel "Houston Strong," although that slogan would apply. I mostly felt the strength of churches. If it hadn't been for the local church communities ― and the people who attended and supported them ― we would not have been able to move the mountains we did. A crew of laborers would've taken much longer than it took to get our house to the shell structure it is now. Of course, the fear of black mold was a quick motivator.  
Mother Nature seems to be saying something. I wonder if we are strong enough to listen.
A Louisiana family hitched a trailer to their truck and drove hundreds of miles to feed the neighborhood with hotdogs and hamburgers.
Neighbors dropped off cookies and sandwiches, ice and water.
The grocery store HEB passed out more water and gift cards.
Two United flight attendants helped me pick through sodden family photos in our backyard. One returned a few days later with a brand new photo album she'd made from the saved photos of my dad as a child.
Women from the Church of Latter Day Saints washed our clothes.
A friend from Dallas drove down to help; another friend from my yoga class came.
Friends brought their kids, summiting mounds of trash to get to the front door.
They all volunteered. Houston came together ― #houstonstrong, indeed.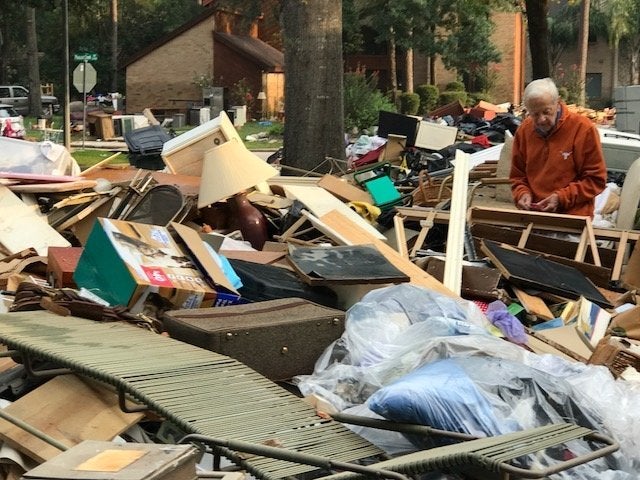 As the days and weeks passed, we had to find a place for my father to live. He lost his car and was not emotionally in a place to cook his own food. He lost his appetite, he said, and he weighs 107 pounds.
Fortunately, I found a wonderful place in The Woodlands for senior living. I set off to IKEA to one-stop shop for his empty apartment. Turns out many people needed new furniture and were eager to take advantage of the 15 percent off storewide discount. When our order was bounced back as out of stock and the furniture delivery pushed forward to an unknown date, I waited on the side of the road on hold for two hours trying to sort it out. 
When we returned to his empty apartment, my dad asked about his missing things. That's when I called Mattress Mack at Gallery Furniture. The local boy came through in the old school manner of community mindedness.
This is a cautionary tale. For in the aftermath of a natural disaster, sales are great but local dependability is key ― #houstonstrong.
HuffPost is hitting the road this fall to interview people about their hopes, dreams, fears ― and what it means to be American today.
From my dad's new place, we drive on a new toll road ― the third-ring road in Houston. For the first time, I am shocked to witness the new sprawl in its wake, encouraged by its making. What used to be piney woods and raw land outside the reasonable reach of Houston is a giant new Walmart, with a Kroger next to it, big black-topped parking lots and pine trees in the background.
But I wonder for how long. New development has been blamed for the increased damage from Hurricane Harvey, as water no longer absorbs into marshes and land but runs off cement. Is all this development worth it?
Part of the IKEA order arrives at my dad's new place, but it's a sofa cover, and the sofa wasn't delivered. My dad and I drive 40 miles there and back to return it. We take a number and wait in a long line. A woman passes by. I notice she has a tattoo on her left shoulder in the shape of Texas. Inside it says "Houston Strong."
The indomitable spirit of Houston after Hurricane Harvey and the 500- or 100-year floods that recently hit that city are palpable. But so is Mother Nature. She seems to be saying something. I wonder if we are strong enough to listen.
REAL LIFE. REAL NEWS. REAL VOICES.
Help us tell more of the stories that matter from voices that too often remain unheard.