Charlie Chaplin was one of the great artists of the 20th century.
The scope of his achievement -- and his influence on the movies as an art form -- are unmatched. He ranks alongside Picasso in painting, and Stravinsky in music. George Bernard Shaw called Chaplin "the only genius to come out of the movie industry."
Stage performer, comic actor, film maker, director, composer, author, studio founder, global celebrity -- there is little that Chaplin did not do, and do well. And even brilliantly. He wrote, acted in, directed and produced dozens of the films. He came of age along with the movies themselves -- and helped shape the art form. His career in entertainment spanned nearly 75 years.
Two new releases -- a DVD set and a book -- shed new light on the work of this protean artist.
Just out on DVD from Flicker Alley is Chaplin at Keystone, a 4-disc collection featuring 34 short films. The importance of these films in the Chaplin canon, and thus their importance in film history, is significant.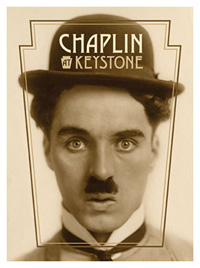 Chaplin came to Mack Sennett's Keystone Studios in 1913 as a little-known British vaudevillian. It was at there that he got his start in the movies. Within a year, Chaplin established his legendary Tramp character (its first screen appearance was in the prescient 1914 Keystone release, Kid Auto Races at Venice). He also learned to write and direct his own films as well.
It was also while at Keystone that Chaplin first garnered widespread fame. Then, studios did not publicize individual performers by name. Chaplin's image, however, had achieved such widespread recognition that standees of the comedian's likeness were placed outside theatres to attract audiences. It worked. Some of Chaplin's Keystone films, notably Tillie's Punctured Romance -- the first ever feature length comedy -- were so popular they remained in theatrical distribution for years.
What's especially interesting about a number of these films is their use of location shooting. They offer us a kind of visual archeology of Los Angeles of nearly 100 years ago. Also interesting is their depiction of movie making and the movie going experience. Be sure and check out the hilarious A Film Johnnie.
Chaplin's tenure at Keystone came to an end in 1915, when he signed with the Essanay Studios. There, he further developed his cinematic skills, taking on longer forms and adding new levels of depth and pathos to his Keystone-style slapstick.
Chaplin at Keystone is a major release not only because it collects seminal early work of one of the greats of the cinema, but also because it does it so well. For years, these Keystone films circulated only in fuzzy, scratchy, washed out, incomplete, herky-jerky transfers. These brilliant restorations are mostly sharp, clear, and steady -- and quite enjoyable. The restorations were eight years in the making.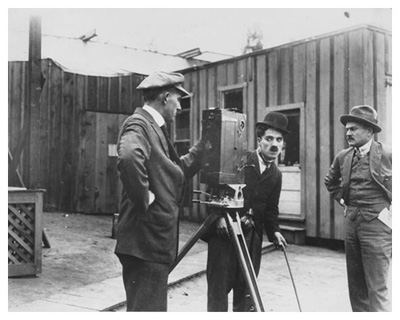 Image courtesy of Flicker Alley
Genius, it's said, has to start somewhere. And now, with this new release, it's easy to see what all the fuss was about. For the first time in generations, one can now understand Chaplin's meteoric rise, as it's possible to see clearly what clever films Chaplin made at Keystone. You'll smile not only at the comedy, but at the clarity of many of these works.
The films included on Chaplin at Keystone feature all-new, appropriate musical settings by a number of outstanding practitioners of silent film accompaniment. There is also some excellent bonus material. Jeffrey Vance's exemplary 40 page booklet, "Chaplin at Keystone: The Tramp is Born," accompanies the set.
There is, literally, a small library's worth of books about Charles Spencer Chaplin. One of the latest is by Kevin Brownlow, who earlier this month was awarded an Honorary Oscar, the first film historian so honored.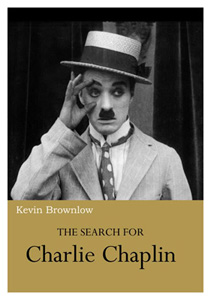 The Search for Charlie Chaplin, published by the UKA Press in England, is an engaging, anecdotal account of the celluloid find of the 20th century -- three separate caches of previously unknown Chaplin footage which became the basis for one of Brownlow's most acclaimed documentaries, Unknown Chaplin (Thames TV, 1983).
As Brownlow relates, nobody had the slightest idea that somewhere in England, somewhere in France, and somewhere in the United States lay three treasure troves of film which would, for the first time, reveal the working methods of this greatest single figure in the history of cinema. Here were alternate takes, cut scenes, footage shot on set, and more. The treasure, when uncovered, revealed information as precious as the films itself.
The Search for Charlie Chaplin was largely written in 1983, though unpublished till now. In it, Brownlow tells the story of how his three part documentary came to be made.
It is an insider's account, and a story filled with larger than life characters (collector Raymond Rohauer and Chaplin estate agent Rachel Ford). The documentary was many years in the making and with more than its fair share of ups and downs. To start with, there were considerable difficulties over control and copyrights. Brownlow names those who were helpful and enabling, as well as those who proved to be obstructionists.
The Search for Charlie Chaplin is a detailed, candid and fascinating work of behind-the-scenes film history.
Thomas Gladysz is an arts journalist and author. His interview with Allen Ginsberg on the subject of photography is included in Sarah Greenough's "Beat Memories: The Photographs of Allen Ginsberg" (National Gallery of Art, 2010). And recently, he wrote the introduction to the Louise Brooks edition of Margarete Bohme's classic novel, The Diary of a Lost Girl (PandorasBox Press, 2010). More at www.thomasgladysz.com.

Popular in the Community