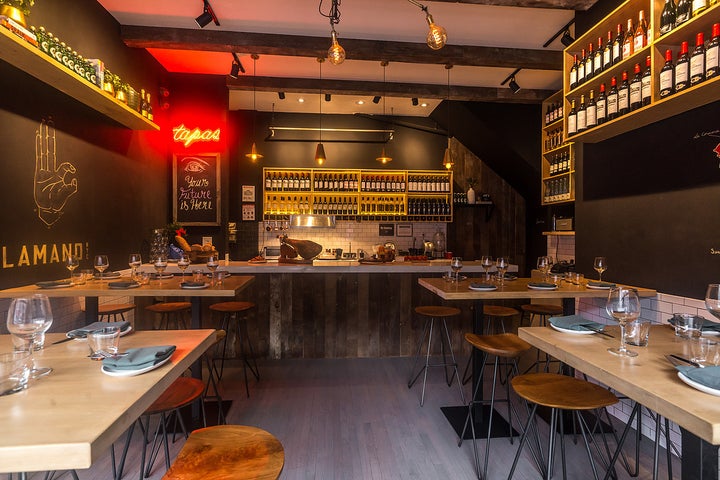 LAMANO 265 West 20th Street 212-741-2398
While Chelsea has long had a slew of good, small restaurants and eateries, like Alta Linea, Cull & Pistol and The Red Cat, it has largely avoided becoming a caterwauling hipster foodie destination like the Lower East Side and Bushwick. Lamano is small, but surprisingly not all that loud, a very friendly and fast-paced storefront closer to a Basque-style tapas (or pintxos) wine bar than other Spanish spots around town, although here you don't belly up to the bar to order, as you would in San Sebastián. Lamano is owned by Jorge Guzman Hospitality with chef-partner Mario Hernandez, who is Mexican born. From a tiny kitchen area in full view of the tall chairs and elevated tables that encourage sharing, Hernandez works feverishly to send out dish after dish, more or less when they're ready, and the only real problem is to avoid ordering too much. Just about everything is so savory you'll need to prove your camaraderie by not scarfing up the food on each other's plates.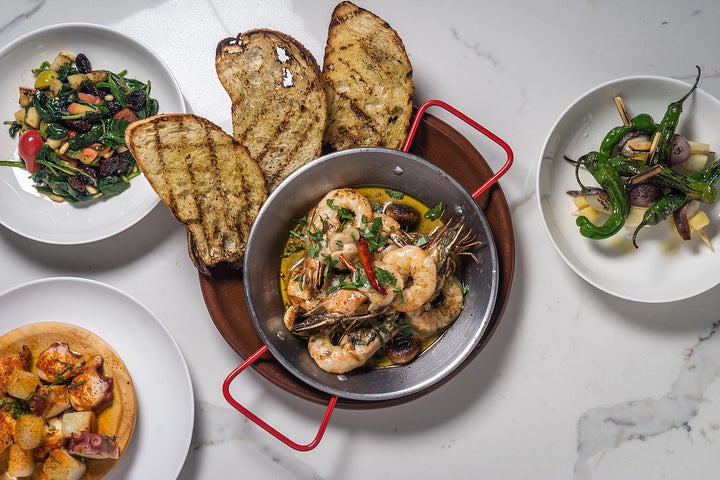 It's the kind of place you begin with either a glass of sparkling cava or, as we did, a pitcher of way-too-easy-to-drink sangria, while you nibble on morcilla blood sausage ($8) and boquerones (anchovies) with caramelized onions, Idiazabal cheese and garlic chips splashed with Riesling wine ($8). The classic tomato-smeared country bread called pan con tomate ($7) is requisite—but be aware that you get a lot of bread on every dish—and then you must decide on an array of items that go well beyond what you might find in the average tapas bar: croquetas with Serrano and aïoli ($10); marvelous and very pretty gambas red shrimps in garlic sauce ($16); poached octopus with potatoes ($18); or course crispy hot patatas bravas ($8). The wine list is well selected for this kind of food, compact but all you really need, with no wine by the glass more than $12. It's hard to imagine anyone leaving Lamano not feeling quite happy, perhaps with a little buzz on.
SARAGHINA BAKERY & RESTAURANT 435 Halsey Street 718-574-0010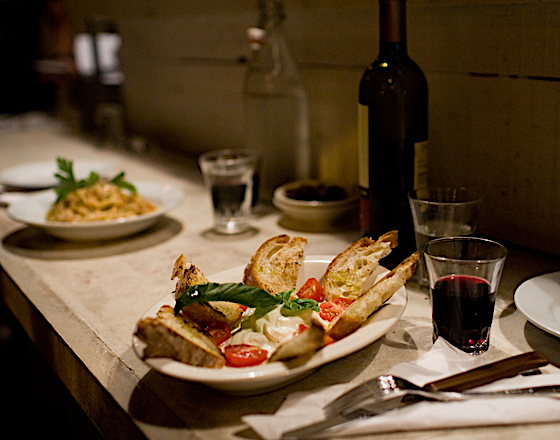 Brooklyn has never wanted for good pizzerias, and the hyper-praise heaped on Roberta's has made it seem that eyesore-ugly Bushwick eatery invented pizza. The fact is, there has always been great pizza of various stylizations all over NYC, and the endless debates about which place serves the best pie has become a tiresome cliché. The owner of Saraghina Bakery & Restaurant in Bedford-Stuyvesant handily proves the point, having attracted a young, appreciative clientele, with lots of kids in tow, by following a childhood dream. "As kids, we wanted to eat pizza every day," owner Edoardo Mantelli writes on his website, "and as adults we are able to make our dream a reality and can obsessively eat (and make) pizza without reprimand. . . . We aim to recreate the food we ate growing up in Italy, the food we craved as we rushed home from school or a good soccer game, the kind of meals our mothers prepared with love and the freshest ingredients from the local mercato. As in any good Italian casa, our home was always filled with sound, but when the aroma of mamma's cooking filled the air, we would race to the table and then there was nothing but silence. . . . We are not looking to re-invent the pizza-wheel, rather we continue on in the tradition of our mothers using a very simple and pure way of cooking and, of course, amore." That's as good a description as I could give of the atmosphere at Saraghina, which, in addition to two rustic dining rooms, has a splendid bakery and pasta shop attached. For weekend brunch the place is packed, and the staff couldn't be nicer about letting you know when a table will turn over, taking your cell phone number to call you in advance.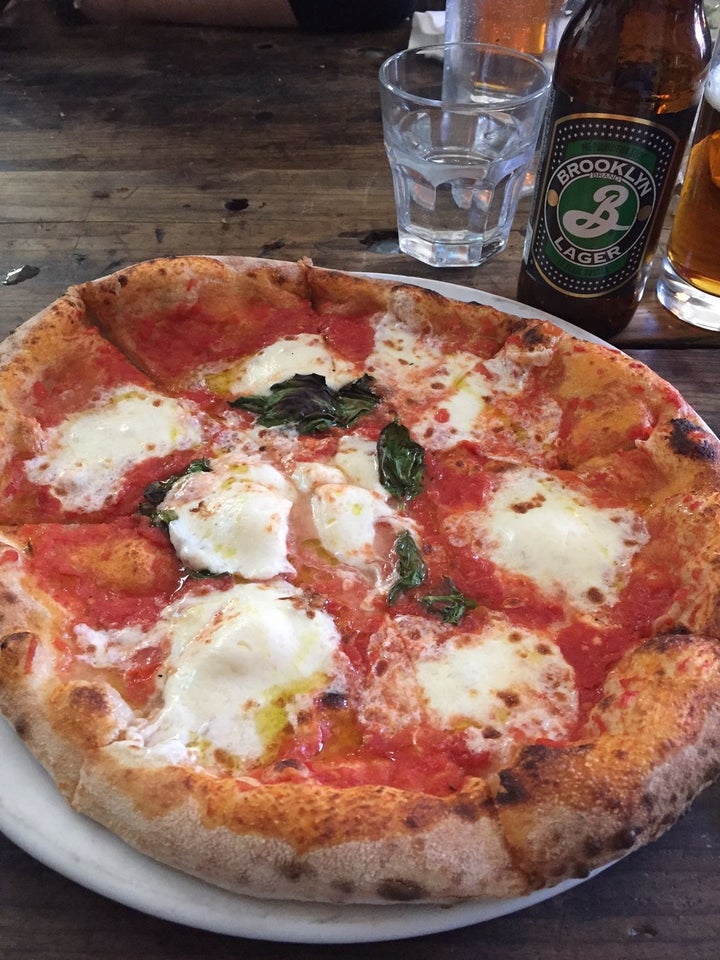 The place has plenty of charm—whitewashed brick walls, wood beams, hanging lamps, a long communal table, and a bar-counter in front. The waiters are fast on their feet and very friendly, the noise level is moderate, and starting up a conversation with the party next to yours happens easily.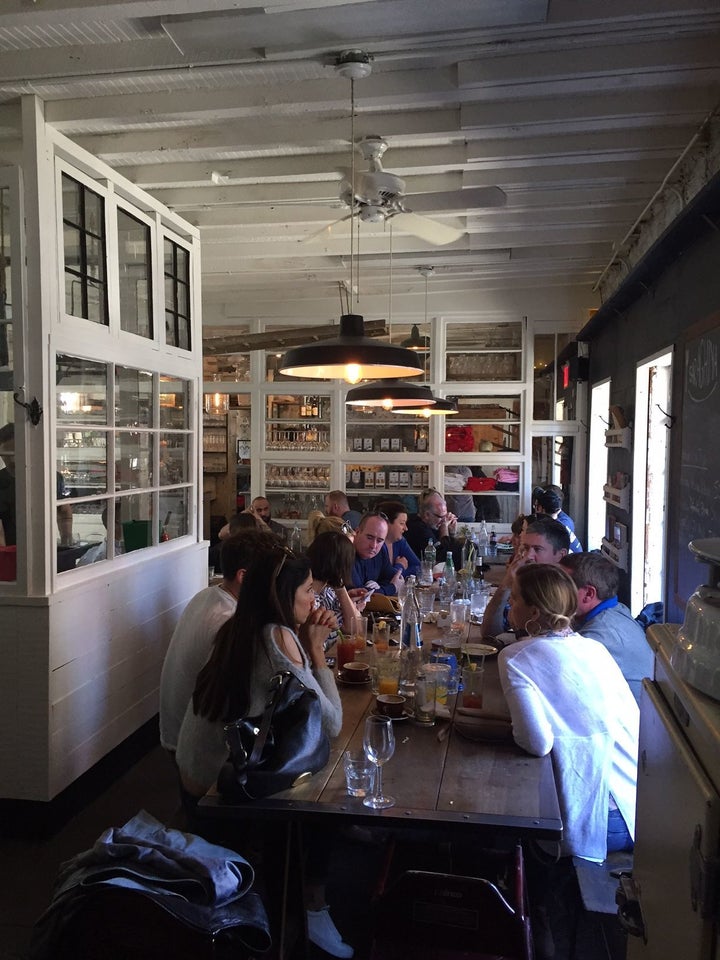 The Neapolitan-style pizza, with ten toppings—ranging from a specialty with ricotta, housemade mozzarella, bok choy, guanciale and garlic chips ($20) to one with mozzarella, hot coppa salami, roasted spicy artichokes and basil ($17)—are as good as any you'll find in Naples, or elsewhere in Brooklyn. The huge brunch omelets and egg specials ($11-$16), along with an array of well-made panini ($10-$15), are easy to share. At dinner, three pastas ($15-$18) and three main courses ($28-$30) are offered. This kitchen knows just how much it can accomplish well. The wine list is solid and fits this kind of food to a tee; mark-ups can be reasonable or on the high side. Saraghina has both sauce and sass; La Saraghina (left) was the wild, fat rumba-dancing puttanta in Fellini's film 8 ½. It's all in fun, and you should feel right at home in what seems like Mantelli's own tasty version of Amarcord.
Open for breakfast, lunch and dinner daily; Brunch Sat. & Sun.
Popular in the Community