There has not been a day, in five years, when it wasn't on my mind. But if I knew, when I started, where it would lead, would I again put a Labrador puppy in a custom-made, multiple-layered dress with a power-blue apron? Would the snappy red kerchief with the thin, blond braids dangle from her furry little head?
I have always loved dogs. They speak to me. And now, because of the obsession, I mean that literally.
I have also always loved the children's classic story of Heidi, written by Johanna Spyri in 1881 (and in continuous print since that time!). I first read the book in grade school. I then saw the movie starring Shirley Temple. I was committed to the narrative. Orphan kid (every child's secret fantasy at some point). Cranky grandparent (I had a couple of those). A move from the sticks to the big city (if you don't think that sounds exciting, you haven't grown up next to a park that kept elk on display in pens). And finally, the story featured goats (we owned one named Ernie when I was a kid in Oregon). It was all right up my alley.
So what happens when you take two obsessions and you combine them into one dream? You get a live-action talking dog movie for kids and a bigger mortgage on your house.
I couldn't have done it without friends. The same could be said for other adventures in my past. But this time, the net was flung wide. My older brother. My older brother's dog. My current husband as well as my ex-husband. My best friend. My son's best friend. A neighbor and his kids. One of my lawyers who has become like family. A friend's movie star mother. The list goes on and on.
So with a small army of talented people, it all took shape: sixteen dogs, nine different puppies, yards of green-screen, HD cameras, a community college with a small sound stage--the elements were assembled and we were off and running. I wrote the script. Yes, I directed the canine madness. At first we called it Heidi for Dogs, until a marketing friend who worked for a studio thought that a better title would be: Heidi 4 Paws.
And I like titles with numbers. Plus, this title was more accurate. I wasn't sure how many dogs were seeking entertainment.
But the real work started once the shooting had finished. It took a year and two dozen special effects artists, working with my core group of talented young filmmakers, to create three-dimensional, mouth-articulation to move the live-action dogs' mouths.
When you see a movie like Babe, you are seeing tens of millions of dollars worth of special visual effects. When you see our movie, you are seeing what money can't buy.
I like to think that's a good thing.
It took another year to find Public Television and give these dogs their first home (sponsored by Obama's Public Television stations--WTTW in Chicago--let the search for the First Puppy officially begin!).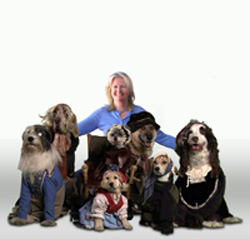 I think broadcasters like it, because most of them are running it Christmas week. I know little kids do and not just because they like just about anything, but because a neighbor boy who has seen the movie, now calls me the Dog-Talker-Lady.
Not all dreams are deferred.
You can watch Heidi 4 Paws, starring the voice talent of Angela Lansbury, Richard Kind, Julian Sands, Majandra Delfino and Steve Guttenberg on most public television stations this month. Check local stations for times and dates.
REAL LIFE. REAL NEWS. REAL VOICES.
Help us tell more of the stories that matter from voices that too often remain unheard.