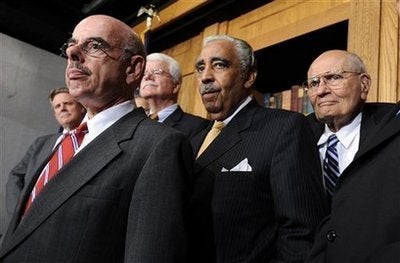 As expected, two of three key committees passed the House health care reform bill Friday morning, leaving only Rep. Henry Waxman's Energy and Commerce Committee standing in the way of a full floor vote.
Rep. Charles Rangel's Ways and Means Committee and Rep. George Miller's Education and Labor Committee both signed off on the bill early Friday, the latter after working through the night until 6 a.m. and resuming several hours later.
Most of the amendments in that all-night Education and Labor markup session were typical Republican bill-killers and were summarily rejected, but the Miller committee did approve an amendment from Rep. Susan Davis (D-Calif.), which allows workers to keep their company health insurance plans for up to 18 months after they leave their jobs, provided they pay the premiums until they get new coverage.
Education and Labor passed the bill out of committee by a vote of 26 to 22, opposed by all committee Republicans and three Democrats -- Reps. Jason Altmire (D-Penn.), Jared Polis (D-Col.) and Dina Titus (D-Nev.). The Ways and Means markup, which includes tax increases, passed 23 to 18 earlier Friday morning. There, too, three Democrats joined the united Republican opposition: Reps. Ron Kind (D-Wis.), Earl Pomeroy (D-N.D.) and John Tanner (D-Tenn.).
There is less margin for dissent, however, in the Energy and Commerce Committee. Democrats have a 13-vote advantage in the committee, but that includes seven conservative Blue Dogs who now hold the future of the bill in their hands. Blue Dog spokesman Rep. Mike Ross (D-Ark.) says all seven plan to scuttle it unless Waxman and party leaders make major concessions, and Bart Stupak (D-Mich.) told the committee Thursday, "I cannot support the bill in its current form."
The Energy and Commerce Committee is scheduled to resume its debate on the health care bill Friday afternoon, and is slated to work on its sections through next Wednesday.
Calling all HuffPost superfans!
Sign up for membership to become a founding member and help shape HuffPost's next chapter