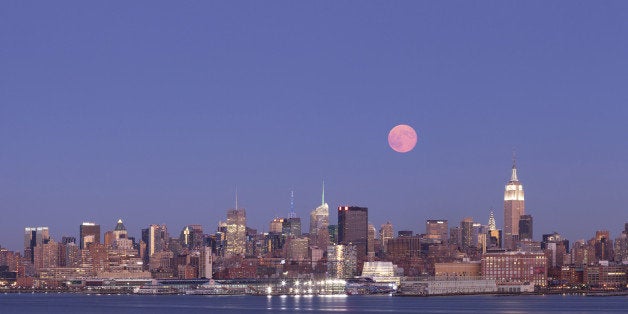 Manhattan is a lover that never calls the next day. This golden island always gives more than it gets, and if you don't want it, well, look behind you, pal - the line of suitors stretches from river to river.
Sorry to get so emotional, but I moved to London three months ago and when you leave Manhattan, it's not just a change of address - it's a break-up.
Forget Tony Bennett singing about San Francisco. New York is the city where you leave your heart.
This torrid love affair started when I moved to Greenwich Village in 1981. Back then you could afford to live in town without being a Wall Street honcho.
I had a basement apartment on Morton Street for $350 a month. My windows were level with the sidewalk, and I became an expert on footwear.
I was so excited to be in the Village, I could barely sleep. I was always out, afraid I might miss something if I went to bed.
Whenever my energy flagged, I drank coffee at Joe Junior's diner and took a walk. Didn't even talk to anybody. Just took a walk, and came home fully charged.
That became my pattern for the decades to follow. Feeling low, or defeated? Can't think of anything to write? Take a walk. Catch a bit of a crazy conversation between two strangers. Absorb the life force from the streets. It always worked.
So I'm excited to return for a quick visit to see my family and walk the city streets. I'm looking for a Moment - something to tell me that Manhattan and I will always be friends, even if we're never together again.
And it's my rotten luck to arrive in the middle of a heat wave.
This is Manhattan at its worst. Soft wads of gum on the sidewalks, garbage simmering in the sun, odors from the corner drains rising straight from the pits of hell.
And everybody seems pissed off.
Was I kidding myself all along about this twelve-by-two mile enchanted island, or am I just getting too old to appreciate it?
I'm walking down Broadway, tired and depressed. It's steamy and sticky, and all I want to do is dive into any store and hug an air conditioner.
Then it happens. The Moment.
A crowd is gathering for Stephen Colbert's Late Show debut. A male-female cop team stands outside the studio, arms folded across their chests. The guy is big and muscular, not a man to be taken lightly.
I look at the name tag of this enforcer of the law and suddenly, my spirits soar.
CROOKS. I swear to God, the cop's name is Crooks. Imagine the abuse he put up with, going through the Police Academy.
I go up to him and point at the name tag. "You get sick of hearing this, I'm sure," I say, "but your name makes my day."
And just like that, Manhattan and I are back on track. It's going to be a long-distance relationship, but I think we can make it work.
Charlie Carillo is a novelist and a TV producer. His website is www.charliecarillo.co.
Calling all HuffPost superfans!
Sign up for membership to become a founding member and help shape HuffPost's next chapter