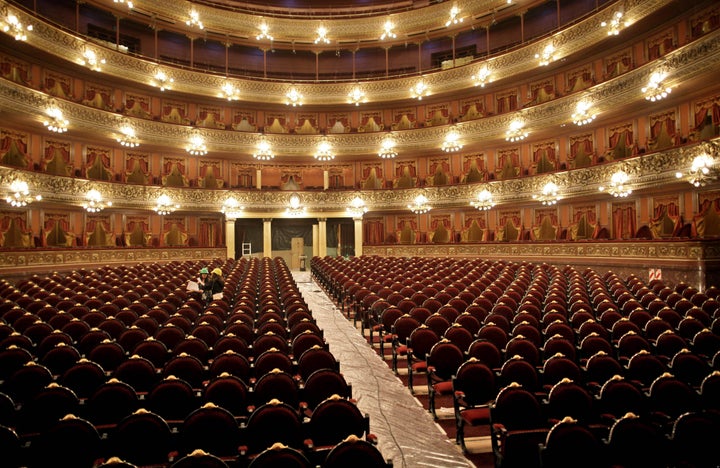 The plots of many beloved operas are filled with murder, mayhem, and the same kind of dysfunctional behavior that fills today's tabloid media.
In Verdi's Otello a jealous husband in a multiracial marriage is driven by a manipulative friend and co-worker to murder his wife and commit suicide.
In Mozart's The Marriage of Figaro a neglected wife finds a way to expose her philandering husband.
In Massenet's Manon a young woman with a talent for social climbing sets out to seduce her ex-lover after he has entered the priesthood.
In Mozart's Don Giovanni a roving sex addict is dragged down to hell by a talking statue.
In Verdi's Rigoletto a woman is abducted from the house where her hunchback father has hidden her and raped by a member of the royal family.
The heroine of Verdi's La Traviata is an upscale whore who dies of a communicable disease.
In Puccini's Madama Butterfly a young Japanese girl who married an American sailor commits suicide when he returns to claim his son after having married another woman.
In Strauss's Salome a young girl performs a striptease for her stepfather and then demands that he present her with the head of John the Baptist.
In Gounod's Faust, after an old man sells his soul to the devil in order to regain his youth, he impregnates an innocent woman who subsequently kills her child.
In Puccini's Turandot an ice princess decapitates any suitor who cannot answer her questions correctly.
When Nixon in China received its world premiere at the Houston Grand Opera on October 22, 1987, audiences were taken aback by the moment in Act III when Chiang Ch'ing turns to her husband, Mao Tse-Tung, and sings "We'll teach these motherfuckers how to dance!" I'd be curious to see if that line is still heard when the Metropolitan Opera stages Nixon in China on February 2, 2011.
While the cherished classics in the previous bulleted list have all become staples of the operatic repertoire, I can guarantee there are two operas you will never see performed at the Met.
On May 24, 1989, when Texas Opera Theatre presented the world premiere of a "pop opera" by Stewart Wallace and Michael Korie, Where's Dick? became the first opera to aim directly at the audience that loves to read the supermarket tabloids and watch talk shows whose dysfunctional guests are primarily trailer trash. At the time, it was a brave move for Houston Grand Opera's General Director, David Gockley because most funding in the opera world comes from conservative sources who find it difficult to tolerate the use of gutter expletives on the operatic stage. Nevertheless, words like "fuck," "screw," "piss," and "shit" added a whole lot of spice to the proceedings. As the composer, Stewart Wallace, later told me:
Some people have an attitude about art which insists that it is meant to elevate and should be above daily life. But vulgarity and art are not mutually exclusive. When you sing the word 'Fuck,' it gives your work a visceral connection to our daily existence which, dramatically, can be very powerful. It involves a conscious and deliberate attempt at examination by perversion: You twist something on its edge so that you can look at it in a different way. By doing so, the sound takes on a heightened element which makes it very different from the spoken word.
In its attempt to deal with such timely issues as child abuse, fake evangelists, urban violence, and America's growing dependency on drugs (which are represented in the opera by pickles), Where's Dick? -- which was staged in a "gymnasium for crooks" -- featured the following characters:
Baby Snowflake, an albino gorilla (symbolizing pure violence) who lusts after virgin flesh.
Fate Spritely, an eternal victim who carries a bridal veil in her purse -- just in case.
Stump Tower, the famous midget real estate developer who has a surprisingly masochistic streak.
Mrs. Heimlich, a suburban matron who dabbles in child abuse and shopping.
Boldface Headlines, a male soprano dressed in kabuki robes.
Reverend J. J. Newright and Sister Immacula (a takeoff on Jim & Tammy Faye Bakker).
Ma Paddle, a sadistic old bitch who runs an orphanage.
A pederastic Santa Claus who's tired of groping "chicken."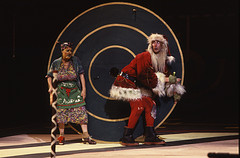 Cindy Benson and Wilbur Pauley in Where's Dick?
Photo by: Jim Caldwell (courtesy of Houston Grand Opera)

Michael Korie's libretto contained such startling moments as a nun describing how Reverend Newright "dangled his wang in my face" or the Tarnish Brothers (Sterling & Stainless) urging the audience to "Slap your neighbor's face and get into the spirit of the show." There were plenty of bad puns -- "Half girl, half ape, I'm all bent out of shape" -- and a final chorus which insisted that "There's a little Dick in all of us standing tall."
Needless to say, Where's Dick? was ahead of its time.
In 2003, when Jerry Springer: The Opera opened in London, it ran for 609 performances and received four Laurence Olivier Awards (including the award for Best New Musical). While there are many compelling reasons to attend Ray of Light Theatre's staggeringly brilliant production of Jerry Springer: The Opera in San Francisco, the one that caught me completely by surprise was the phenomenal choral work by an ensemble of classically trained singers.
Written by Richard Thomas and Stewart Lee, the score for this piece (which ranges from rock to oratorio) contains as much choral work as Benjamin Britten's 1945 opera, Peter Grimes, the triumphal scene from Aida, and the Prelude to Arrigo Boito's only opera, Mefistofele. That it was sung so well is a tribute to Ben Prince's exceptional work as the show's musical director.
Jerry Springer: The Opera celebrates the legions of acutely dysfunctional Americans who crave their 15 minutes of fame on television. Whether deploying a chorus line of Ku Klux Klansmen, mocking every symbol of Christianity, or filling the theatre with nonstop profanity, this show has something to offend everyone. And God, is it fun!
Act I takes place during a taping of The Jerry Springer Show in Chicago, where we meet Jerry, his lead security man, Steve Wilkos, Jerry's inner Valkyrie/conscience, and Jonathan, the man who warms up Jerry's audiences before each show. In the first sequence, we are introduced to Dwight, his fianceé Peaches, his skanky trailer trash mistress Zandra, and his other lover, Treymont the transsexual.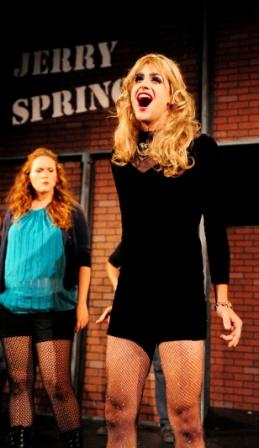 Zandra (Jordan Best) and Treymont (Timitio Artusio) in
Jerry Springer:The Opera (Photo by: Ben Krantz)

Following a brief break during which the chorus sings several ridiculous commercials, the audience is introduced to Andrea, her husband-to-be Montel (who is heavily into diapers, scatology, and spanking), and Baby Jane, a woman who likes to dress like a little girl and be spanked for being naughty. Another dysfunctional couple is Shawntel -- an obese woman who wants to become a pole dancer -- and her sleazy husband, Chucky.
After being fired from his job, Jonathan manages to place a gun in the hands of the confused Montel, who shoots Jerry in the chest. The talk show host then finds himself in a wheelchair in Purgatory, where the head nurse has been administering some powerful sedatives. After trying to justify his actions to the dead souls of his former guests, Jerry is confronted by Satan (portrayed by the same actor who played Jonathan) and urged to perform a special segment of his show down in Hell -- where all the necessary cue cards await him.
As it turns out, Satan wants an apology from Jesus (and wouldn't mind getting one from God as well). Meanwhile, Eve wants to ask God why she should have suffered so much for eating just one tiny apple. Mary has a few choice words to share with everyone about her son, Jesus.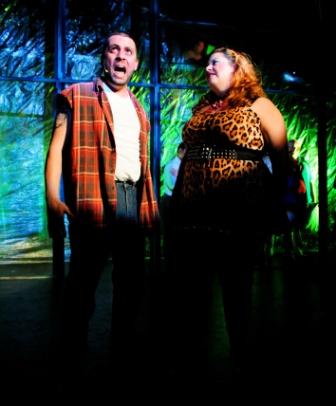 Chucky (Manuel Caneri) and Shawntel (Jessica Coker) in
Jerry Springer: The Opera (Photo by: Ben Krantz)
I tip my hat to San Francisco's Ray of Light Theatre for its superb production of this huge show. While Patrick Michael Dukeman offered a compelling (and often comic) portrayal of Jerry Springer, I was most impressed by the contributions of Jessica Coker and Jonathan Reisfeld. The large and highly energetic ensemble deserves special credit for a phenomenal night's work.
Performances of Jerry Springer: The Opera continue through October 16 at the Victoria Theatre in San Francisco's Mission District.
Related
Popular in the Community