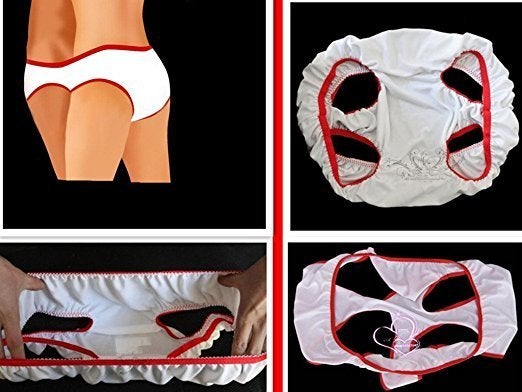 Single person underpants are so last season.
"My girlfriend bought this as a prank birthday present and after trying them they broke after the first use. Highly disappointing. The image that depicts both posteriors is FAKE NEWS!!!!! Did not even go halfway up to cover my buttmouth, would not buy again, to whom it may concern if you are looking for a product to have a good time with your partner this is not the product for you."
Reviews for the gag gift range from the mildly hilarious to LOL-levels, mainly because the majority are actual reviews from folks who are angry about the packaging of their two-person undies.
"I bought these for a gag gift, but they DO NOT COME IN A BOX. This makes it 100% less funny and 100% more awkward. Stupid."
"Super funny gag gift for bachelorette party gift, however I was saddened by the fact that they came in a clear plastic package without picturing what was in the package. I had to print a picture to attach to the bag."
But still, the inferior packaging hasn't kept some customers from buying them ~supposedly~ as gag gifts for bachelorette parties, Valentine's Day, and more.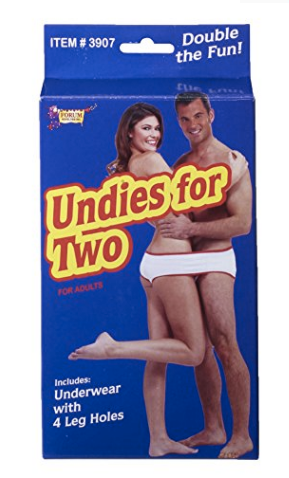 "I like to try things. They were purchased to try something different."
"We gave each other wedgies so we broke it within minutes. But totally worth it."
"Nice gag gift. I saw the order and thought my wife wanted to have some fun but turned out it was for a white elephant gift. The only downside I see to these is twice the skid marks."
"Everyone laughed. Some were shocked."
"Like the morning sun breaking through stormy night clouds, Undies For Two shines bright when needed most. Feeling blue? Undies For Two. Looking for that edge to finally get the new promotion you've been busting your butt for? Undies For Two. No matter the issue, Undies For Two brings things together―-for the better! Enjoy."
"If you can find someone or talk your wife into trying them on with you it will be one of your greatest laughs ever!! GOODLUCK! LOL"
"Fun, fun, fun! Once you both are in these undies, the possibilities are endless! This is how all underwear should be."
Great gift for someone who hates personal contact.
I would not use these as an actual like sex toy or anything.
And then there's this guy.
"I got them for me and my girlfriend to actually mess around with, so my mistake I guess. They're really thin, and ride down super low on the guy. Also heads up, there's 4 leg holes total, not 2 giant ones like the box shows."
Bought these for my roommate and his girlfriend. For some reason they wont let me see them in the undies...but I assume they are comfy.
And this person who seems to believe these two-person undies are cursed.
"Got these as a gag for a couple I know. They broke up before the item arrived. I'm not saying you jinxed my friends, but they were fine before I clicked the order button and I've got prime. You do the math."
Whatever your opinion, you can't deny the way the ability of two-person undies to bring people together.
HuffPost may receive a share from purchases made via links on this page.
Popular in the Community