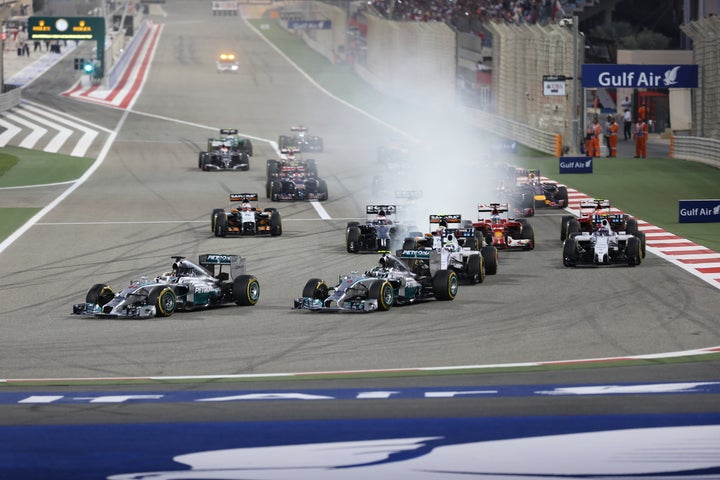 The Bahrain Formula One weekend starts today, a chance for the repressive regime to showcase a tightly-controlled image of the country.
Bahrain's government uses events like the F1 to Sportswash its authoritarianism ― this year it invested in a pro cycling team and it now hosts an international ironman triathlon. And there was the bid for the FIFA presidency by the ruling family's Sheikh Salman, which ended in humiliation after sports journalists exposed his failure to protect athletes targeted during the the 2011 pro-democracy uprising.
But since last year's Grand Prix in Bahrain the human rights situation there has plummeted dangerously. Executions have resumed this year for the first time since 2010, and two policemen have been killed. Bahraini security forces have killed three men attempting to flee the country, and fatally shot a protestor. Last week the King approved an amendment to the constitution to allow civilians to be tried in military courts.
Meanwhile prominent human rights activists remain in prison. News emerged this week that leading dissident Abdulhadi Al Khawaja has embarked on a hunger strike in jail to protest oppressive prison conditions, and that his colleague Nabeel Rajab has been transferred from prison to hospital to prison and back to hospital again following surgery, and denied adequate care. Peaceful political opposition leaders remain in jail. None of this is the fault of the sports reporters covering this week's F1, but there a couple of questions they might take a moment to consider:
2. Most journalists are routinely denied access to Bahrain. Being allowed in to cover Bahrain's F1 could be the only ticket into the kingdom for an international newspaper, TV station or wire agency all year. The reporters who get access might remember how football journalists sent to cover the 1978 World Cup in Argentina didn't restrict themselves to the football, but also reported on that repressive regime's human rights violations. Should those reporters who get in try to meet the dissidents their colleagues can't?
If any reporter in Bahrain wants to go beyond the race, and contact dissidents to hear something other than the official view, contact me on twitter @dooley_dooley
REAL LIFE. REAL NEWS. REAL VOICES.
Help us tell more of the stories that matter from voices that too often remain unheard.