The early twentieth century was an age of immigration -- millions left Europe in despair, defeat or fear to make new lives in America. My family history is not much different from that of other immigrants, but with one big deviation: two generations arrived from Europe and two later generations returned!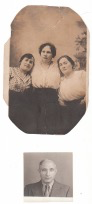 In the spring of 1915, my father and his mother, my grandma Rose Bialik, left Russia to come to America, where my grandfather had already settled a year before. (He knew that staying in Russia, he would eventually be conscripted into the army or killed, like tens of thousands of Jews, in a pogrom.) My grandmother traveled with her sister (who also had a young son), after paying a guide to smuggle them all into Germany. There my grandmother changed her married name, Zelinsky, to a more Germanic one to avoid detection: Zimmelman (later anglicized to Zimmerman). The two sisters and their sons traveled cautiously by night and hid themselves in barns and farmhouses by day; had they been caught, they would have been sent back to Russia.
They arrived in Hamburg where they boarded the ship that would take them to New York: the Cunard Line's Lusitania. They were in steerage, of course, and my father always remembered celebrating his ninth birthday on board, when "rich ladies upstairs" sent him candies and sweets!
The Lusitania's following voyage -- you can guess -- was her last.
Fast forward half a century later. It is 1966 and my husband has accepted an overseas assignment: Six months at his company's headquarters in Brussels. We and our three young sons are to sail (First Class, of course) on the Queen Mary.
Yes, another Cunard ship.
But those six months were illusory. We never returned to our New York home; we relocated permanently in Europe. It is ironic, and paradoxical, that the Zelinskys emigrated to America and half a century later their grandchildren and great-grandchildren left America and returned to Europe. It was many years before I inveigled my father to visit us in "the old country," as he disparagingly viewed the entire Continent! But his attitude was understandable: his mother's younger brother, who was studying medicine in Kiev, was killed in a pogrom. Another sister only came to America in the 1920s, having lost two children to starvation during the war.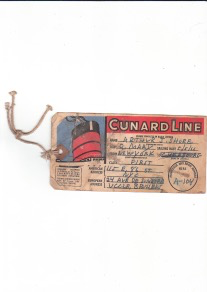 These stories come back to me, haunt me, as I recall our glorious trip on the Queen Mary in 1966. I kept a diary during those five days, realizing that this might be a once-in-a-lifetime adventure. In fact, I've since been on many other cruises, but there is nothing like the first time.... on the Queen!
May 4. The evening before our departure: dinner at a West Side restaurant not far from the docks, with our teary-eyed parents hugging their three grandsons goodbye. We watch the cars being hoisted onto the ship, our white Citroen among them, everything illuminated by a full moon. Friends have sent us flowers, candy, Champagne. I really don't believe this is happening! But here is the reality: three little boys running up the gangplank.


May 5. Woke at 6 a.m. The engines are starting up. I manage to wake the family. We are sliding past the dock. We run out on deck to take pictures. Mid-Hudson, the sky is pink, and as we turn to head out, the orange sun rises behind the city. A slap of salt air across my face. We pass under the dark Verrazano Bridge, the last barrier. Goodbye Coney Island, goodbye America. We explore the ship -- it is vast -- and that evening, we attend the welcoming Captain's Dinner.
May 6. Slept until 11:00! (Adjusted time -- we're already one hour ahead.) The boys go swimming, then in quick succession there is lunch, a shuffleboard tournament, a party for children, another nap, an excellent dinner. As we put the boys to bed at midnight, I watch the hands of the clock start to move ahead. I'm hypnotized by the fast but jerky movement of the minute hand, happening now in clocks all over the ship as we sail into another time zone. I think, "That's how fast my life is changing right now!" A. and I stay up till 4 a.m. talking with fellow passengers in the Veranda Grill.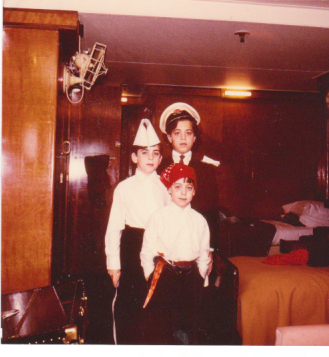 May 7. Halfway across the Atlantic! A busy day: I use the gym and swim in the pool; the boys win prizes for their pirate costumes; A. and I win first prize for our Hawk and Dove (War and Peace) headdresses. Was that too political? Anyway, a young American came over and said it was his first reminder that he hadn't read The New York Times for three days! We stayed up late again, talking to a couple in the Veranda Grill.
May 8. Very sunny and warmer than ever. We all woke late again, close to noon. (Adjusted time.) Had lunch on the sun deck. I began reading Ship of Fools, as I think this is the appropriate place for it! Shuffleboard, skeet-shooting (A. wins that). Boys have dinner by themselves in the restaurant. We dine in the Veranda Room; then boys and A. play horse-racing and win $18.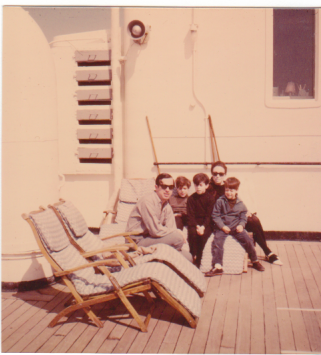 May 9. Gregory to Jeffery: "Are we in England?" Jeffery: "Not yet." Gregory: "But we're in the English Canal!" Steven corrects him: "English Channel." A busy day: I win the swimming race; Jeffery comes in second in two events; we get our prizes: cologne, mechanical pencils, model of the Queen Mary, etc. That afternoon, we see a seagull! Last dinner all together. Later that night, we see the lights of other ships. And lighthouses. A good combo playing in the Mermaid Room. We're up till 3 a.m. packing.
May 10. Awoke at 6 a.m. after just three hours of sleep -- sunny and spring-like. Good breakfast. Cherbourg just over the gangplank! From England to France in a few steps! Sad but smiling goodbyes. We pack the car chock-full and drive to Omaha Beach to see the American War Memorial. Then Caen, Rouen... and on to Brussels, to our new home in Europe.
Author's Note: Cunard Lines are celebrating their 175th anniversary this July with a gala 12-day sailing on the Queen Mary 2, from Southampton to Halifax (where Samuel Cunard was born), to Boston (Cunard's main port of call in America for many years) and to New York on July 14 (with a gala sound-and-light show at Battery Park).
Given my long family connection with Cunard, I will be on that celebratory cruise.