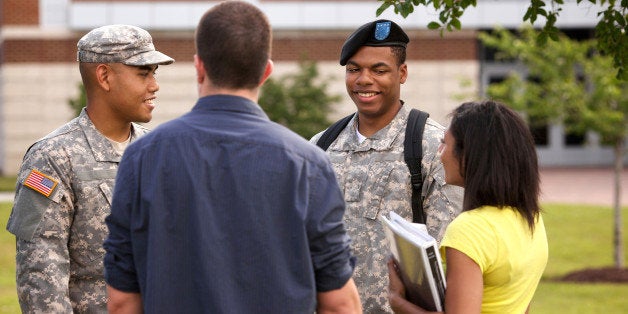 When then Colonel Stan McChrystal strode into the make-shift operations center at Ft. Benning, Georgia to hear briefings from some of America's most elite special operations service members, you knew he was a man on a mission. We often referred to him with the utmost respect as "Stan the Man." As a young Air Force officer, I served with General McChrystal in both Bosnia and Afghanistan. Now I am proud to say I continue to serve with citizen Stan McChrystal as part of the Franklin Project, a program committed to pushing our nation to increase national service opportunities with a goal of 1 million "Service Year" opportunities for young people age 18 to 28 by 2023. The Franklin Project sees such service for all young Americans as an experience that ought to become a cultural norm in our country and creates a civic right of passage for future generations.
The concept of this non-military service initiative is simple yet compelling. The military has afforded millions of people across the US -- regardless of their family's net worth -- the opportunity to serve and to lead in our armed forces. As a veteran and son of a veteran, I am a beneficiary of this phenomenon, but like Stan McChrystal my epiphany about the virtues of national service more broadly defined occurred after I left active duty.
While teaching a college class on leadership, I often invited military veterans and former members from service organizations like the Peace Corps, AmeriCorps, Teach for America (TFA) and City Year, to address my eager students. Assigned readings about these organizations were also a hallmark of the course. Without fail, students and I would identify those virtues such as courage, selflessness and commitment, associated with both forms of service. We invariably came to the consensus each time that whether walking point on patrol in the Marines, building a well with the Peace Corps, or teaching 7th grade science with TFA, young people benefited by serving others. Said another way, military and national service were two sides of the same coin; that is to say, such service of either variety provided worthwhile lessons on courage and the like.
Coins mean a lot to those of us who have served or who are still serving in the military. Units often issue "challenge coins" to be kept by the soldier, sailor, airman or marine at virtually all times. Why not do the same for all our young "service members" to raise awareness about this generation's commitment to give back to their communities and to their nation? The "National Service Coin" could symbolize the connective tissue our civil society needs in order to address many of today's daunting challenges, and could weave together important personal service narratives for the young men and women we need in order to sustain our great Republic.
An example of service here at Hampden-Sydney College involves two students in particular who regularly spoke of their deep and abiding desire to serve. Arley and Bobby, senior teammates on our lacrosse team last year, thought they would give back by serving in the Army -- until a medical issue rendered one ineligible to do so. Today, one has completed infantry school en route to becoming a member of Special Forces and earning his Green Beret. The other has completed his training as a science teacher with Teach for America and will be based in North Carolina. Both young men, like millions of others, simply want to serve. I think it would be fitting to give them the opportunity to do so by supporting the goals of the Franklin Project.
You may be asking yourself, "Was it Arley or Bobby that joined the Army?" The answer of course is that it doesn't matter: national and military service are two sides of the same "National Service Coin."
Dr. Chris Howard is the 24th president of Hampden-Sydney College and a retired Air Force Reserve Lt Colonel. He is also a member of the Franklin Project's Senior Leadership Council.
This post is produced by AmeriCorps Alums and The Franklin Project at the Aspen Institute in honor of Veterans Day. The Franklin Project envisions a future in which a year of full-time national service -- a service year -- is a cultural expectation, a common opportunity, and a civic rite of passage for every young American. The Franklin Project is chaired by General Stanley McChrystal. To learn more about The Franklin Project, watch this video.
Related
Popular in the Community