There's two sides to every story and it's no different when it comes to the world's most infamous drug kingpin: Pablo Escobar.
The movie's plot follows Nick, played by "Hunger Games" star Josh Hutcherson, who falls in love with Pablo Escobar's niece Maria (Spanish actress Claudia Traisac) while visiting Colombia. Italian actor Andrea Di Stefano ("Life of Pi") directed and penned the film, which was shot in Panama.
When news of the film first broke in 2012, French producer Dimitri Rassam clarified that the movie was not intended as a biopic but as a romance thriller. Del Toro and the cast, however, recently spoke about how the movie is able to capture the two contradicting sides of Pablo Escobar.
"He truly helped people in need, people that had been forgotten, promoting sports, urbanizing, he did a lot of things that kind of confuse people and you understand why there are still people in Colombia that see him as a type of hero," Del Toro told Variety Latino. "I can understand it personally, but there are so many things about Pablo that don't have an excuse. [By] selling drugs, even if you love your family very much, he was hurting and destroying many families, not just in Colombia."
Escobar was one of the world's most wanted men in the 1980s. As the leader of the Medellín Cartel he built a billion-dollar empire by producing and distributing cocaine. The Colombian drug lord's cartel terrorized the entire South American country for more than two decades while Escobar and the Colombian government went head to head in a power struggle that took over 4,000 lives.
But not everyone felt Escobar was a monster. As Del Toro notes, there are many in the drug lord's hometown city of Medellín who view him as a type of Robin Hood. The 16,000 inhabitants of the Pablo Escobar neighborhood he built on the eastern slopes of the city can attest to that.
"What I saw positive in him (sic) is that he was a very good man, who gave food to the people, gave them medicine, fixed soccer fields, lit them, built homes for the people who a lot of people saw as the worst of the city," the president of the neighborhood's community action board Duverney "El Mocho" told Caracol Radio in December 2013.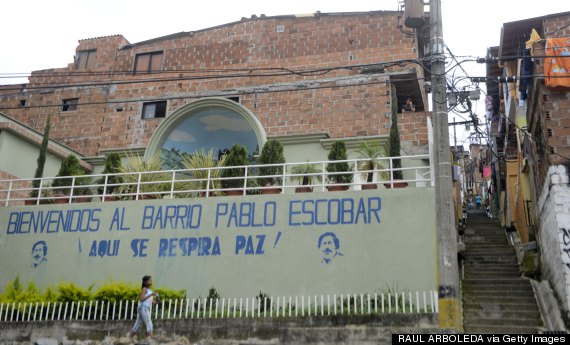 A girl walks past a wall with an inscription reading 'Welcome to the Pablo Escobar neighborhood. Here we breathe peace!' at Pablo Escobar neighborhood, on November 24, 2013 in Medellin, Antioquia department, Colombia.
"History says that Pablo Escobar was a man that perhaps made mistakes but he was also a very good man and our children need to know that," Duverney continued. "[We] tell our children that Pablo Escobar built this neighborhood and that thanks to him we have a decent home. They have to know where it comes from, where its story comes from, where their roots come from."
Hutcherson said that "Escobar: Paradise Lost" does a good job at portraying these two versions of Pablo Escobar.
"After doing this film I really saw that he did that to help himself, he did that to protect himself," Hutcherson told Variety Latino. "So for me, I don't know, it's hard to say really that Pablo did anything good because everything he did was with a bad intention. And the horror that he caused to Colombia and the people of Latin America is terrible." And so I think this movie does a good job of showing the world how Pablo was able to fool people and how he was able to bring people into him and make them think he was a good guy when really he was doing horrible things behind the scenes."
Before You Go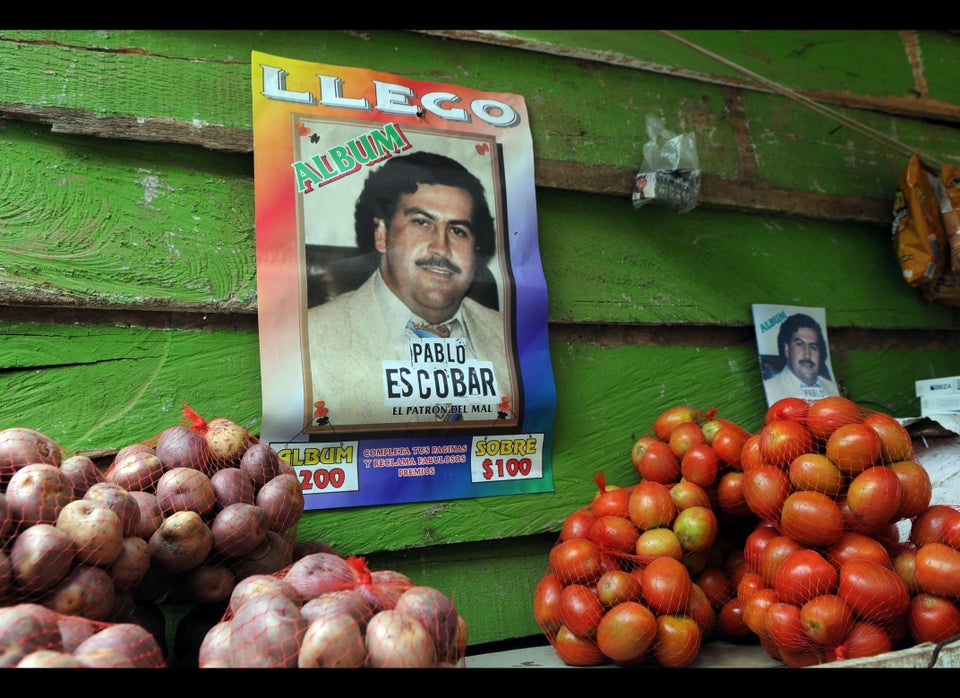 Pablo Escobar