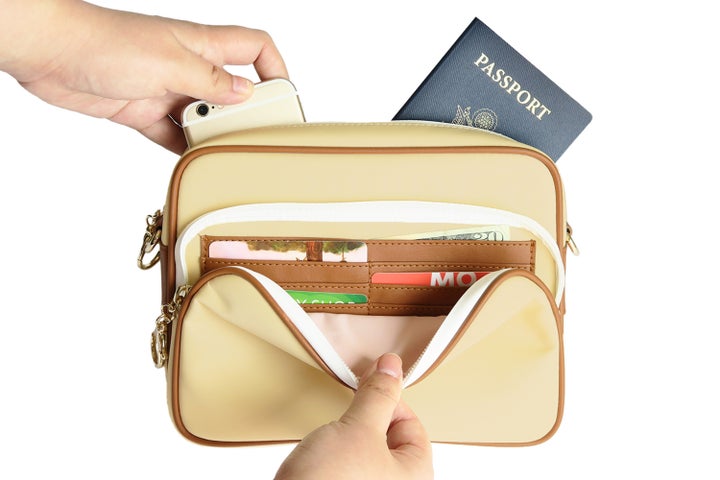 It's not everyday that you wake up with an idea to create a product you think will disrupt a billion dollar industry. Karin Yuen, however, did just this. After studying abroad in Paris, Karin was shocked by the number of pickpockets she witnessed. In particular, Karin noticed that these senseless crimes were happening mainly to women travelers. Many of Karin's friends and classmates were victims to pickpocketing. Karin, however, always used an anti-theft bag to keep her belongings safe. Unfortunately, her bag didn't last long and developed holes and tears within a few months.
Karin quickly realized that today's travel bags do not provide enough in terms of style, quality and function. As a result, Karin and her sister created their own line of travel bags, known as Arden Cove. The idea behind Arden Cove is based on Karin's values of keeping women safe with high-quality, durable and stylish bags.
One year ago, the two sisters launched their bags on Indiegogo and fully funded the campaign in just 6 days. Women from around the world told Karin and her sister how they loved that Arden Cove bags help women travel safer at home and abroad. The campaign finished at 300 percent funded, raising $24,000 and far exceeding the original goal. Arden Cove went on to win Smarter Travel's Best Overall Product of 2017.
I sat down with Karin to learn more about the inspiration behind Arden Cove and to hear her journey about being a female founder who created a disruptive product entirely on crowdfunding and bootstrapping.
Q: What inspired you to create anti-theft, waterproof travel bags?
When studying abroad in Paris, I was enthralled by the city that captured my imagination since I was a child. But, when faced with reality, I realized that there were many crimes, often with women travelers as the victims. Many of my friends and classmates were targeted by pickpockets throughout France. I even witnessed a number of crimes as they happened.
Fortunately, I carried an anti-theft bag, but it was cheaply made and tore by the second month. I had seen women who had large, open top purses were vulnerable, yet the travel bags on the market were not providing enough in terms of style and function.
My sister and I wanted to create our own line of bags that would provide more. These bags would be secure, practical, durable, and fashionable. As a result, we created our own bags and eventually started Arden Cove.
A year ago, we launched our bags on Indiegogo, and fully funded it in just 6 days. Our bags won Smarter Travel's Best Overall Product of 2017. All of this gave us confidence that we could build a brand for people who share our values. Our bags give people confidence that they can travel safely and find a bag that fits their lifestyle.
Q: What is your best selling bag and why?
Our best selling product is our Anti-Theft Waterproof Crossbody in the Full Size. Women have told us how much they love this bag because it is so practical. We really wanted to create a bag that shows that everything has been taken into consideration. Not only is the bag waterproof, slash-resistant, locking, and RFID-blocking, but it's also stylish and functional enough to use every day.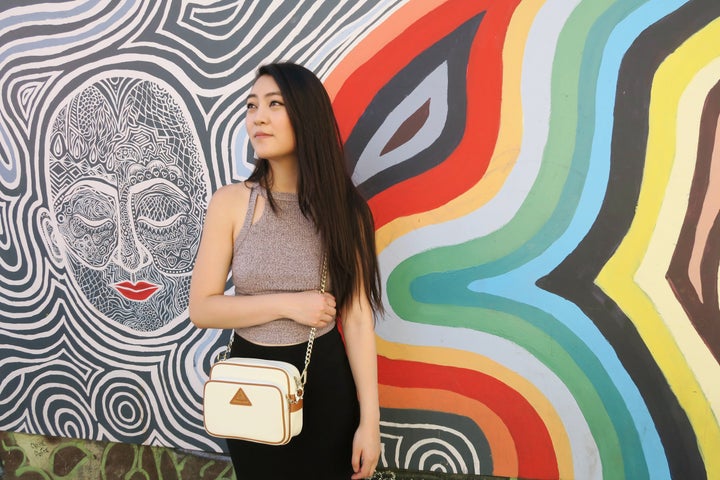 The bag's front pocket has a built in wallet for holding cards, cash, passport and even flat items, like postcards. The larger compartment has a zippered pocket and two wall pockets that fit phones, external chargers, and sunglasses. It's large enough to carry all your daily necessities, yet small enough to not get in the way.
Women also really love how this bag protects from physical and electronic theft, while remaining a practical purse that's stylish and easy to use.
Q: Besides being waterproof and anti-theft, what makes your products truly unique?
At Arden Cove, we are creating bags with features that seem obvious, yet are difficult to come across. Of course, women want functional bags made with beautiful & durable materials that work for them. A bag that is anti-theft and waterproof is part of the greater mission that goes along with taking care of one's belongings.
We really pooled our own experience and worked with many women, including our own customers, to consider everything a bag should include. For instance, we thought about what items women typically carry and how they carry them. We also thought about needs that have gone unmet. At Arden Cove, we are really passionate about creating bags that solve problems and are excited for the bags we are currently working on for future lines.
Q: The holiday season is quickly approaching. What specific bag do you recommended for other women entrepreneurs like yourself?
Our crossbody bags, of course! Our anti-theft bags are actually a very popular gift - many customers come back, telling us that they need to buy another one for their mother who loves to travel, for their daughter who is studying abroad, or for a friend who just loves the way the bag looks! While some people may think that purses are too risky for a gift due to personal taste and style, our bags are a rather practical purchase.
More than that though, I encourage women to rethink what type of bags they want to carry and to start expecting more from their bags. I love supporting other women entrepreneurs, and I think that the best way to do this is to actually purchase and share their products. My advice is to find businesses that align with your values and provide quality products. Put your money towards people you want to see succeed.
Q: What has your experience been as a woman entrepreneur living in Silicon Valley?
Sometimes I feel a bit strange when I say that I am an "entrepreneur," but at the same time I am able to form relationships with people when I tell them I have my own company. There are so many people here who are so passionate about what they do. They are trying to provide something new and different to change the world, which is one reason why San Francisco is so unique, invigorating and inspiring.
A big contrast that I do notice living in San Francisco, however, is that we are surrounded by VCs and technology supported by that money. In contrast though, at Arden Cove we are creating physical goods that are bootstrapped and crowdfunded. It can be intimidating, but this also makes me appreciate how we've created this business on our own terms.
Q: What advice can you offer other women entrepreneurs when it comes to creating a product and raising funds?
I always tell women who want to start a business to "just start!" You can begin anywhere, with anything. For example, you can take that first small step of getting an Instagram handle. It's also a good idea to start writing down your ideas, and then break them up into actionable first steps.
The funny thing I've also noticed is that when I talk to my male friends, so many of them are unafraid to just throw ideas out there. They'll often say, "You know what would be so cool?" Even if they just thought of an idea, equipped with little or no research or knowledge of what's already out there. They will then start planning all the details of how to execute the project.
Women tend to be a bit more risk averse, though. I've had women friends say to me, "I have this problem, and I think this isn't as good as it should be". They even have the hands-on experience, knowledge of the market and have done the research. They know the prices, and pros and cons of every product, but they're still hesitant to take that first step, doubting their abilities and know-how.
My advice is to trust your instinct. If it's something you feel really strongly about, there's likely others who will agree with you, and it's worth testing it out.
In regards to raising funds, we initially bootstrapped, then took the crowdfunding route. Looking back, we should have started with crowdfunding, since that not only helps you raise money for inventory, but it helps validate your idea and build your community. We launched our bags on Indiegogo in 2016, and it was fully funded in just 6 days. We had a very modest goal and were nervous that no one would want our bags, but it turns out that women were very excited to support us! This was very validating and proved that we could build a company with this idea.
Q: What's in store for the future of Arden Cove?
We are currently developing new lines to expand our offerings. We want to work our way towards offering multiple styles, so that women who enjoy our brand and agree with our values are able to pick up the type of bag that fits their lifestyle. For example, we are working on creating a belt bag that we plan on launching in 2018, which is reimagining and upgrading the fanny pack. We are also planning on satchels and a travel backpack. Our brand will provide bags to address all the needs and concerns of the modern-day woman, to keep their belongings secure, and make life easier.
Related
Popular in the Community