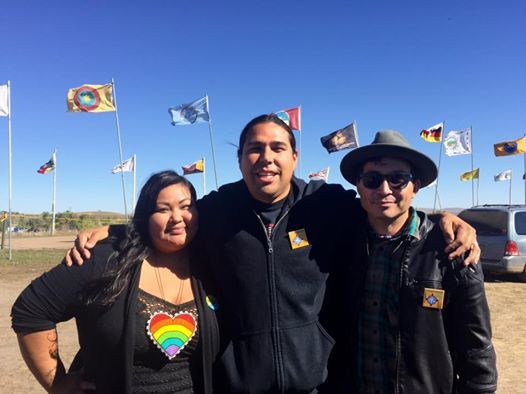 An event of major historical significance for LGBTIQA+ Native Americans is occurring today.
The newly formed Two Spirit Nation will be honored in a traditional entry into the main campgrounds at Sacred Stone Camp at the site of the Dakota Access Pipeline resistance. According to activist/organizer Candi Brings Plenty (Oglala Sioux): "As a Lakota Sioux, I know that there is an unspoken acceptance and embrace for us Two Spirits, as we have been held in a sacred way prior to the pre-colonial era. It wasn't until colonization and missionary terrors that created a negative stigma toward the Two Spirit walk of life. I know that there has been some unspoken hesitancy to address the camp, which is why I have both initiated an official grand entry blessing and public media campaign to bring visibility for our arrival on 10/14/16."
As the director of the Portland Two Spirit Society and Executive Director of the Equi Institute, Oregon's first Trans- and Queer-focused health clinic, research institute and advocacy center, Brings Plenty was recognized by tribal elders as a strong leader in the Two Spirit community. Her business acumen, coupled with her traditional background made her a prime candidate to help lead today's proceedings. As the daughter of a strong female sundance leader and an elected official for the Oglala Sioux Tribal council, Brings Plenty has much to offer her Two Spirit community members.
Traditionally looked upon as sacred entities and bridges between the natural and supernatural worlds, Two Spirit individuals have been systematically attacked since the Invaders arrived on Turtle Island in the late 1400s. Widely regarded as leaders, dignitaries, healers and holy people, Two Spirit culture was an essential spoke in the wheel of tribal culture; our absence triggered a time of unbalance that is only now beginning to shift. Events like today's Grand Entry and the annual BAAITS Powwow, Turtle Islands' only public Two Spirit organized gathering, held annually in San Francisco, are key to re-centering Two Spirit people in their respective communities. Although not every tribe traditionally held favorable views of Two Spirit people, it is safe to say that more often than not, this was the case. Today, most Native People are returning to the more traditional, positive mindset regarding LGBTIQA+ Native Americans.
"Our camp represents the five hundred and eighty tribes of the United States, First Nations of Canada, Alaskan Natives, Indigenous nations from Central and South America as well as Indigenous Pacific Islanders," Brings Plenty explains. "We hold numerous intersectionalities and will arrive with allies (our friends, family, loved ones who are not Two Spirit). There are over forty-seven Two Spirit Societies collectively in the U.S. and Internationally. We have our very own elders and honor the fact that there are an exponential number of Indigenous terms in our traditional languages for identities we carry. We also acknowledge that there is spectrum of gender and that there is not just a binary gender identity of only male and female. We honor that there is fluidity in sexuality and the gender and sexuality are two very different entities. And most of all, we embrace that we each have our own spirituality and culture from the tribes, bands, clans and nations we each represent."
Calling all HuffPost superfans!
Sign up for membership to become a founding member and help shape HuffPost's next chapter
BEFORE YOU GO
PHOTO GALLERY
North Dakota Pipeline Protests