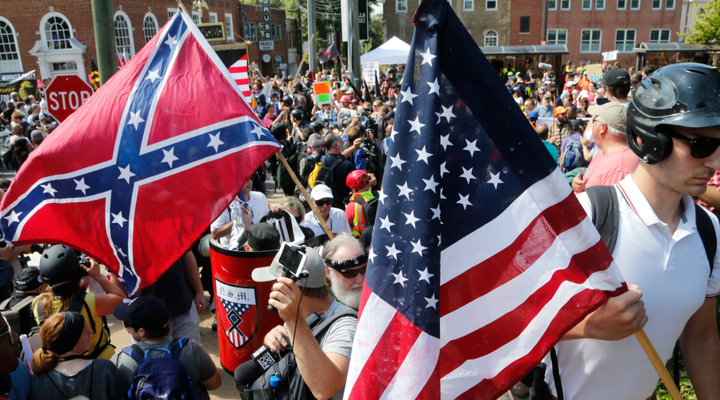 Donald Trump addressed the media today from his New York hotel. After reading a prepared speech about infrastructure, he was questioned about the timing of his condemnation of white supremacy in the aftermath of the Charlottesville attack. Trump took the opportunity to reinforce his initial beliefs that many sides are to blame for the outcome of the event.
After asking a reporter to "define 'alt-right' for me," he proceeded to broadcast the blame across all groups of people that were present. When pressed by reporters, Trump continually reiterated the point that the "alt-left," who came dressed in black, with helmets and baseball bats, were just as aggressive toward the "alt-right" as the opposite.
"What about the alt-left that came charging at the 'alt-right?'" He responded, "Do they have any semblance of guilt?"
He also made a previously unheard connection between job creation and the improvement of American race relations. 
"If we continue to create jobs at the levels that i'm creating jobs, I think that's going to have a tremendous positive impact on race relations," he said. "People are going to be working, making a lot of money. Much more money than they ever thought possible."
Trump is, again, reinforcing the things that make minorities uncomfortable about his decision making process. In his mind, which has been largely motivated by greed and capitalism his whole adult life, creating jobs for poor Black people who have never made any money is a solution to racism? He actually believes that the ease in which he has made his money will be translated to all other Americans through the jobs that he brings to the country. He believes that money is the answer to everything. Notice that his only wins since being elected are economic: loosening regulations, stock market prices going up and generating jobs. Meanwhile, the humanistic issues like healthcare and immigration have been harder for him to pass.
He then went on to defend Steve Bannon, saying, "I like him. He's a good man. Not a racist, I can tell you that." Lest we not forget that Bannon tried to make Breitbart, his old company, the "platform for the 'alt-right.'"
Trump's inability to single out the "alt-right" ― who organized the rally and met those black clothes, helmets and baseball bats with army fatigues and automatic weapons, mind you ― further proves the point that many Trump opposers have feared all along. What he's doing is opening the possibility for more of this type of violence. In the minds of these hateful white nationalists, Trump just put them on an even playing field with every other organization that identifies as an activist group. Rather than denouncing their hateful message and rhetoric, he claimed that they lawfully got a permit and tried to march peacefully but the extreme alt-left brought about the need for conflict. He also mentioned that the anti-protestors didn't have a permit, implying that they're to blame. 
As much as his supporters won't see it, Trump has totally given in to the Washington swamp. He is so concerned about preserving the votes from his loyal base that politics is directing his decisions, even over humanity, even the Constitution. To defend the white nationalists right to free speech but not also see the anti-protestors right to that same free speech is irresponsible and dangerous. 
REAL LIFE. REAL NEWS. REAL VOICES.
Help us tell more of the stories that matter from voices that too often remain unheard.