I am going to estimate that 95 percent of audience members going into An Act of God believe it is a one-person show starring Jim Parsons as God. (While he doesn't like you to take his name in vain, the show's title does, and therefore I will spare you "G-d.") It is not. Of course, the primary focus is the versatile Parsons, but he has the "angels" Gabriel and Michael by his side. The former is played by a hilariously stone-faced Tim Kazurinsky, making his Broadway debut, and the latter is portrayed by a person very familiar to theater fans, two-time Tony nominee Christopher Fitzgerald.
Fitzgerald is one of those people who my mother says: "We've seen him before. Where have we seen him before?" He's worked pretty consistently throughout my career. His Broadway credits include Chicago (as both Amos Hart and Billy Flynn), Young Frankenstein, The Merchant of Venice, Finian's Rainbow, Wicked and Amour. (Fun fact: sitting in my office is an opening night gift from the short lived Amour, a fake bread basket.) After the limited run of An Act of God shutters on August 2, you can catch him this fall at New Jersey's Two River Theater in A Funny Thing Happened on the Way to the Forum, directed by his wife, Jessica Stone, and then at the Metropolitan Opera's Die Fledermaus. But before this run wraps up, I spoke to Fitzgerald about the irreverent piece, in which he challenges God via reading the minds of audience members and asking questions on behalf of them.
I saw the show recently. The audience loves it so much.

They are so primed when they come in. It's a brilliant combination of the right elements. You are there to see Jim Parsons. You know it's going to be hilarious. You know it's going to be kind of challenging in an odd way. It's got that Daily Show sense of humor.
Everyone laughs. There were different types of people all around me, but everyone laughed.
It's a hybrid between a play and standup. Or a play and a late night show monologue. You know someone is coming up that will make you laugh. Unlike a traditional one-man show where it is a story or there are characters to play, this is a speech. There is a standup comedy feel to it. When standup comedy is done well, when there is someone who tickles you, it's so much fun. It doesn't carry the weight of the play, God is letting you into his perspective on things. With a play, it is a little distancing, this is not.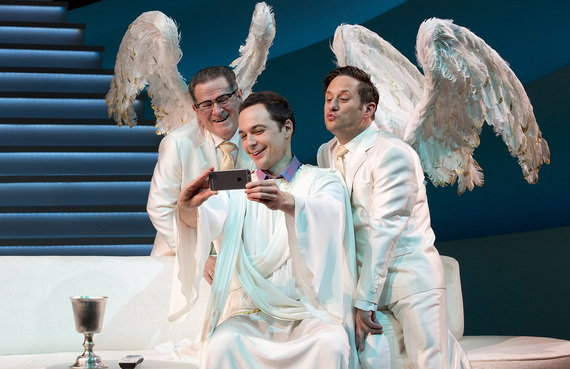 It is hard not to go with it. He holds court so well.
It's been amazing to watch Jim. He is a machine. I'm offstage for chunks of times observing. I watch the audience watch Jim every night. It's been really fascinating to watch him sculpt the evening over time. How he can really set up, or come under, a topic. It's really remarkable how facile and how dextrious he is. The writing is so good. Then to add Jim who is so affable and available, it's perfect.
There are all of these topical references. How much has the show changed?
The script is the same, but the reactions sometimes come and go. Things play differently. I have a great line where I'm yelling at God for all his hypocrisies: "Why is Donald trump allowed to roam the earth?" Now that is perfect.
What made you want to do it?

[Director] Joe Mantello and I are pals and just the description from him made it appealing. I read the script and it was one of the funniest things I've ever read. Jim and I weirdly have mutual friends for the last 20 years - he told me he's been hearing about me for years. He's a pretty special person. He's a really humble, really talented guy. The thing I admire about him is how hard he works. He has a fierceness about him - he has very high standards.

When you go into the audience and ask people's names, you always say where they are from, and in the script it is places like "from Syosset" or "from Dix Hills." What happens when you get someone who says their name and clearly they are not from this area?
It's even funnier that way. I actually look for people who are not from those places that I'm going to say. [Writer David] Javerbaum said I could say whatever I wanted. I don't want to tip into making those moments sillier than they need to be. There is a part of me that wants to get to the exchange God is having with these people, instead of doing a pre-joke. To me it has to be consistent with where the people are from, so I always say the same things.
You walk off into the crowd or offstage a few times. Do you watch the show with the audience?
Yes, I watch Jim. Sometimes I sit in a seat in the back. Sometimes I stand.
I've watched how it has evolved. It's a little bit like when you have kids, and you're around them all the time, you don't really get to see a sudden growth, because it's so gradual, you see them evolve. Being in the back of the house, I've just watched how it's evolved. And how the laughs for some things go away and come back. You wonder why it hits a certain night - you never quite know. It's a math problem, trying to construct the beats of a comedy. I've watched it here.
Your role isn't super big, but you have a couple of showy scenes. What is your favorite part?
It's not a super developed part of the evening, the journey of Michael. It's a nice part of the show were something is happening, a conflict of sort. God has an internal conflict but my little journey is fun to go on speaking for humanity. Dipping my toe into the hypocrisy that is God's world and watching that develop and play that through the evening is fun. Just to be humiliated by God is sort of fun. All those little moments are fun.
From left to right: Tim Kazurinsky, Jim Parsons and Christopher Fitzgerald. Photo by Jeremy Daniel Photography.
Support HuffPost
The Stakes Have Never Been Higher
Related
Popular in the Community