October is new musicals month in New York. First there's the New York New Musical Festival, an annual fall event featuring over 30 new musicals. I'm on the board, so I try to see at least a dozen of the shows, usually over three to four days. This is followed by the prestigious NAMT reading festival (National Alliance for Musical Theater) at the end of the month. I guess I'm saying all this as a way of explaining where I've been the past month, and almost caused me to miss two significant shows here in my home town. Certainly this is going to go a long way to affirm my status as HuffPo Local's most inconsistent contributor ;)
Fortunately, last week I did manage to see two splendid shows here in D.C. First and foremost, I want to recommend Matt Conner's superb Edgar Allen Poe bio-musical, Nevermore, now playing in the little black box theater at Creative Cauldron in Falls Church. The show had its world premiere at Arlington's Signature Theater in early 2006, and received rave reviews and cemented Conner's position as D.C.'s resident composer. We are lucky to have him in our city.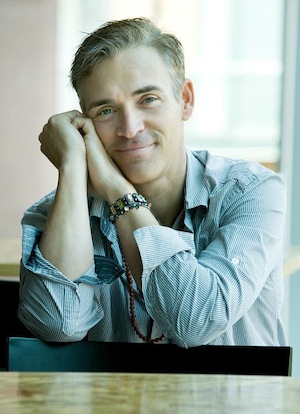 Matt Conner
Conner directed this production himself with a sure hand, guiding an impressive cast and creative team to realize his fever-dream of a musical in a very small theater. The set design by Margie Jervis is a wonder that makes the space seem much larger than it is. The score is played with verve and emotion by five-piece chamber orchestra led by Amy Martin Massey. The title role of Poe is played impressively by New York actor Sean Thompson, who is on stage every minute of the show, wrestling with his demons, drink, and five very powerful women who influenced his life. Thompson's intense, honest and empathetic performance arouses our empathy for the immature and self-pitying alcoholic Poe.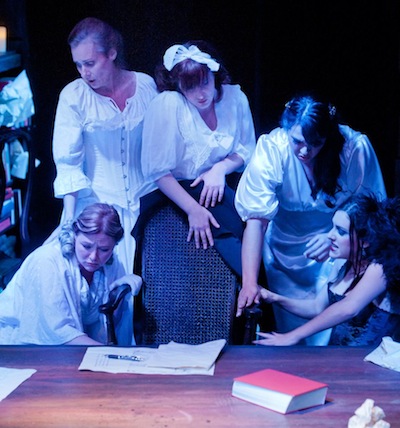 The women of Nevermore. From l to r: Karissa Swanigan-Upchurch, Mary Payne, Katie Culligan, Priscilla Cuellar, and Dani Stoller.
The five women made the show for me, however. I was delighted to be introduced to the work of Priscilla Cuellar, Katie Culligan, and Mary Payne, especially impressive as Poe's aunt and the mother of his child bride (and first cousin). Shout outs to my friends (and alumni of my productions past) in the cast: the vocally gifted Karissa Swanigan-Upchurch, and the lithe Dani Stoller, who do their best to steal the show. Stoller is entrancing as "the whore." The total physicality of her performance dominates the stage whenever she is on it.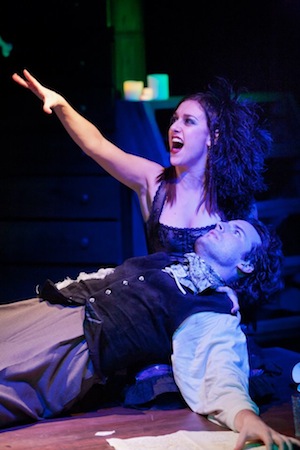 Sean Thompson and Dani Stoller in Matt Conner's Nevermore, at Creative Cauldon in Falls Church.
It's no wonder she is the one Poe always turns to, even while married to his adoring adolescent wife. The title number "Nevermore" is a showstopper in a production that features more than one. I urge you to see it before it closes next Sunday (Oct 30). At $25, it's a deal.
Parade at Ford's Theater is also a must see, but for different reasons. A co-production with Theater J, the show tells the story of the trial and subsequent lynching of Leo Frank, the Jewish manager of an Atlanta pencil factory in 1913. Written by Oscar and Tony winner Alfred Uhry (Driving Miss Daisy) the show was a modest hit on Broadway in 1999 and won a slew of Tony Awards, including best score for composer Jason Robert Brown. It has entered the musical theater canon as an instant classic; musical theater loves a period piece. Parade will be done again and again, in high school after high school, like Little Shop and Into the Woods. Sadly, it is nowhere nearly as good as those two shows. But that's one man's opinion. (I recently told a producer friend that he should start a fund to invest in musicals I don't care for, since they are sure to be hits, e.g. Mamma Mia, Hairspray, and Memphis). Broadway actor Euan Morton does the best he can in the lead role of the hapless victim, but his wife Lucille (Jenny Fellner) is far more interesting, and has much more to do. Had we gotten to know her better, the show would feel more character driven and less polemic. Ford's is equal to the challenge of presenting this an historic melodrama with 24 performers and a 10-piece orchestra. This show also closes on the 30th, so you've got one week to see it done by the pros. Otherwise, it's coming to a local high school near you, followed by requisite talk-backs about anti-Semitism in the new South. I bought my orchestra ticket for $30 via Goldstar.
For the first time in six years, the New York New Musical Festival disappointed me. The only show I really liked is a send-up of a campy old 60s horror flick, The Brain that Wouldn't Die in 3D. You've got to be a real musical theater nerd to sit through the other ten shows I saw. Especially dreadful were two "hit" musicals from the West Coast. Cyclops, from LA, was the most promising. You remember the one-eyed monster who eats Odysseus' crew in The Odyssey? This is that story told from the point of view of Cyclops' demented rock 'n' roll playing sycophants, The Satyrs. I'm making this sound better than it is. Man of Rock, from San Fran, is an 80s romantic comedy with creepy characters and no laughs, set in a rock club, where long stretches of dialog are interrupted by parodies of 80s glam rock songs. Apparently, standards for shows on the left coast are much lower than NYC. Similarly disappointing was the rock musical F---ing Hipsters. The show had great pre-festival buzz because of the artists involved: Keythe Farley (Bat Boy) wrote the book and Lori Scarlett (The Break Up Notebook, the Lesbian Musical) provided the music. Sure sounded like a winner, although I saw the treacly, predictable and utterly crowd-pleasing Break Up Notebook in Asbury Park a few weeks ago and it was, shall we say, not my thing. The director is my old boss, Disney honcho turned impressario Peter Schnieder. He was the force behind the Sister Act musical, and directed the London production. The house was filled with lesbians; they loved every minute and gave the show a rousing standing ovation. Investors, since I didn't like it, success is sure with this one.
Hopefully it won't take me a month to write my next blog entry, in the meantime you can follow my adventures by signing up for my soon-to-be-world famous (and spam free!) Quote of the Week (quoteoftheweek.com) email, which delivers its light cargo of borrowed wisdom to over 8,000 close personal friends every Monday. Sign up and you will be among them!
Photos by Chris Mueller, courtesy of Matt Conner.
Calling all HuffPost superfans!
Sign up for membership to become a founding member and help shape HuffPost's next chapter