I spent last week trawling the 375,000 square feet of the American International Toy Fair in search of what little girls will be screaming for over the next nine months. From super modern ride-ons to a girly LEGO world to gateway toys hoping to scoop up toddlers and usher them on to already hugely popular toys for older kids, there were a bunch of trends that I couldn't help noticing. And yet, there are a few trends that are just starting to show themselves. These are trends that will most likely slowly expand over the next couple of years into more and more products. But, for now, just a select group of major toy makers are dipping their "toys" in the water and seeing if they can jump start trends from scratch.
No, I can't separate them. They are a unified force when it comes to this toy trend. You might be thinking that rainbows and unicorns have always been awesome. And, that's true. But the toy world has pretty much neglected them for a long time. Coming soon are a handful of toy unicorns and dolls who have pet unicorns. Who knows, maybe Rainbow Bright will make a come back next year!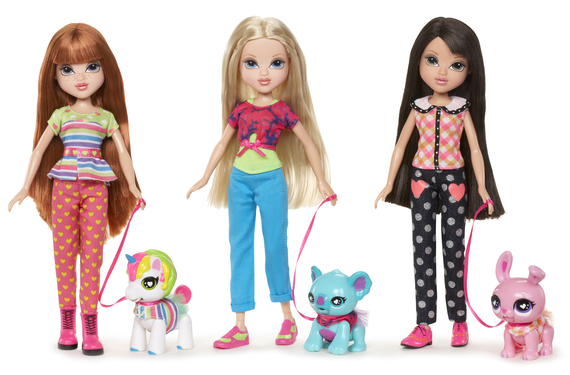 Yup, I said it. Poop is an odd trend for little girls. Boys, I get. But girls? Believe it. I was surprised at how many pooping creatures there will be for girls to play with. Even the girliest toy of all time, Barbie, has a pooping golden retriever named Taffy that your little girl can clean up after with a pink pooper scooper. Moxie Girlz Poopsy Pets are an entire line of girls' toys that poop. The pièce de résistance is Kellan who has a magical pet unicorn that poops rainbow eggs. At least they're teaching kids to clean up after their pets, which is more than I can say for a lot of people here in Brooklyn.
So, now you know what to keep an eye out for if you have a little girl. There's no doubt that at some point over the next couple of years she'll be begging for a toy that follows one or both these trends.
Dana Holmes is a lifestyle, gift and etiquette expert and contributor to the Gift Rap Blog. She has been working in trend forecasting and gift recommendations for the past decade. Dana loves making occasions special with her unique gift ideas, tips and touches. She has been interviewed by The New York Times, Associated Press, Fox and Friends, TODAY in NY and many more..
Support HuffPost
A No-B.S. Guide To Life
Related
Popular in the Community