All the talk about how dining out has become more casual obviously ignores the fact that the overwhelming majority of restaurants are casual, not least -- and especially in New York -- the venerable Italian trattorias, distinct from high-end Italian ristoranti with Frette linens and Ginori china. At the former, they perfected long ago the art of "dolce far niente," that is, the sweetness of doing nothing, achieved through a lot of hard work. The irony is that not too long ago, pizzerias were quite distinct from trattorias and ristoranti until pizza went from being snack food to gourmet item. Today, even high-end Italian restaurants serve the now exalted pies.
One of the best trattorias + pizzerias has been around for a long time -- Naples 45, in the MetLife Building atop Grand Central Terminal (200 Park Avenue; 212-972-7000). Back in 1963 this space was called Trattoria -- then a very unfamiliar term to Americans, and the restaurant was a vast, colorful, very stylish space serving highly authentic Italian fare (I still recall its lasagne alla bolognese as the best in the U.S.). But it didn't serve pizza.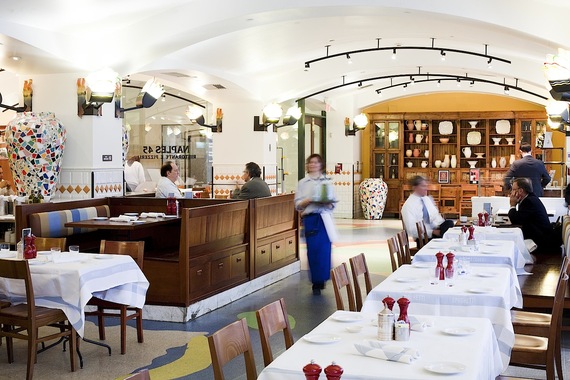 Decades later Trattoria was recast as Naples 45, the name referring to the city where pizza was invented back in the 19th century and to the number of the street outside the restaurant's glass wall. A great deal of research was done to obtain the perfect flour, tomatoes, mozzarella, even water with the same mineral content as the water in Naples, and the result was a glorious pizza, which it remains to this day. Shaped like the Circus Maximus, the pizzas are impeccably crisp, the right thickness and steamy with fine ingredients. They start, in size, at $16.95 and go up to very large ones at $35.50.
Indeed, I would contend that it was putting such great pizza on the menu at Naples 45 that gave the OK to other Italian restaurateurs fearful of adding such a humble item to their menus. These days there's hardly an Italian restaurant in New York, or anywhere else for that matter, that doesn't serve pizza.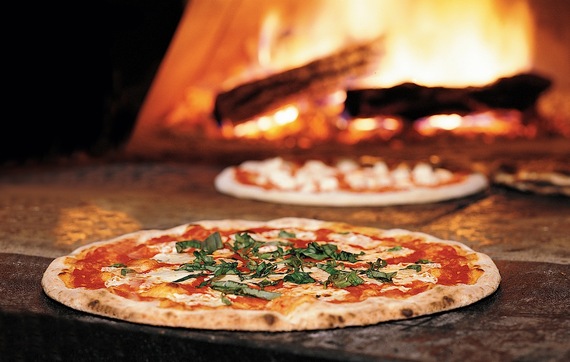 Chef Stephen Rosenbluth also turns out fine Italian food that begins with crisp calamari ($12) with a spicy tomato sauce and crumbly arancini rice balls stuffed with mozzarella and served with a tomato ragu ($10). The pastas, which come in enormous portions, include a lasagna bolognese ($19) that comes pretty close to the one I so loved when this was Trattoria, and there's heft and heartiness in the spaghetti chitarra with pecorino and coarse black pepper mixed with runny egg for a creamy finish ($18). The fat tubes called paccheri ($19.50) take on an admirable Neapolitan-style meat sauce.
If you've room, striped bass is poached with clams, tomatoes, capers, garlic, and oregano ($26), and the crisply breaded chicken cutlet milanese is piled high with tomatoes, arugula and a sharp red onion salad ($26).
Prices on everything at Naples 45 are extremely reasonable and you're likely to take something home. They also offer a four-course dinner at $32.
Now that spring is struggling to arrive, they'll be opening up the patio tables with their bright blue umbrellas. Come early: those tables go fast at lunchtime.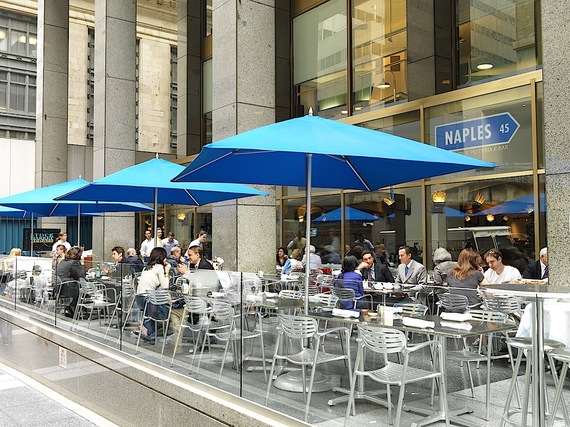 Naples 45 is open for breakfast, lunch and dinner Mon.-Fri.
A brand new trattoria, with the forthright name Mozzarella & Vino (33 West 54th Street; 646-692-8849), opened on the former site of Il Gattopardo (now moved slightly east), across from the Museum of Modern Art. Gianfranco and Paula Sorrentino, who also run the superb ristorante The Leopard across from Lincoln Center, have here fashioned a long bar and two dining areas, with a skylight in the back, for truly casual eating based on the glories of imported buffalo mozzarella and Italian charcuterie -- salami, salumi, fine hams, and a few antipasto.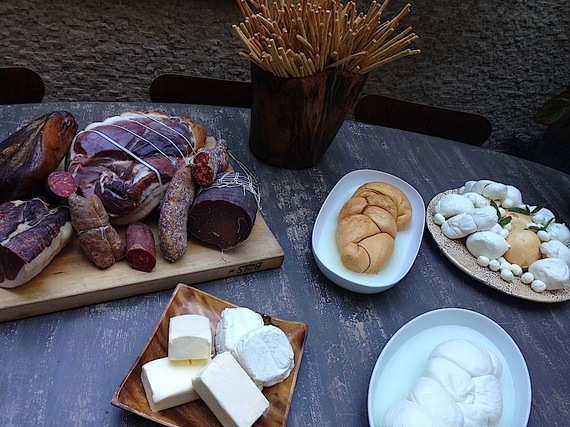 The mozzarella comes in several lovely shapes and varieties, all creamy white and moist, and for $16 you can have a tasting of provola and burrata. There is smoked mozzarella, eggplant-stuffed mozzarella, basil-scented mozzarella, and much more. The meats range from various prosciuttos to bresaola, Speck, mortadella, and rare culatello -- all from the finest producers. For lunch, the panini sandwiches are a first rate idea with a glass of wine at the bar.
You should also consider the items from the friggitoria list--fried dishes, including rice ball arancini, fat panzarotti pastas filled with potato, mozzarella and salami, and golden fried zucchini.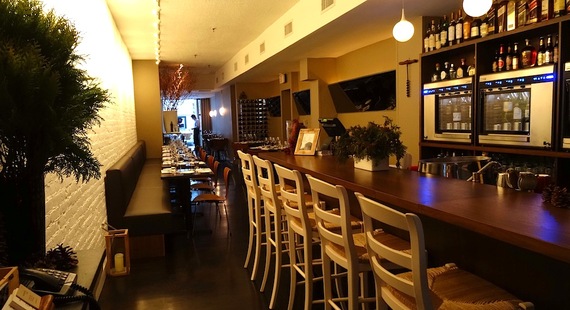 There are only a couple of pastas here -- a vegetable lasagna and baked pasta of the day, as well as a platter of meatballs ($13/$19) and hearty beef stew ($18) with corn polenta.
Mozzarella & Vino puts great emphasis on the vino part, acting as an enoteca where you can order a well-selected range of small estate wines in two-, four-, or six-ounce glasses.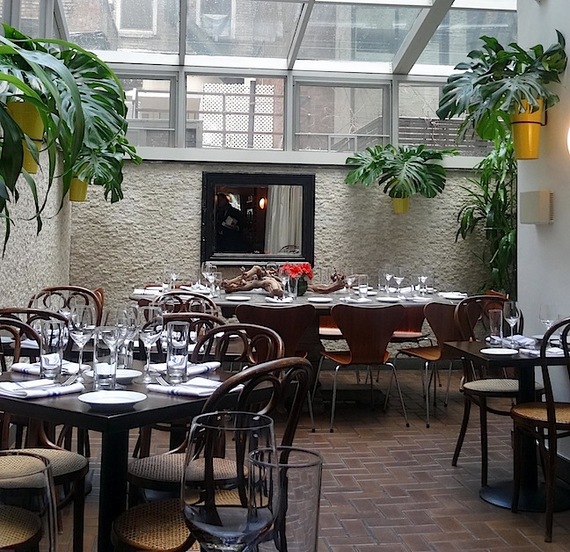 The Sorrentinos offer you a choice on 54th Street -- either the posh Il Gattopardo or this casual new eatery. At both you can count on the same quality of ingredients and service, striking a fine casual balance of refined good taste.
Mozzarella & Vino is open Mon.-Sat from 11:30 to 10 PM, Sundays from 11:30 PM to 5 PM.
Related