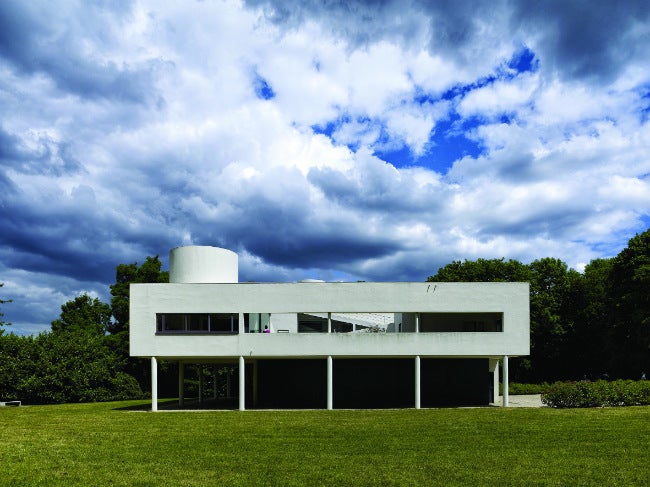 Both are masterful gems from famed architect Le Corbusier, real name Charles-Edouard Jeanneret-Gris.
First One. The Maison La Roche.
This is a newly (2016) classified site in Paris. Among 19th century facades of the chic 16th arrondissement of the capital city, the Maison La Roche is a striking example of modern architecture by Le Corbusier. The building is now the headquarters of Le Corbusier Foundation.
Built between 1923 and 1925 by Swiss architect Le Corbusier and his cousin Pierre Jeanneret for a wealthy art collector, it stands as one of several experimental houses designed by Le Corbusier in the Paris vicinity. Sitting at the end of a cul de sac, it was a challenging north-facing site on a small plot of land, but it nevertheless offers plenty of natural light thanks to the ingenious ideas of the architects' design.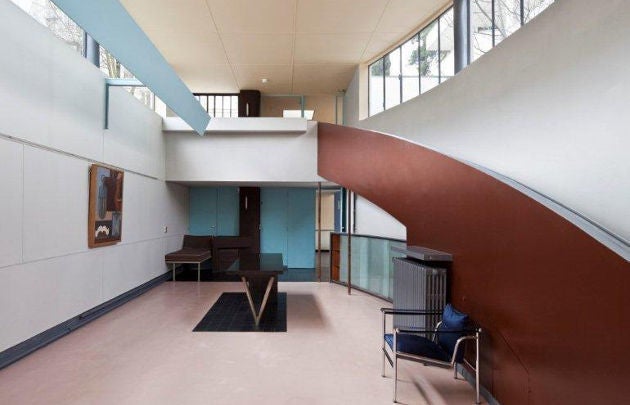 Fully restored in 2015, the soaring entrance hall highlights the three level heights; a special cut-out space for a nearby tree allows it to enter inside the house; a ramp instead of stairs, and a rooftop garden.
All of these features were highly unused in the days the house was built, and showcased its modern and avant-garde style. The owner of the house was a fan of monastic rooms and living spaces and it shows in the style of the private house.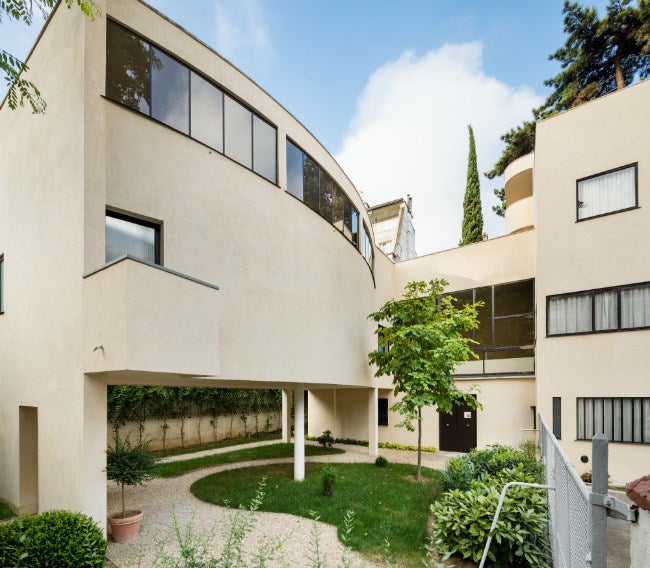 Second One. The Villa Savoye.
The modernist villa in Poissy, on the outskirts of Paris (a 30 minute-drive) was also designed by Le Corbusier and his cousin between 1928 and 1931, it is constructed of reinforced concrete.
A true manifesto of Le Corbusier's "five points" of new architecture, the villa is a perfect representation of the bases of modern architecture, and is one of the most easily recognizable and renowned examples of the International style.
Pilotis: Replacement of supporting walls by a grid of reinforced concrete columns.
The free design of the ground plan (absence of supporting walls) means the house is unrestrained in its internal use.
Freely- designed façade separates the exterior of the building from its structural function.
Horizontal windows cut the façade along its entire length, and lights rooms equally.
Roof gardens on a flat slate serve a domestic purpose and protects the concrete roof.
This one is special to me as it carries a lot of my childhood memories. The house is located on the grounds of my former high school, the Le Corbusier Lycée. I spent four years there, it was a pilot school, trying to implement new cool things, such as coed classes (rarer then than now) and students' participation in the everyday life and running of the school.
We each had to take turns working in the cafeteria or the library, to understand was work was in real life. We had uniforms, red for girls and blue for boys, just simple frocks to wear over our own clothes. The idea then was for security to spot an intrusion from outside the school's limits.
We had a large outdoor pool and magnificent grounds of grass and paths. At the end of the property stood the majestic Villa Savoye. It was closed down at the time, we had no idea why. The house was made entirely of concrete and we were told it had been built by a famous architect, and was a unique sample/model of what a house looked like when it was made entirely friendly for somebody using a wheelchair. Ramps were all around.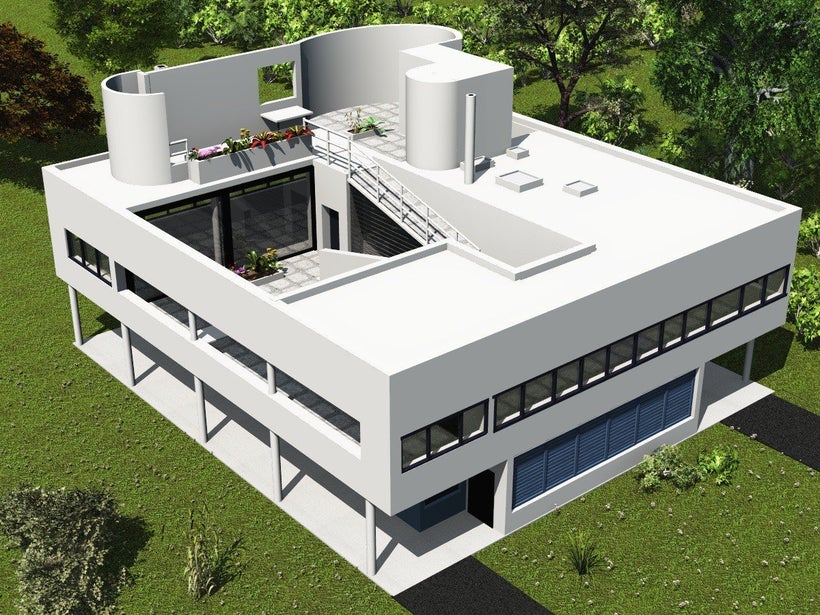 We were not supposed to, but we used to sneak inside the house, empty. It had cement shelving in the walls and wide entry spaces between rooms. Sometimes the security guard would come and chase us out with a scolding. As far as I know ,no damages were ever done by the curious students. Some did smoke inside, in hiding.
During WW II, the villa was occupied twice - first by the Germans, and used as a hay store, and later by the Americans, with both occupations damaging the building severely.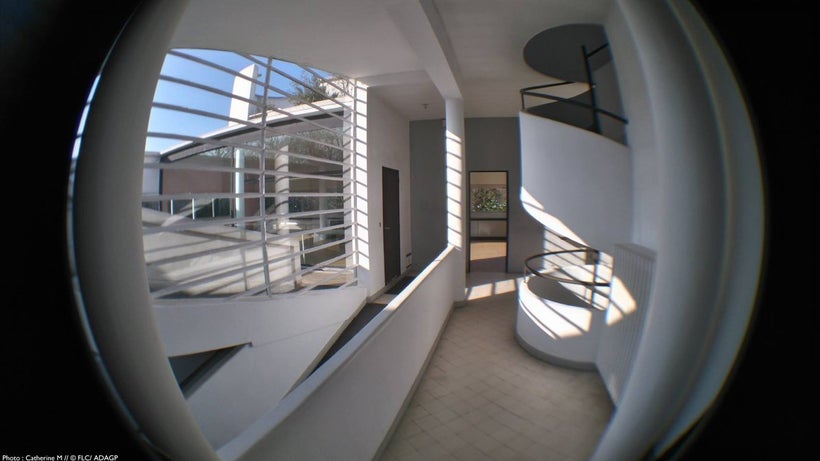 Le Corbusier's moniker was a family name on his French mother side. He was part of the team of architects who built the United Nations headquarters in New York between 1947 and 1952.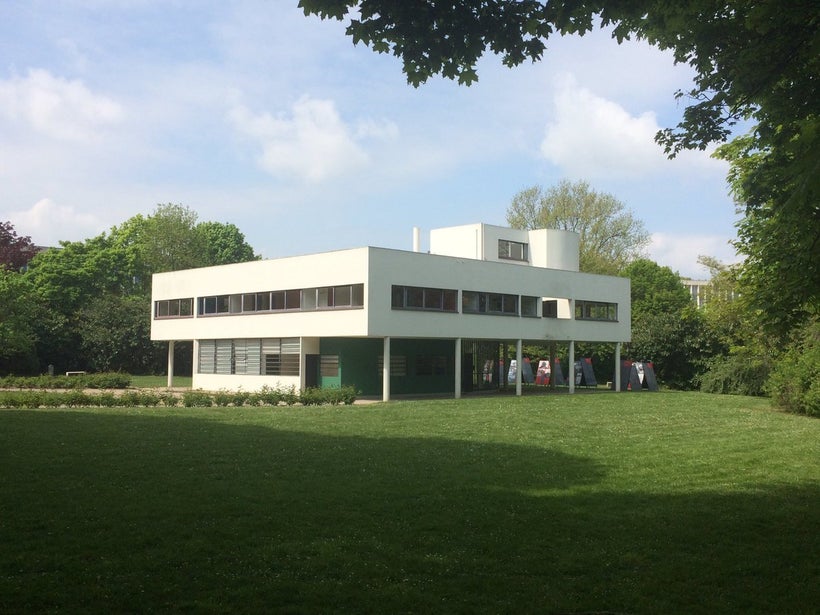 ********************************************************************************************
Visits are by reservation only.
Visiting hours: Monday 1:30-6 p.m. Tuesday-Saturday: 10 a.m.-6 p.m. Admission: 8 euros (full rate), 5 euros (reduced rate). For more information: www.fondationlecorbusier.fr
Métro: Jasmin or Michel-Ange Auteuil
2/Villa Savoye, 82 rue de Villiers 78300 Poissy. Tel: +33 (0) 1- 39 65 01 06rs
The villa can be rented for private and corporate events
Make sure to visit my website for more stories.
Calling all HuffPost superfans!
Sign up for membership to become a founding member and help shape HuffPost's next chapter
This post was published on the now-closed HuffPost Contributor platform. Contributors control their own work and posted freely to our site. If you need to flag this entry as abusive,
send us an email
.