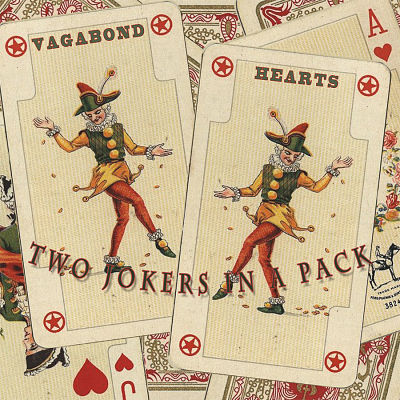 Edward Rogers: "We've known each other for a long, long time...twenty years."
J-F Vergel: "What! That long? Really?"
Edward Rogers: "Absolutely. I met J-F when he was in the band Rogue's March. He was a friendly cat, we immediately hit it off. J-F and I shared a musical bond, a little bit more so than the other members. So, it all started when we'd run into each other. And I remember at one point he asked me to put some words to music that he had written..."
J-F Vergel: "No, no, no, here's what happened - I was the Apollo Theater to see what's his name?"
Edward Rogers: "Paul Weller."
J-F Vergel: "Right. So, out of the corner of my eye I spot Ed and his wife about two rows down from where I was sitting. And it was really weird because I had been thinking about him, even though I hadn't been playing for a long time. We chatted and I said to Ed, "I got a bunch of songs, do you want to put words to them?" And he agreed. I sent him a couple of tunes...I can't remember how many."
Edward Rogers: "You sent me three tracks..."
J-F Vergel: "No. Was it that many?"
Edward Rogers: "Yes. Now, I take writing assignments very seriously, especially from musicians I respect...
J-F Vergel: "Oh and Ed says 'I'll have them to you in a week!' And he sends me something two days later. Two days! So now it becomes a race! I didn't want Ed to get ahead of me."
Edward Rogers: "Hey man, I got three hundred and sixty pages of lyrics that I've written in the last ten years!"

J-F Vergel: "Ah, so that's how you did it so fast! Damn!"
John and Paul. Mick and Keith. Pete and Roger. Tyler, Perry. Axl, Slash. Page, Plant. Noel, Liam. Ray and Dave. To my ears, the best rock 'n' roll, regardless of its generational bent, is oft borne of odd couples. The Vagabond Hearts are no exception. A fresh, underground New York City super-group of sorts, the Vagabond Hearts are helmed by two veritable veterans of the local music scene: guitarist, songwriter J-F Vergel and singer, songwriter, recording artist Edward Rogers. Rogers, the well-tempered, well-organized British ex-patriot emerges as a stark contrast to Vergel, the street-wise, shoot-from-the-lip New Yorker. Naturally, they're a perfect fit.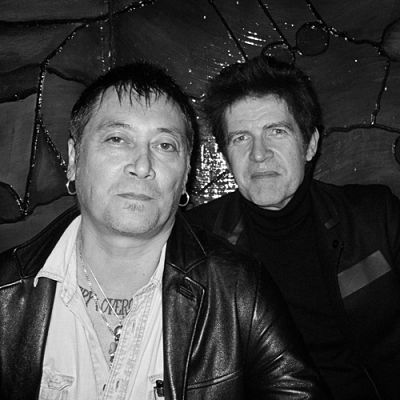 To extract a linear history of the Vagabond Hearts is nearly impossible, as evidenced in the above documented conversation. Not that it matters. As far as they recall, their first performance occurred at the home of May Pang - the jam sessions held at her soirees are legendary. "I had no idea what I was doing, and I was the one calling out the chord changes to the bass player" laughs Vergel. "Oh it was great, everyone loved it," counters Ed. "We knew we had to take it further."
The Vagabonds' modus operandi is to work fast and grab the best players whenever possible and wherever available. I caught one of their early gigs with JD Foster in the bass chair at the Bowery Electric. With lead sheets and cheat sheets flying off the bandstand, Rogers and Vergel ripped through their repertoire with a reckless abandon that required years and years of experience in the rock 'n' roll trenches to perfect. Foster even regaled me with tales of his time working with Ronnie Lane while he and the Hearts' performance was in progress - now you get the picture?
Recorded in two days, the Vagabond Hearts official bow is a five track EP aptly dubbed Two Jokers In a Pack - a title which arrived at the suggestion of Vergel's significant other. "It's a line from the song 'Reckless' -my wife loves that track, and she says that lyric perfectly describes Ed and I."
With the only stipulation being that sessions take place during the daytime as J-F prefers to sleep at night, the Vagabond Hearts roster on Two Jokers includes guitarist/producer Don Piper, bassist Sal Maida, drummer/percussionist Boris Kinberg, keyboardist Matt Trowbridge, backing vocalists Tish & Snooky, and horn player Wayne Cobham.
Rather than reference each player's laudable credits, their collective body of work includes albums, sessions, and concert performances with Willy DeVille, The Brandos, Roxy Music, The Sparks, Cracker, Ray Charles, Billy Cobham, Ben E. King, Michael Jackson, Wilson Pickett, and Blondie, to cite a very select few. Track selection for the EP was a no brainer.
Edward Rogers: "We whittled it down from twenty songs...."
J-F Vergel: "We whittled it down from seven or eight songs..."
Edward Rogers: "We recorded the first five songs we wrote together..."
J-F Vergel: "We worked with songs that sound similar..."
Edward Rogers: "The whole idea is that with these five songs there is a varying degree in styles..."
Waxed in a single vocal take, Rogers likens his croon on the jangle-pop opening track "Autumn Sun" to Monkee Davey Jones' rendition of the Harry Nilsson penned gem "Cuddly Toy." Vergel assumes the mighty guitar mantle of Mick Ronson for the defining motif of "Angel Share" - a title which the singer pinched from a Scottish film which he and J-F were familiar with and which refers to a potent whiskey distillation residue. "It gives a very surreal meaning to the song...it's a clever wham, bam, thank-you-ma'am track" explains Ed. Maida and Kinberg set a slammin' swing groove to "Bridge of Sighs" wherein Vergel's melodies punctuate the vocal triumvirate of Ed, Tish & Snooky. And Mr. Cobham's trumpet lines on the ballad "Age of Reason" abet J-F's acoustic finger-picking and Rogers' sentimental delivery rather poignantly.
The Vagabond Hearts' current game plan is to put out music when the time is right - whenever that may be. Additional gigs in New York City will certainly transpire. As the record industry tries to sort itself out, the Vagabond Hearts will no doubt persevere regardless of how the masses consume music.
J-F Vergel: "We have a great relationship, it's like being on Tin Pan Alley - we have a lot of songs, I don't think we can use all of them, but they may be good for other artists. I like doing new things that I have not heard - it's too easy to repeat yourself. My influences push Ed to places he's never been..."
Edward Rogers: "The whole interesting thing about us writing together is that we'll try different styles of music. I try to adapt as much as I can and J-F leads me in as much as he can...and that's what a true collaboration is."
Two Jokers In a Pack by the Vagabond Hearts is available now at Bandcamp .Com - www.vagabondhearts . bandcamp . com. You can also follow the Vagabond Hearts on Facebook. Com.
Calling all HuffPost superfans!
Sign up for membership to become a founding member and help shape HuffPost's next chapter