It was a weekend of two very different shows in Los Angeles but one that served to remind attendees to both, young and old, that being Gay has a history, often painful, and a culture, yes, I have to, a Culture Club. The shows were the Culture Club reunion at the Greek Theatre in Los Angeles and Bent at the Mark Taper Forum also in Los Angeles.
"Thanks America, you know a good drag queen when you see one," the iconic Boy George exclaimed as a video acceptance speech at the Grammy Awards more than a few decades ago. Long before RuPaul began drag racing, long before gender identity became a discussed issue and long before Call Me Caitlyn (who introduced the group Friday July 24, 2015) there was Boy George. Many didn't know in the early 1980s what to think of him, or even if he was a "him" and even he is shown on video clips dodging questions of sexuality because of the times. Later, he would go on to become one of the GLBT's movement's most outspoken icons and his sense of style, and penchant for arrests, would keep him in the headlines. The other band members, not so much.
And since they were a Pop band, it's easy to forget that Roy Hay, Mikey Craig, Jon Moss and Boy George made really great music. They haven't been in Los Angeles for 30 years, partly because "George plus Mikey plus Roy plus Jon equals drama," as Boy stated during the 90 minute set at the Greek. But now that they've come they must come back. The hits poured and the audience more than responded. From the first site of George, headdress of hair high upon his head, outlandish cape and makeup, looking Glamorous as ever and the pulsating sounds of Church of the Poison Mind, to the power and emotionally stirring "Victims" it's an older Boy George, throatier, deeper; the tenor becomes the baritone of sorts. But his fire and passion for his music, and the dedication to their craft each of the band members exhibits shows that as a touring band, Culture Club is the real deal. They could easily take residency in Las Vegas given their hits and George's showmanship. For now, the tour will have to suffice, and a new album due out sometime as best as one can glean from George on stage.
Superstars abounded the hot Summer night at the Greek. It started with a VIP Press party at the Redwood Deck; I remembered my first party there in 1980. The Greek and Nederlander have a lot to be grateful for as they have retained operation of the venue for now in a fight with the City, AEG and LiveNation for control. The party was festive, it featured boxed water which seems like the best idea ever (Water is Better In A Box, it said). We also got to drink out of adult glasses instead of ridiculous party ware that assumes we're all unable to hold a drink. It's called Tossware and I even met a managing partner Rob Alshuler. I had to ask who starts a glass company these days?
"The concept," Alshuler told me, "came from the belief that consumers wanted more from their drinkware... I mean, glass is great but you can't take it or use it everywhere.  We found that consumers wanted a more sustainable option that looked more upscale than a big red cup... but at a price point that isn't too far from that big red cup..." Well thank goodness somebody is finally doing it.
Two band members at the after party were just excited to be in America, as it was their first trip. Neither had been born (the keyboardist or saxophonist) when Culture Club had their first hit. And Jack Black couldn't contain the excitement of having sung "Starman" by David Bowie with Boy George during the show.
The crowd was mixed, but there were a lot of 40, 50 and up year-old gay men and women, each waiting for the one and only Boy George, who despite rumors, was in strong voice and did not disappoint a bit. The music bound us together, our past, the 80s. The days of AIDS, of Reagan and the religious right...all of us surviving it and singing along to the anthems this outlandish but talented group of chaps gave us.
Meanwhile, over at the Mark Taper the same weekend, stars like Chris Colfer were on hand to take in the new production of Bent. Martin Shaman's 1979 play which originally stared Sir Ian McKellen in the West End and Richard Gere on Broadway brings to light the oft forgot fact that hundreds of thousands of gay and lesbian men and women were also persecuted by the Nazis, sent to the camps where they were the lowest of the low, even below the Jews in the pecking order of the camps. It became a film in 1997 and many think the film came first. Nope.
Under Moisés Kaufman direction, the play is sparse, naked, bare, as bare as the characters end up laying their souls. The handsome Patrick Heusinger has all the charm the promiscuous Max needs, Andy Mientus nearly steals the show as Rudy in the opening scene and the unapolegitically gay second love interest and perhaps most tragic character Charlie Hofheimer's Horst's provides drama and needed comic relief.
I'll leave you to see the play to reveal all the horrors Gay men and women suffered under Hitler, the stories Max tells of his journey on the train and what he did to survive and get his Yellow Star instead of Pink (Jews are treated better than perverts, gays, gypsies, he learns).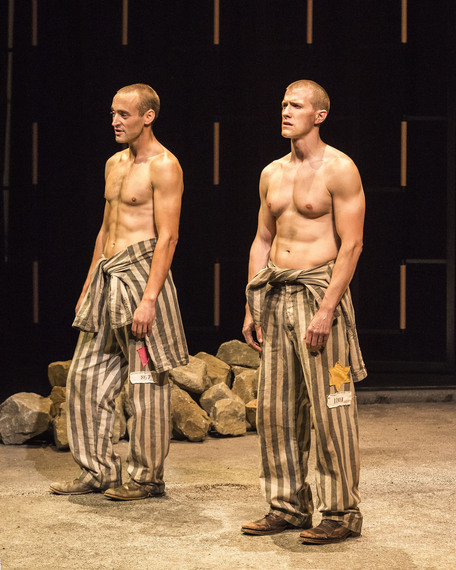 But this play, this cause, is a pet peeve of the Holocaust remembrance of mine, because from it, we have seemed to learn nothing. Hitler came for the gays, the perverts, the gypsies, the Romas, those he hated, first. Before Jews. And people stood by and did little. Historically the gay community has suffered as many indignations as any other and yet those atrocities are not only overlooked, but in the name of religion, allowed to repeat even in the modern age.
As I sit watching the play, my President is in Kenya, telling them it's not cool to kill gays. In 2015. A country has a law, many, that says it's OK to kill gays. In the Middle East, as we speak, alleged gays are being thrown off of buildings, set fire, beheaded by our ally Saudi Arabia. And the world sits, condemns with words and gays die daily. Never forget? Never again? Please. Can you say Russia? The world wide genocide against gays and lesbians still goes on in many places, as we all sit, watching the play.
It's a play worth seeing running through August 23rd, 2015, actually, it's a play most college students, even high school, should be forced to see as part of their history studies. But that would imply we care about history, or studies. It shows a hard truth, that many gay men hid as well they could, because it was hide or die. And that those that couldn't did, in fact, die, all while wearing a little pink triangle.
In the 1930s and 40s we sat as a nation and watched a dictator try to wipe out gays, Jews, anyone he didn't like. In 1979 a play was written about it and many began to discover that persecution. In the 1980s a fabulous pop star and his band took over videos and music and started a conversation about gender that has led to Caityln Jenner on the cover of Vanity Fair.
Bent is a dark part of gay history. Culture Club is a fabulous part of gay culture. They both served as reminders to me this weekend that we've come so far, but have so much further to go. That so many have suffered, and died, to get us here, and that along the way so many have joined in the struggle if only because they decided they loved a Pop artist and thought he was cool so gays were cool.
But whether dark or joyous, there is much to gay culture and in this time of merging, blending, homogenization, it's nice to have two reminders of how fabulous gay culture can be, and how far it has come with so far yet to go. And how it is a culture, how gays and lesbians are each and every one unique making up a unique culture that has a heritage both in political and world history, but it Pop music as well.
To hear this or other interviews get the FREE Karel Cast App, subscribe in Spreaker to the Podcast or simply go to the most incredible website on all the planet, save this one, karel.media
Calling all HuffPost superfans!
Sign up for membership to become a founding member and help shape HuffPost's next chapter