Imelda Staunton presses the pedal to the metal as the ultimate stage mother in the revival of Gypsy that airs Friday at 9 p.m. ET on PBS.
The revival actually took place last year in London, where it was filmed for the PBS Fall Arts Festival. Nor could the timing for us be better, because after our recent election campaign, a little song and dance is something we can really use.
Written in 1959 from the memoirs of Gypsy Rose Lee, Gypsy helped launched the career of Stephen Sondheim, who wrote the lyrics for Jule Styne's music.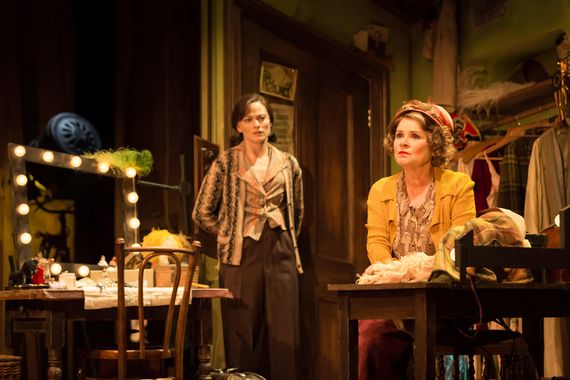 "Let Me Entertain You" and "Everything's Coming Up Roses" soon became signature songs and Broadway standards, and they're well-served here by a cast that's led by Staunton (above right), but wouldn't be the same without the first-rate support of Lara Pulver (above left).
Pulver plays Gypsy Rose Lee, perhaps the most famous real-life burlesque dancer of the 20th century, and the show builds up to - mild spoiler here - her triumphant emergence.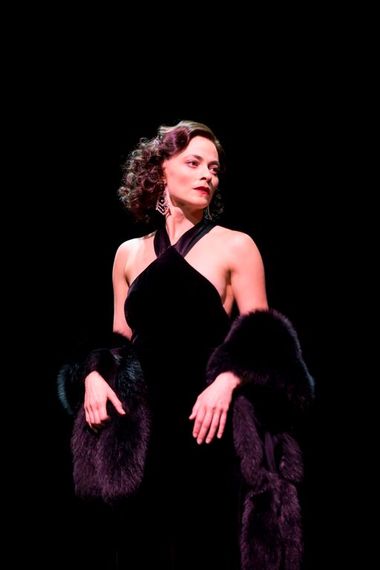 Most of the show, however, is an origin story. Gypsy Rose, born Louise, was one of the two daughters of Rose, a woman who was determined that her kids would make it big in show biz.
This is clearly her ambition, not the kids' ambition, which raises a bright red flag. Happily, Staunton balances that ambivalent part of the story well.
We want to lock Rose in a closet sometimes, just to give the kids a break and let some oxygen back into the room. But we also see that she's loving and occasionally even considerate and vulnerable.
She's also honest, laying out her own thwarted ambitions in the tour de force "Rose's Turn."
Rose places her biggest bet on her cute younger daughter June, thoughtlessly neglecting Louise in the process. Rose uses her skills as a promoter, if being pushy is considered a skill, to get a June-centric act booked into a range of vaudeville theaters.
Unfortunately, this is right around the time those new-fangled talkies are killing vaudeville. Also, Rose isn't very talented as a producer and June isn't very talented as a singer and dancer.
Additionally, June hates what Rose has bullied her into doing. So one day June up and leaves.
Rose then turns to Plan B, which halfheartedly includes Louise. They limp along for a while with the support of Herbie (Peter Davison), a sometime-agent who has fallen for Rose and has been hoping for years that she will marry him and settle down.
The turning point comes in a moment so hokey that even Rose probably wouldn't have thought audiences would buy it.
Dead broke, the team is booked by mistake into a burlesque house, which Rose declares is decadent and revolting. But when the star stripper gets busted, Rose volunteers Louise to fill in - because, well, a headline role is a headline role.
After a shaky start, Louise turns out to be the natural that Rose imagined June to be, and before long Louise - now Gypsy Rose Lee - is starring at the most famous burlesque house in the world, Minsky's in New York.
She has also found a way to make burlesque into a classy stage art, not a tawdry peep show. Louise becomes a star on her own terms. We like that.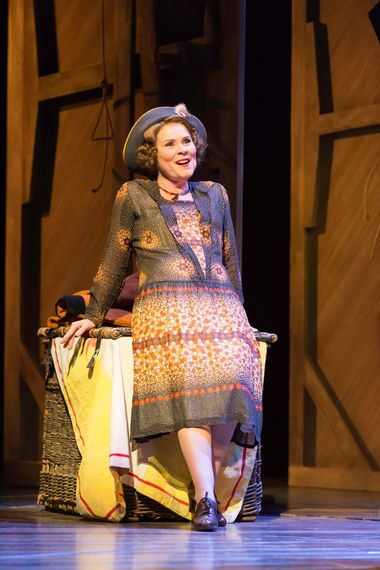 Gypsy is driven by Rose, no question. Even when she's shoving Louise out onto the burlesque stage, she puts her own name in front of Louise's.
This production wouldn't work nearly as well, however, if Pulver didn't bring both musical and acting skills. She makes "Let Me Entertain You" into a delightfully flexible stage tune, and equally important, she makes us understand how Louise is feeling through all those years when she's the afterthought in her mother's life.
Her triumph by the end is more satisfying to us than Rose's, though we don't begrudge Rose a little success - and considering that Rose has been played in the past by the likes of Ethel Merman and Angela Lansbury, we have nothing but admiration for the sheer horsepower with which Staunton fills those substantial shoes.
Calling all HuffPost superfans!
Sign up for membership to become a founding member and help shape HuffPost's next chapter