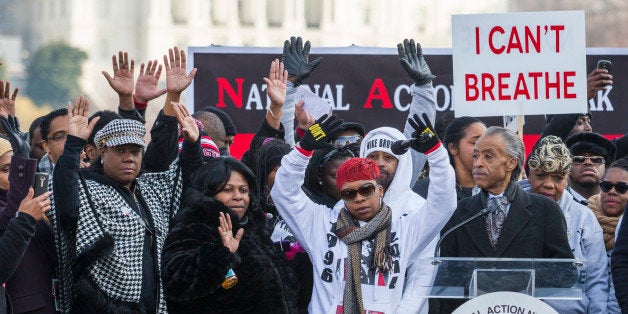 Over the weekend, I was in Ferguson, MO for the second anniversary of the police killing of 18-year-old Michael Brown. This comes three weeks after the second anniversary of the death of Eric Garner in Staten Island, NY who was killed after being placed in a police chokehold.
As one who raised awareness of both cases and movements that grew out of them; preaching at both funerals, leading rallies for both and highlighting the issues consistently both on my radio and TV shows, I look back now with family members over the last two years and fear that people will be comfortable reducing this to a salon discussion. I worry that society will say we need to do something, but never truly do it and instead use the parents of these victims as a symbol for a proper discussion rather than a radical change in policing.
Talk is simply not enough; we must implement legislation and reform that results in a shift in the way our nation polices and treats its citizens -- irrespective of their race, ethnicity or what neighborhood they reside in.

There are those that will rally around the parents and loved ones of victims and temporarily feed them ideological goals but not put in the hard work for real legislative and social change. Neither these families, nor the deceased, should be pawns of the elite who want to use them for conversational pieces. And they must not be used by extremists on both sides who just want to rally their troops and not really deal with the need for change. The killing of unarmed Black men -- and women -- and others is real and must end with real change. More than 100 Blacks have been killed by police this year alone. That means more than 100 families who have lost either a son, daughter, husband, wife, sibling or grandchild. We ask, where is the accountability?

Investigations and prosecutorial conduct must be taken out of the hands of local authorities (as was done by executive order in NY after National Action Network and mothers of victims were able to get Gov. Cuomo to do so). We must demilitarize police so that we don't see more of what took place in Ferguson as I personally witnessed in the aftermath of young Michael Brown's death. Body cameras and other monitoring devices must be mandatory with strict guidelines on their usage. We must have residency requirements so that police live in the cities where they police. Extensive training programs must be in place, and community policing must be allowed and law enforcement must work with these community leaders. These are among some of the specific goals we set out when we started, and they must remain at the forefront and cannot be lost especially as we look upon the coming of a new Administration.

Movements don't happen overnight. Our greatest civil rights leader, Dr. Martin Luther King Jr., knew this firsthand. They take time to build towards real progress and have high moments, low moments, visible moments and moments of low profile. But in the end, they are judged by what they actually achieve -- not by platitudes or promises. As King once said: "Change does not roll in on the wheels of inevitability, but comes through continuous struggle. And so we must straighten our backs and work for our freedom."

Two years after the tragic deaths of Garner and Brown, I am just as determined as I was when I stood over their caskets and when I eulogized them three weeks apart. True reform will be the only thing that will protect unarmed citizens and the police as well. We identify with the pain of families of slain officers, and with the families of those slain by who we regard as bad cops. We don't have to choose between their pain and suffering; the pain of both are real and should be dealt with through real change.

That is the only way we protect all of us. Let's continue fighting for that change which we wish to see in society.
Calling all HuffPost superfans!
Sign up for membership to become a founding member and help shape HuffPost's next chapter