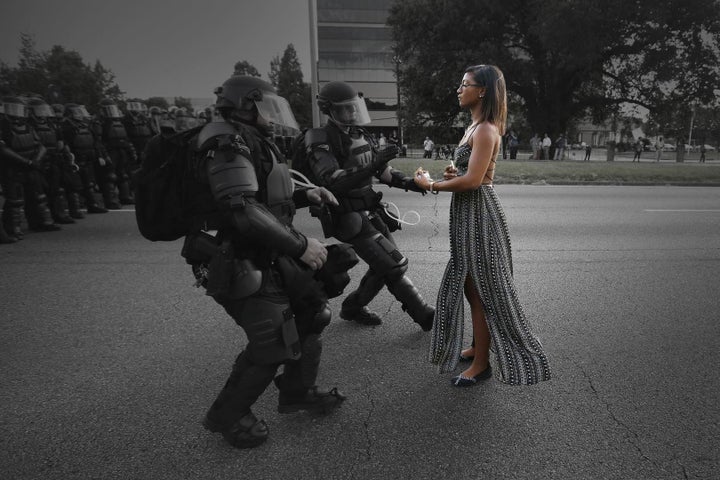 As she sat cloistered inside her Baton Rouge jail cell on a July afternoon in 2016, Ieshia Evans initially had no clue she'd become an icon.
As she remembers, food and sleep were the only things on her mind in the 24 hours she spent incarcerated. Evans had traveled from her home in New York City to Louisiana to protest against police brutality and the killing of Alton Sterling, a black man shot to death by Baton Rouge police.
As thousands gathered in Baton Rouge for the July 9 protests, Evans walked into the middle of the street to oppose an advancing row of officers in riot gear. As a team of officers descended upon her and hauled her to the county jail, a Reuters photographer promptly snapped photos of Evans. Her stoic gaze, planted feet and perfect posture served as a model metaphor for the resistance against police violence.
In the hours after the image was originally posted, it was shared thousands of times on Facebook and Twitter. The initial celebrity, Evans said, came with assumptions about who she was and what she stood for.
"When people hear the way I speak, they're usually like, 'uhh, this is not what I thought. We thought you were just about peace and holding hands!'"
"I've had people who see the picture, and they have this idea in their head of who they want me to be," she said. "And when they get a glimpse of who I actually am, they don't like it."
The story in the photo of a mother compelled to venture out-of-state and risk arrest in support of a cause she held dear had captivated many. But Evans says some of the attention painted an incorrect picture of her.
"People saw me and kept championing the 'peaceful protest,' and that's fine," Evans said.
"I'm not against protesting peacefully, and I'm not pro-violence, but I'm definitely in favor of defending yourself. When people hear the way I speak, they're usually like, 'uhh, this is not what I thought. We thought you were just about peace and holding hands!'"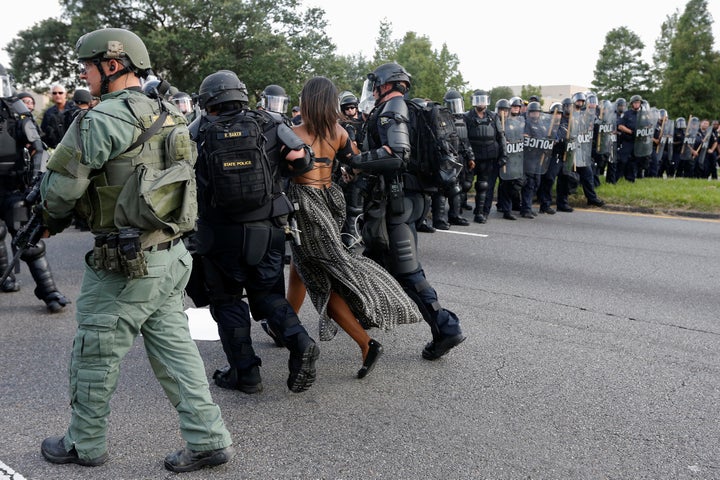 Evans has not ceased speaking on social issues since her arrest was broadcast around the world. While the hype about the photos may have waned, the sentiments captured within them have not, as Evans has continued to profess the importance of civil rights matters from her New York home.
Evans says the ways she was occasionally misrepresented were understandable, and she hopes people take from the photo what they wish. But the time she's spent as a lightning rod for social change has taught her about the snail's pace at which that change arrives. And as a student of previous movements for social justice, she longs for the assertiveness that characterized activists from the civil rights movement and the black power movement that followed.
"I'd like to see a lot more of that fight, and not just from 'my people,'" Evans said.
In the two years that have passed since Evans was thrust into the national conversation on policing and social justice, her ideas on activism and the type of resistance worthy of celebration have evolved. She appreciates the significance of her actions, but she also notes that policing under the Trump administration will need to be met with more direct action.
And she echoed the type of activism many in public life ― most notably, as of late: Rep. Maxine Waters (D-Calif.) ― say we need.
"I'd like to see more whistleblowing," she said. "People of good conscience, people with a good heart — like some people back in the '60s. When they were risking their lives, it wasn't just them standing in protest. It wasn't something like what I did, standing in front of police officers. Even though that's dangerous, there are more worthwhile efforts, like uncovering the truth about what's really going on."
This belief colors Evans's outlook on her past and future activism. And as a self-proclaimed "'90s baby" who harbors skepticism about viral trends and their staying power, she offered a fittingly frank response when asked how she hopes to be remembered.
"I think I will be remembered as a peaceful protester who saw injustice going on and took a stand," she said.
"I'd like to be remembered as a revolutionary."
CORRECTION: A previous version of this story referred to Alton Sterling as "unarmed." Sterling had a gun in his pocket at the time police shot and killed him.
Popular in the Community