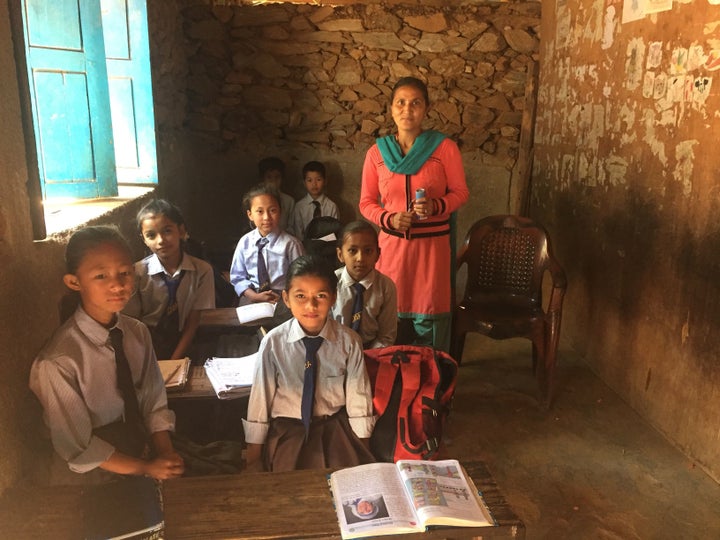 Sita Paney teaches 3rd grade students at Shubha Adarsha Modern Academy in Nuwakot in central Nepal. Every morning, her students, 8-year-olds Simran, Prayush and Krisha, gather with 250 others in the school yard.
The four-classroom school defies the word "modern" in its name and sits on nothing more than a narrow dirt terrace carved out of the slopes scattered with tin roof sheds for houses. But the kids don't mind; they line up in the yard at 10 a.m. every weekday, and sing the Nepali national anthem "Sayaun Thunga Phool Ka (We All Nepali)" at the top of their voice, with chests puffed up with pride.
These children's lives were already difficult, but things went from bad to catastrophic shortly before 11 a.m. on the morning of April 25, 2015 when Nepal was hit by a 7.9 magnitude earthquake ― the worst in almost a century. More than 8,000 people died that day, or in subsequent days due to aftershocks.
On the second anniversary of the earthquake last week, Nepali children and their teachers, especially in rural schools like Shubha Adarsha, are still waiting for their buildings to be repaired, as well as extra teachers to be assigned to get their education back on track.
Sadly, we were able to answer Sita and her students' call two years late.
A year before the earthquake struck, in 2014, my now-16-year-old daughter and I, both natives of Turkey, raised funds for a British charity called Voluntary Services Overseas (VSO) to send 10 teachers to educate children in mountain villages of Nepal.
As we prepared to travel from Istanbul to Pokhara in western Nepal in March 2015 to visit the project we had supported, first a forced closing of Kathmandu airport, then the devastating earthquake prevented us from doing so.
Turkey is a 99 percent Muslim country thousands of miles away from the predominantly Hindu Nepal and vastly different in its culture and religion.
Although my circle of friends, most of whom are liberal and secular Turks, supported and contributed generously to the campaign, some strangers considered our efforts as "indulgence", so to speak. These people found it odd that a middle class Turkish woman and her daughter would care about children in rural Nepal.They asked me why I hadn't given priority to raising money for the low-income Turkish children in Eastern Anatolia first and foremost. Did they not suffer from the same problems as the Nepali children?
The short answer is this: Children are children everywhere, and their suffering must end.
For me and my daughter, the issue isn't about whose misery is more worthy of attention and donation. Common threads and struggles bind us all no matter if we are mothers in Tanzania or daughters in El Salvador. Our choice of Nepal in this campaign was completely random.
We named our campaign "Lost in Himalayas: Forgotten Children of Nepal". By the time we finally made it to Nepal on our third and final attempt in March this year, the Pokhara project was no longer running. Trip organizers offered to take us to another project instead, which involved, of all the things, building a wall.
Before our departure from New York City for Kathmandu on March 2nd, it became a joke in my conversations with people who asked me what I would do in Nepal. "I will build a wall, but a wall for the benefit of the people!" I would say to them, in contrast to the hateful rhetoric around the other, more infamous wall between the U.S. and Mexico which has been very much in the news since last year.
We would build our "Wall of Hope" for a local, grassroots movement started by the Nepalis called Support Rural Nepal. Soon, my daughter and I found ourselves in a part of Nepal that we had never heard of before.
Nuwakot is an underdeveloped district in central Nepal, lying between upper extremities of the Himalayas and warmer subtropical lowlands of the Gangetic plain. These "middle hills" ― Nepalis don't call an elevation "a mountain" unless there is snow on it ― dominate the local landscape.
Above them, awesomely beautiful and disarranged folds of the Himalayas climb to the snow-lined summits. Passing through Nuwakot valley, Trishuli River from Tibet in the north runs through these folds of hills to reach India before finally merging with Ganges. People depend on agriculture, livestock farming, teaching and agri-tourism for their livelihood.
Life on these Himalayan hills is slow but peaceful. Locals even have a famous saying:
"Man believes time passes; time knows man passes."
In the earthquake's aftermath, Nepali government inspected each building, including every school, and gave it a green or a red mark ― meaning, the building was unsafe.
Data collected by the Nepali government shows that 24,000 classrooms in the country were heavily damaged or destroyed as a result of the earthquake, leaving some 950,000 children without a school.
One of the schools badly affected by the earthquake was Shubha Adarsha Modern Academy where Sita Paney teaches.
Although the main building was still functioning, two walls in the adjacent building, which housed three classrooms, had collapsed and made these much-needed rooms unusable. The school administration had since been asking for government and outside help to repair the school. When we visited them in March, many students were studying out in open air where they were vulnerable to adverse weather.
Kids like these need to be in continuous education so that they are not out on the street. This is important especially for young girls and women, who become prey to child marriage, being trafficked across the border to India. After Bangladesh and India, Nepal has the third highest child marriage in the world of girls marrying before they are 18.
Nepal is a poor country. It ranks 150 among 189 nations in 2016 Human Development Index. Infrastructure like roads and bridges are almost non-existent. The government is stretched to its limit and can't cope with citizens' demands, which center around building new houses and schools especially after the earthquake in 2015. Faced with this reality, resilient locals like those in Nuwakot had taken upon themselves to repair their school.
Our work at Shubha Adarsha Modern Academy involved building two partition walls that separated the three classrooms where younger students would study.
One fine morning, with trowels, shovels and buckets in hand, we headed to the school. We first cleaned the bricks salvaged from the walls that collapsed during the earthquake. "Nepali bricks," our guide, Prem Tamang, pointed out, "Chinese ones are better."
Under the watchful eye of Sundar the local bricklayer, we completed a wall, or two half walls to be exact, in two days. With little children's lives at stake, each of us became super careful to make sure that our follow the line that Sundar drew up for us.
There were questions of efficiency. Like the time when we were asked to carry bricks one by one from a pile 25 metres away, and someone in our group made of westerns quietly asked our Nepali hosts "Don't you have a wheelbarrow or something?" They didn't. One must never overlook the need for this simplest of tools in a place like Nepal where the earthquake has shattered the infrastructure.
Having returned from the project work, I feel more strongly than ever that education issues of the forgotten children of Nepal must not be sidelined by other, more immediate-sounding concerns when disaster strikes. The long-term need for the continuation of their education in safe schools must be part of the urgent response much like their short-term crisis-driven humanitarian needs for food and shelter. Above all, these children need hope, and a solid education is their best chance of achieving that.
As for countless donors and fundraisers for campaigns around the world, the least they can do is to demand that a mandatory fraction of short-term relief aid be earmarked for long-term needs and equipment to help local people help themselves repair their broken nation.
A wheelbarrow would be nice, for example.
This article was first published in Auburn Voices, a media platform for the multifaith movement for social justice, with the headline "Building a Wall of Hope in Nepal." Like Auburn Voices on Facebook and get email updates.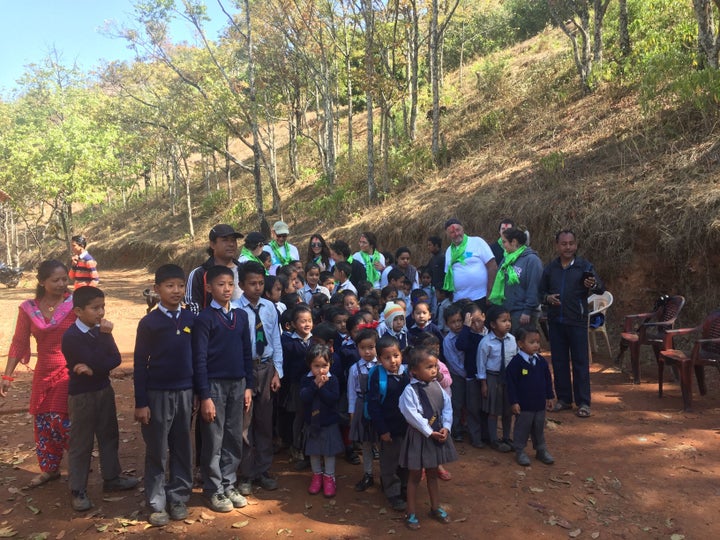 Related
Popular in the Community