As if the upper-crust New York City private school landscape wasn't already fraught enough with contention over the most elite names in child grooming, a new entrant is likely to create competition among an especially rarefied parent pool: the French-speaking contemporary art set. This Monday saw the opening of La Petite Ecole, a school on Manhattan's Upper West Side that promises to teach creativity and self-expression to students aged two and a half to ten by trading Play-Doh for Pollock-esque finger-painting, and story time for studio time with a working contemporary artist.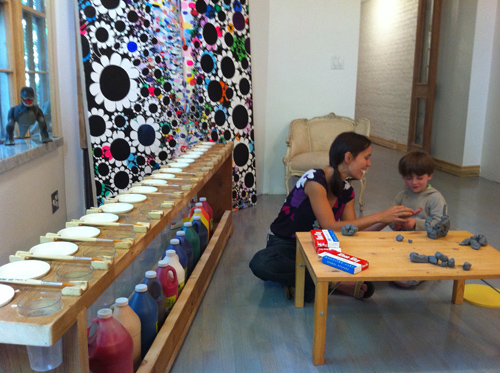 Courtesy La Petit Ecole
The man behind the art-obsessed school -- which is run solely in French, and charges $16,100 per year -- is Virgil de Voldere, a father of two who also happens to own a gallery bearing his name in Chelsea. De Voldere, to be clear, sees himself more as a visionary than an actual teacher. "My role is to be crazy and bring crazy ideas to the school," he told ARTINFO. He has hired two full-time teachers, Laure Ardoin and Rachel Woursell, to lead the classes, which will be divided between sessions for the younger children in the morning and after-school lessons for the older children in the afternoon. It will be up to these educators, he continued, to channel his vision and "say, 'Listen Virgil, that is not for children of this age.' Or, 'OK, I can make this work.'"
The visiting artists, meanwhile, include Nina Bovasso and Alejandra Seeber, who will work with the children in the Discovery Room of the school, which is located in an 82nd Street brownstone. Bovasso has been included in the Prague Biennale and has shown in museums internationally; Seeber is one of de Voldere's gallery artists. After classes in the Discovery Room, children are led into the adjoining Art Studio, a comfortable setting arranged around a giant painter's palette where they can express themselves artistically. De Voldere said that his inspiration for the Art Studio-- and it's enormous palette -- came from French psychiatrist Arno Stern, who proposed a similar configuration for therapy sessions aimed at fostering freedom in people of all ages.
Instead of bland tempera paint, La Petite Ecole promises that its art lessons will be taught through visual arts, photography, and something Voldere called "free-flow painting." As befits an avant-garde art pre-school, the materials -- which will be supplied by the artists -- are chosen with great care. "There will be no pipe cleaners," de Voldere stressed, also assuring ARTINFO that there will be colors in hues beyond the primary spectrum. In addition to art lessons, there will also be experimental dance, French-cuisine-themed cooking classes, and cheese tastings.
According to de Voldere, La Petite Ecole's goal is to integrate art and education as closely as possible. For example, students will learn about shapes by painting in circles or dancing within one. "Most pre-K will only provide the visual stimulation that you get from crappy advertisements on TV," explained de Voldere. So far the school only has a handful of students, but considering the vogue for young art phenoms these days -- like the eight-year-old British boy whose watercolors sold for more than $230,000 -- that number may go up.
Many of the artists de Voldere represents are "game" to participate in the school, he said, but he was hesitant to provide many names, as some artists have been a bit "fuzzy" about the level of their involvement. "Right now I have the vision and can see beyond all the mess inside," said de Voldere. "I want the artists to come in when everything is fully set up." The Discovery Room already displays original works by Bovasso, who has been the first to work with the children. The artist, however, is stuck in Amsterdam this week, so has been communicating with the students via videochat.
Despite his commitment to excellence, Voldere emphasized that his goal is not to become a typical elite school. When asked about how the school might pick students for the upcoming year, de Voldere admitted that he wasn't sure. "We hope that our selection process does not become as obnoxious as other schools," he laughed.
Calling all HuffPost superfans!
Sign up for membership to become a founding member and help shape HuffPost's next chapter